The Frank Walker Law/PSN Daily Notebook: May 10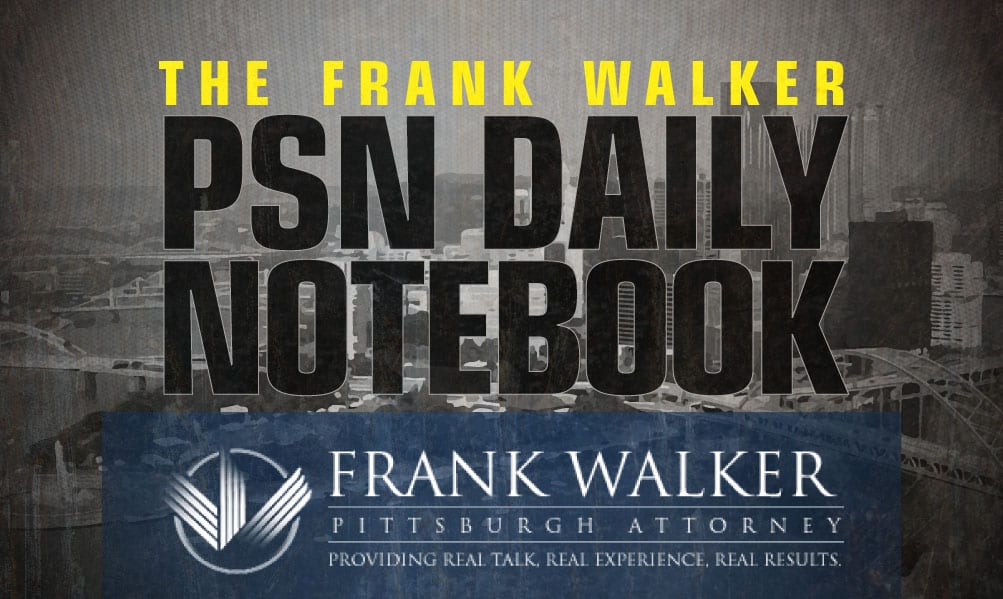 The PSN Daily Notebook is sponsored by Frank Walker, one of Pittsburgh and West Virginia's most respected criminal defense and injury lawyers. Mr. Walker has offices in Pittsburgh and Morgantown and has been named one of Top 100 National Trial Lawyers and is rated a perfect 10.0 Superb by Avvo for ethics, experience and results. To reach Mr. Walker, you can call 412-532-6805 or go to his website frankwalkerlaw.com. For real talk, real experience and real results, contact Frank Walker Law.
Update (3:50 PM)- 
**Randy Bates and Pitt extend an offer today to 2023 3-star OL AJ Salley (6'5", 260) from Miamisburg, Ohio. Salley also holds offers from Tennessee, Cincinnati, Kentucky, Oregon and Toledo.
6"5 242
2023
OT/DE
Dayton, ohio
5.08 40
77" wingspan

coaches number : +1 (937) 572-8772https://t.co/lF8bwOU3k1

— aj salley (@salley_aj) May 10, 2021
Update (3:29 PM)-
Man word can't describe how much you mean to me coach appreciate everything you've done for me 🙏🏾 https://t.co/fsGtBU1YWI

— Justin Champagnie (@JusChampagnie) May 10, 2021

Update (2:48 PM)- 
**Pitt extends an offer today to 2023 running back Christian Davis from Miamisburg, Ohio. Davis, who also excels in track, also holds offers from West Virginia and Tennessee.
6 ft 190 lbs
C/o '23
RB-ATH
Miamisburg high school (Ohio)
head coach email: lschneider@miamisburg.k12.oh.us
head coach number: (937) 572-8772
👇🏽👇🏽👇🏽https://t.co/YD0m7vEMh7

— Christian 𓃬 (@cdavis264) May 6, 2021
Update (9:32 AM)-
A pretty big match today for the Panthers. First ever appearance in #CollegeCup is on the line, and standing in their way, a tough Washington squad. @JohnKrysinsky
takes a closer look at the Huskies.#NCAASoccerhttps://t.co/7J0ek8Arfu

— Pittsburgh Soccer Now (@pghsoccernow) May 10, 2021
Update (7:32 AM)-
North Allegheny senior Paige Morningstar was named the state's Gatorade Volleyball Player of the Year after leading the Tigers to a fourth consecutive #PIAA title last fall. #WPIAL #HSSN @NATigerAthletichttps://t.co/s1j4gy2MEv

— TribLive HSSN (@TribLiveHSSN) May 10, 2021
Update (7:26 AM)- 
**Ohio 2022 3-star running back Kaleb Johnson, a top Pitt target, had a big weekend winning RB MVP. Johnson has an official visit scheduled to Pitt in late June.
Congratulations to today's running back MVP in Indianapolis, three-star Ohio RB Kaleb Johnson.

Cal, Pitt, Iowa and Iowa State are among the schools in the mix for Johnson's commitment. pic.twitter.com/CXNTgzgg82

— Rivals Camp Series (@RivalsCamp) May 9, 2021
Update (7:18 AM)- 
**Georgia 2022 athlete Isaiah Bond had Pitt in his Top Five but gave a commitment to Sunday to Florida. Previously, Bond told PSN that he planned on making an official visit to Pitt.
COMMITTED.

–@DellHarris 🎥 pic.twitter.com/ILDpaLCp88

— isaiah bond 4⭐️ (@isaiahbond_) May 9, 2021
Update (7:14 AM)- 
IT'S OFFICIAL! ☑️

The Colonials will face @NDWomensLax on Friday, May 14 in South Bend, Indiana in their first ever NCAA Tournament game!

📰: https://t.co/wx4b81JXOo#RMUnite | 🔴🥍🔵 pic.twitter.com/22jfvheHID

— RMU Lacrosse (@RMUWLacrosse) May 10, 2021