The Frank Walker Law/PSN Daily Notebook: May 11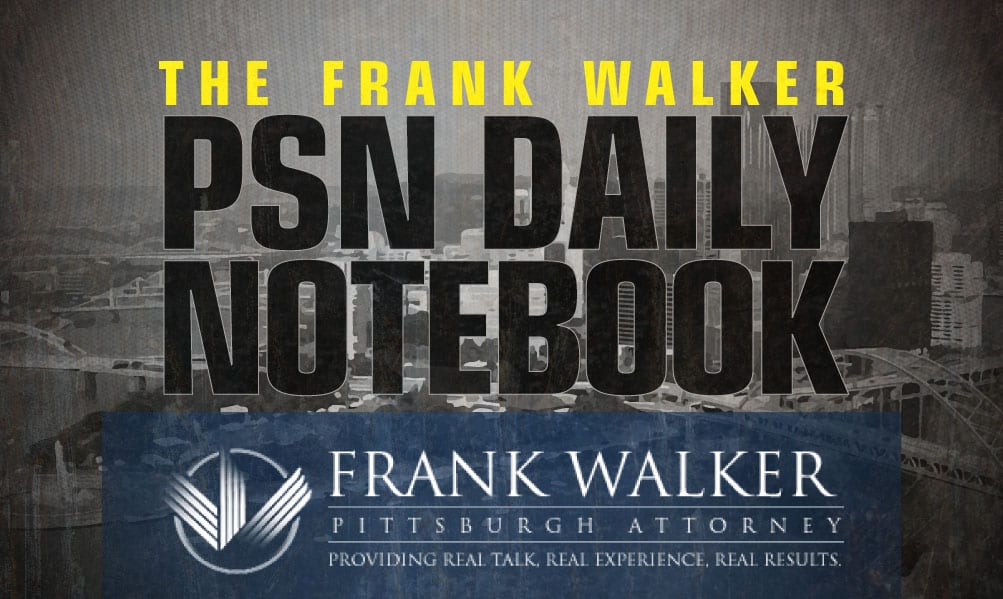 The PSN Daily Notebook is sponsored by Frank Walker, one of Pittsburgh and West Virginia's most respected criminal defense and injury lawyers. Mr. Walker has offices in Pittsburgh and Morgantown and has been named one of Top 100 National Trial Lawyers and is rated a perfect 10.0 Superb by Avvo for ethics, experience and results. To reach Mr. Walker, you can call 412-532-6805 or go to his website frankwalkerlaw.com. For real talk, real experience and real results, contact Frank Walker Law.
Update (4:49 PM)-
A @Pitt_FB target and someone that will make an official visit in June. https://t.co/fKgRyvlzxk

— Pittsburgh Sports Now (@PghSportsNow) May 11, 2021
Update (3:20 PM)- 
**Former First Love guard DJ Gordon has a few Zoom calls lined up.
Source tells me that Penn State transfer DJ Gordon (@Shooter_Deej14) has Zoom calls with Kent State and Fordhman today. Also, he will complete on with Western Michigan tomorrow. Was a former three-star prospect.

— jake lieberman (@jakelieberman2) May 11, 2021

Update (11:33 AM)-
Great information on new #Pitt Panther power forward Chris Payton. See below: https://t.co/yFvZcCiU5s

— Harry G. Psaros (@PittGuru) May 10, 2021
Update (11:31 AM)-
So happy for @JusChampagnie . He worked! He listened! He trusted @jeffcapel He allowed our staff to help him chase his dreams. Our program appreciates you. I appreciate you young fella. Keep that chip on your shoulder & never stop hunting greatness 💪🏽🙏🏾 #H2P

— Milan Brown (@coachmbrown) May 11, 2021
Update (10:06 AM)-
**Keith Dambrot and Duquesne extend an offer Tuesday morning to 2023 forward Mouhamed Dioubate (6'7″, 215) from Putnam Academy. Dioubate is a native of New York and this is his second D-1 offer, with the other one coming from Bryant.
Update (9:15 AM)-
James Conner Announces Switch to Single Digit Jersey Number with #Cardinals https://t.co/TxSguWgmFZ pic.twitter.com/njoWeC298L

— Steelers Now (@PghSteelersNow) May 11, 2021
Update (9:07 AM)- 
**The latest offer for Brashear 2023 4-star athlete Ta'Mere Robinson comes from Kentucky. Robinson (6'2", 200) also holds offers from Pitt, Penn State, Notre Dame, Michigan, Rutgers, Syracuse, Tennessee and West Virginia.
Check this out Coaches
6'2ft 200lb Safety….⭐️@210ths @Evolve2tenths @brashear_bulls @EdOBrienCFB @RivalsFriedman @Cover3_ATH @DreamShotsMedia @prospectmedia_ @_whodatt https://t.co/KsIR0UGAE4

— ᴛᴀᴅᴅᴇʀ ③ (@TaMereRobinson3) November 10, 2020

Update (8:37 AM)- 
**Pitt extends an offer to 2023 athlete Dylan Gooden from Our Lady Good Counsel High School in Olney, Maryland. Gooden (6'6", 200) also has early offers from Arizona, Boston College, Michigan State, Notre Dame, Ole Miss, Penn State, Kentucky, Texas A&am and West Virginia. Gooden has received most of these offers in the last week. His offer from Pitt came from Andre Powell.
Update (8:07 AM)- 
**2022 wide receiver Ben Ireland from Findlay, Ohio receives an invitation and will attend one of Pitt's summer camps next month.
Thank you @CoachDuzzPittFB for the camp invite! See you June 13th! pic.twitter.com/zpSF4Dh7Rt

— Ben Ireland (@BenIreland32) May 10, 2021
Junior Year Highlights. 5 games: 29 catches, 400 yds, 5 TD's
Career Stats – 15 games: 57 catches, 1058 yds, 15 TD's @Hudl https://t.co/33NjoFjcrf #hudl

— Ben Ireland (@BenIreland32) October 13, 2020

Update (8:00 AM)- 
**The Pitt women's basketball team extend an offer to 2023 guard Kymora Johnson from Charlottesville, Virginia.
❗️FRESHMAN Season Highlights❗️

🏫: @STABathletics @STABHoops
🗣: @pstinnie35 (Head Coach)

▶️Total Season Points: 433
⏺PPG: 16.7
⏺RPG: 8.3
⏺APG: 5.4
⏺SPG: 4.0

📷IG: KymoraJohnson2023

(con't.)https://t.co/bfz1OpH3dv #hudl

— Kymora Johnson (@KymoraJohnson_) April 10, 2020