The Frank Walker Law/PSN Daily Notebook: May 13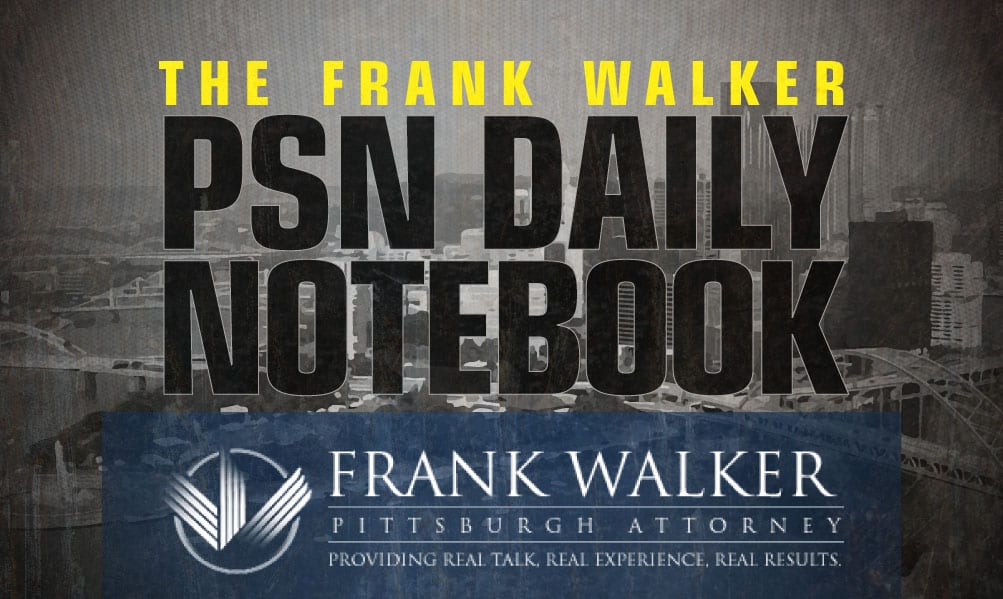 The PSN Daily Notebook is sponsored by Frank Walker, one of Pittsburgh and West Virginia's most respected criminal defense and injury lawyers. Mr. Walker has offices in Pittsburgh and Morgantown and has been named one of Top 100 National Trial Lawyers and is rated a perfect 10.0 Superb by Avvo for ethics, experience and results. To reach Mr. Walker, you can call 412-532-6805 or go to his website frankwalkerlaw.com. For real talk, real experience and real results, contact Frank Walker Law.
Update (3:50 PM)- 
**Keshaun Emerson is a 2022 defensive back from Suncoast Community High School in Lake Park, Florida.
thank you for the invite @Pitt_FB @coachclark76 @EraPrep @larryblustein @abeelam pic.twitter.com/mJzhqpBTIs

— Keshaun Emerson (@KeshaunEmerson) May 13, 2021

Update (12:36 PM)-
Which @Pitt_FB legend would fill the biggest need in 2021? 💪@CoachDuzzPittFB's pick: @Revis24 📲#PackerAndDurham pic.twitter.com/uSVL0yHtVz

— ACC Network (@accnetwork) May 13, 2021
Update (11:59 AM)-
Appreciate The Love From Pitt , I Can't Wait To Attend The Team Big Man Challenge June 27th 💙💛 @Pitt_FB @Kzovko @CoachDuzzPittFB @PghSportsNow @PittGuru @MikePanther247 @PantherLair pic.twitter.com/UANONq1A5d

— Dashawn Carter (@dashawncarter21) May 13, 2021
Update (11:13 AM)-
𝗡𝗘𝗪 𝗣𝗔𝗡𝗧𝗛𝗘𝗥 🚨

Excited to announce the addition of @kellymoss22!

📰: https://t.co/IuQkghbPci#H2P pic.twitter.com/2fq3bLb8jG

— Pitt Women's Soccer (@Pitt_WSOC) May 13, 2021
Update (10:28 AM)-
I interviewed Jay Vidovich for @pghsoccernow .

He & the @Pitt_MSOC boys are in Cary, NC tuning up for their @NCAASoccer College Cup match against IU on Friday.

It will be Pitt's first-ever Final Four match in history.

Read this. Get pumped.#H2P https://t.co/N6OSPqU7ZB

— Soccer Rabbi (@soccer_rabbi) May 13, 2021
Update (9:58 AM)-
**Pitt makes the Top 5 for 2022 3-star wide receiver Amari NiBlack from Clearwater, Florida. NiBlack (6'4″, 195) lists a Top Five of- Pitt, Maryland, Indiana, Florida and Florida State. NiBlack also held offers from programs such as Auburn, Georgia and LSU.
— Amari Niblack (@officiallly13) March 24, 2021
Update (8:40 AM)-
**Robert Morris extends an offer to 2022 OLB/DE Luke Pettarca from Peters Township High School. Petrarca has also received an offer from Akron.
Update (8:29 AM)- 
**Congrats to Mt. Lebanon 2022 athlete Alex Tecza (6'1", 190) for picking up an offer from Robert Morris. Last season, Tecza was WPIAL 6-A First Team All-Conference DB.
After a great conversation with @gluvara, I am grateful to receive my 6th division 1 offer from Robert Morris University!! pic.twitter.com/8AklC3IqO4

— AlexTecza (@AlexTecza2) May 12, 2021

Update (8:21 AM)-
**2022 3-star tight end Michael Hawkins (Somerset, Kentucky) plans on attending a Pitt prospect camp this summer. Hawkins (6'5″, 235), who holds offers from Vanderbilt, Marshall and Army, will be working out at Pitt on June 19.