The Frank Walker Law/PSN Daily Notebook: May 19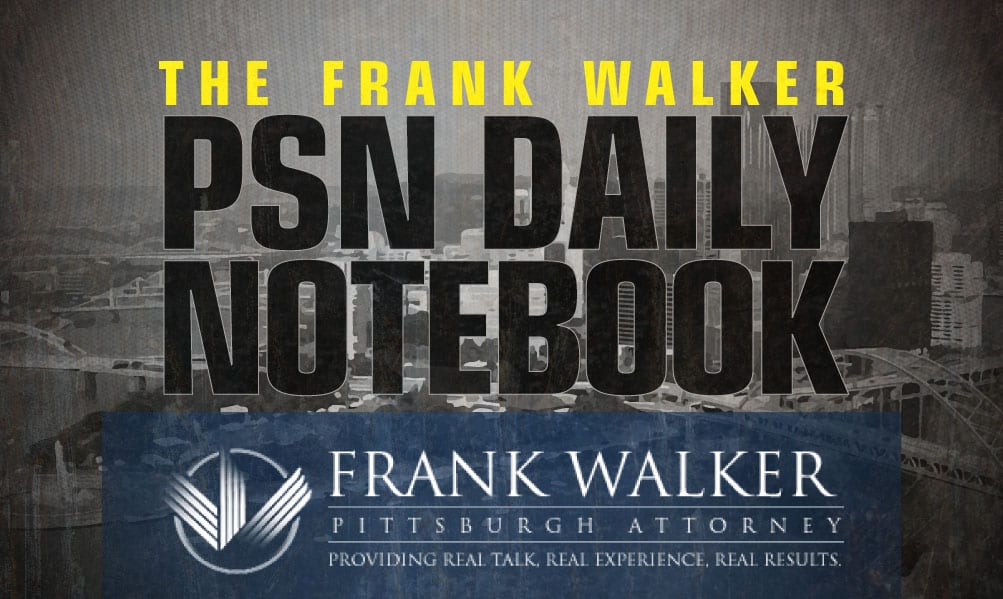 The PSN Daily Notebook is sponsored by Frank Walker, one of Pittsburgh and West Virginia's most respected criminal defense and injury lawyers. Mr. Walker has offices in Pittsburgh and Morgantown and has been named one of Top 100 National Trial Lawyers and is rated a perfect 10.0 Superb by Avvo for ethics, experience and results. To reach Mr. Walker, you can call 412-532-6805 or go to his website frankwalkerlaw.com. For real talk, real experience and real results, contact Frank Walker Law.
Update (11:12 AM)-
NEWS: RMU Announces Partnership With P3R

📰: https://t.co/mzQIrq7ikV#RMUnite | 🔵🔴⚪ pic.twitter.com/iAMJkeY0sC

— RMU Athletics (@RMUAthletics) May 19, 2021
Update (11:02 AM)-
Ending the season at No. 3️⃣ – our highest final @UnitedCoaches poll ranking!#H2P pic.twitter.com/G9qQqylRf2

— Pitt Men's Soccer (@Pitt_MSOC) May 19, 2021
Update (9:07 AM)- 
**The offers continue to come in for Butler 2022 shooting guard Devin Carney. A day after picking one up from Rhode Island, Carney receives one from Rice. Carney has been offered by North Carolina A&T, Radford, Northern Illinois, Toledo, Holy Cross, George Mason, Bryant, Robert Morris and Duquesne.
Junior Season Highlights @PKFlash1 @Big56Conference @TribLiveHSSN https://t.co/VzPeA0dCqp

— Devin Carney (@devin24carney_) March 14, 2021
Update (8:07 AM)-
**Pitt extended an offer last night to 2023 wide receiver/cornerback Takye Heath from Highland Springs, Virginia. Heath received the offer from Brennan Marion and also holds an offer from Maryland.
Class of 2023 Wide Receiver @kyeheath1. Started as a sophomore at Slot Receiver. One of the next breakout stars in not only the state of VA but on the east coast. Went to @RivalsCamp in NJ and shower out!! Going to be a special player. All 4 Wideouts from this Spring return! pic.twitter.com/rAsE1bx5Lx

— Harry Lee Daniel (@DSACoachHlee_4) May 18, 2021
Update (7:30 AM)-
**Tuesday night, Pine-Richland 2023 center Eva Fiala earned another major offer, this one from Michigan. Other programs that have offered Fiala include Mississippi State, Pitt, Maryland, Penn State, Ohio State, West Virginia and more.
Update (7:24 AM)-
Pitt QB Kenny Pickett working Front Leg movement reaction drill. React with front leg 1st finding space, back leg follows getting us balanced and aligned quickly. Quick burst, get balanced and stay in sequence. Kenny is a tremendous athlete. @TEST_Football @kennypickett10 #qb pic.twitter.com/XF9Mjbi3th

— Tony Racioppi (@Tonyrazz03) May 18, 2021
Congratulations to former #Pitt QB Tino Sunseri. Climbing up the coaching ranks. Phenomenal opportunity at JMU. https://t.co/tQPjAFGtEK

— Harry G. Psaros (@PittGuru) May 19, 2021