The Frank Walker Law/PSN Daily Notebook: March 21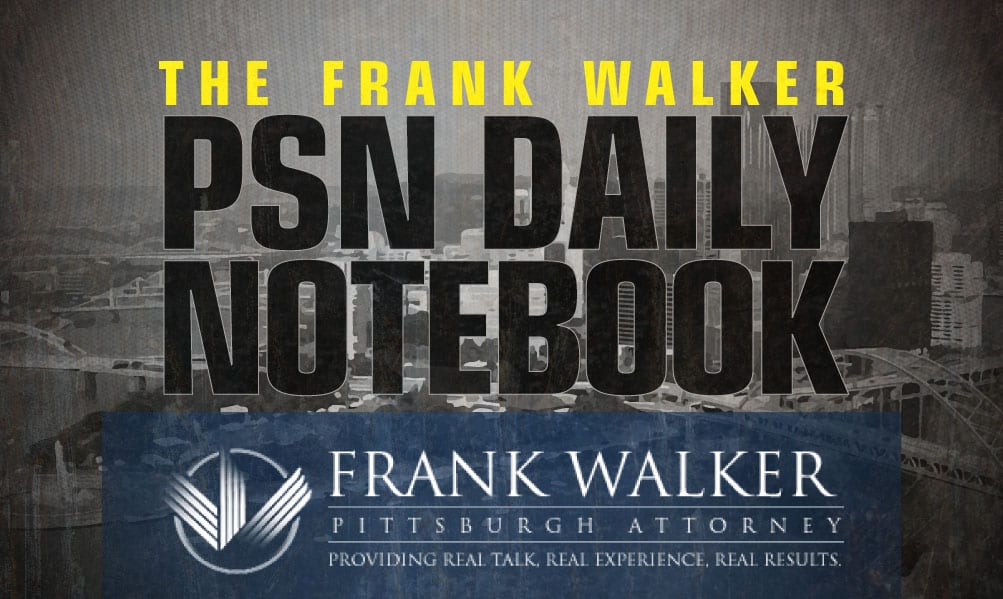 The PSN Daily Notebook is sponsored by Frank Walker, one of Pittsburgh and West Virginia's most respected criminal defense and injury lawyers. Mr. Walker has offices in Pittsburgh and Morgantown and has been named one of Top 100 National Trial Lawyers and is rated a perfect 10.0 Superb by Avvo for ethics, experience and results. To reach Mr. Walker, you can call 412-532-6805 or go to his website frankwalkerlaw.com. For real talk, real experience and real results, contact Frank Walker Law.
Update (7:35 PM)- 
**Pitt will be getting an unofficial visit on June 1 from Sto-Rox 2023 quarterback Josh Jenkins.
Josh Jenkins 6'3 170
QB/ATH
Sto-Rox Highschool
3.92 GPA
Co '23
* Offensive Player Of The Year *
* First Team All Conference QB *

Sophomore Film Below ⬇️⬇️⬇️https://t.co/xKCXCAhvjv pic.twitter.com/93PTrvW7tk

— 𝑱𝒐𝒔𝒉 𝑱𝒆𝒏𝒌𝒊𝒏𝒔 🎯 (@Jay1kae) January 22, 2021
Update (7:25 PM)-
Happy Birthday, Dave Wannstedt!

Player. Coach. Proud Pitt Man.#H2P pic.twitter.com/r9o5vgyrBO

— Pitt Football (@Pitt_FB) May 21, 2021
Update (7:17 PM)-
**The busy day of offers continues as Pitt extends one to 2022 athlete Daveon Walker from Warner Robins, Georgia. Walker (6'2″, 185) received the news from Archie Collins. Walker also holds an offer from Liberty.
Check out this highlight! https://t.co/320u33lsCF

— TheAnswer🚶🏾‍♂️ (@DaveonWalker_) April 17, 2021
Update (7:00 PM)-
**Pitt extends an offer to 2023 quarterback Neeo Avery (6'6″, 235) from Our Lady of Good Counsel in Olney, Maryland. Avery is a fast rising prospect that holds offers from Maryland, Michigan State, Kentucky, Ole Miss and Penn State. Avery received the offer from Andre Powell.
— Neeo Avery (@Neeo_avery) April 11, 2021
Update (6:45 PM)-
**Pitt extends an offer this afternoon to 2022 3-star DE/TE Samuel Okunlola (6'5″, 225) from The Thayer Academy in Brockton, Massachusetts. Okunlola has 40+ offers, including ones from Arizona, Arizona State, Clemson, Colorado, Florida State, Georgia, Maryland, Michigan, Ole Miss, Penn State, Oregon, Tennessee, Texas, Texas Tech, USC and West Virginia.
Update (3:25 PM)-
Kenny Pickett checking as the 16th pick of the FIRST ROUND in this mock draft 👀 https://t.co/boP8D4KV8f

— Capel Faithful (@CapelFaithful) May 21, 2021
Update (9:25 AM)- 
**Jonathan Harder is a 2022 offensive lineman from Delaware, Ohio. He'll be participating in a prospects camp next month at Pitt.
Camp Schedule for June:
📍 Minnesota June 2nd
📍 Ball State June 11th
📍 Toledo June 13th
📍 Cincinnati June 17th*
📍 Pittsburgh June 19th
📍West Virginia June 21st
📍 Purdue June 23rd*
📍Miami OH June 27th*
(Starred dates are not locked in yet, list is also subject to change.)

— Jonathan Harder (@Jonathanharder3) May 21, 2021

Update (9:20 AM)-
Looking forward to seeing @kennypickett return. Think he could be one of the highest risers in this QB class for 2022 @NFLDraft

— Brady Quinn (@Brady_Quinn) May 21, 2021
All 7 had draftable grades had they stayed in the 2021 NFL Draft class.

Really liked #Pitt QB Kenny Pickett as a mid-round prospect. Impressive pocket presence, composure and timing. https://t.co/QAf2Egiy4O

— Dane Brugler (@dpbrugler) May 21, 2021
Update (9:14 AM)-
Former Pitt F Justin Champagnie undrafted in this mock. His brother Julian at No. 52. https://t.co/lkhk06B1GI

— George Michalowski (@MichalowskiCBB) May 21, 2021
Update (8:08 AM)- 
**The latest D-1 offer is in for talented Rochester 2022 guard Corynne Hauser.
Congratulations to DFS and Rochester's @RochesterGBBall Corynne Hauser @corynne_hauser for picking up an offer from Miami University @MiamiOH_WBB !! 👏🏀👀👏 #DFSfamily pic.twitter.com/k0a5BsOeKV

— Drill for Skill AAU (@DFSAAU) May 20, 2021
Check out this highlight! https://t.co/mvt0SKlmgx

— corynne hauser (@corynne_hauser) May 13, 2021
Update (8:03 AM)-
Sources: Buffalo is hiring Duquesne offensive line coach Matt Stansfield to be the school's new offensive line coach. This hire completes new coach Mo Linguist's on-field coaching staff.

— Pete Thamel (@PeteThamel) May 20, 2021