The Frank Walker Law/PSN Daily Notebook- May 23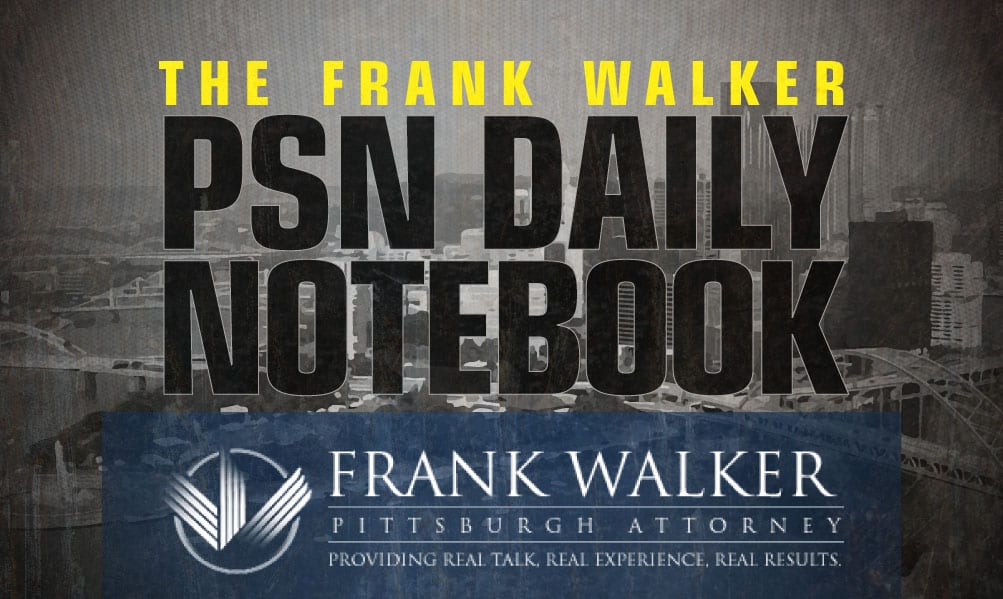 The PSN Daily Notebook is sponsored by Frank Walker, one of Pittsburgh and West Virginia's most respected criminal defense and injury lawyers. Mr. Walker has offices in Pittsburgh and Morgantown and has been named one of Top 100 National Trial Lawyers and is rated a perfect 10.0 Superb by Avvo for ethics, experience and results. To reach Mr. Walker, you can call 412-532-6805 or go to his website frankwalkerlaw.com. For real talk, real experience and real results, contact Frank Walker Law.
Update (10:11 AM)- 
**Robert Morris football extends an offer to 2022 OL/DE Easton Korody from Carey, Ohio. This becomes Korody's 6th D-1 offer.
#56 Easton Korody | OL/DE/LS
Carey High School (OH)
Class of 22
Ht: 6'5 | Wt: 275 | 40: 5.05
GPA: 4.0
2nd Team All-State
Captainhttps://t.co/aX36jzf4Mj

— Easton Korody (@Korody56) February 20, 2021
Update (9:05 AM)- 
**Pitt 2022 targets Utah 3-star athletes Dominique and Marcus McKenzie continue to have success in track and field. They will be making official visits to Pitt next month.
Dominique and Marcus go 1st and 2nd in the 100m, 200m, & 400m at the 4A State track meet!! @9marcusmckenzie @dom_mckenz pic.twitter.com/DVpSiU1U2u

— Brian F. McKenzie (@BrianFMcKenzie1) May 23, 2021
Update (8:46 AM)-
**2022 DE Nathan Voorhis, from Stroudsburg, Pennsylvania, has gotten an invite and will attend a Pitt football prospects camp on June 6. Voorhis holds an offer from UConn.
Nathan Voorhis – 6'4 (230) 2022 DE
Currently has a committable offer from UConn #TCJ Was hurt All junior year and now he's 100% and has been super impressive. He's gonna have a MONSTER senior Campaign 📈📈 @Nate_Voorhis Great session pic.twitter.com/MIZtb81qeE

— CoachJay – Elite 400 National Recruiting Expert (@CoachJayUConn) May 20, 2021
Update (8:39 AM)- 
Aaron Donald turns 3️⃣0️⃣ today!

RT to wish a Happy Birthday to the one and only @AaronDonald97 🥳#H2P pic.twitter.com/iuDtmDuWx0

— Pitt Football (@Pitt_FB) May 23, 2021