The Frank Walker Law/PSN Daily Notebook: May 25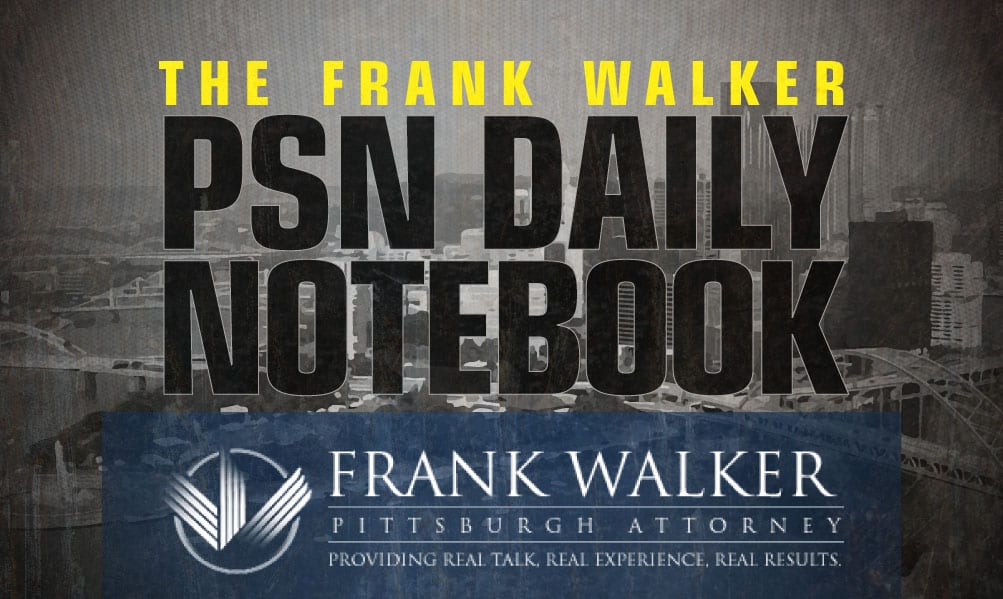 The PSN Daily Notebook is sponsored by Frank Walker, one of Pittsburgh and West Virginia's most respected criminal defense and injury lawyers. Mr. Walker has offices in Pittsburgh and Morgantown and has been named one of Top 100 National Trial Lawyers and is rated a perfect 10.0 Superb by Avvo for ethics, experience and results. To reach Mr. Walker, you can call 412-532-6805 or go to his website frankwalkerlaw.com. For real talk, real experience and real results, contact Frank Walker Law.
Update (4:38 PM)-
June Camp Schedule:

6/3- Rhode Island/ Boston College @Coach_Shimko
6/5- Penn State @coachseider @DannKabalaPSU
6/6- Pitt @coachcsanders
6/18- Coastal Carolina @coachbilldurkin @CoachColtonKorn
6/23- Temple @CoachKnowlesTU @WilsonBulldogs @ddstokes124

— Jadyn Jones (@jadynjones04) May 25, 2021
Update (3:27 PM)- 
**Robert Morris extends an offer today to 2022 shooting guard Brian Moore from Northeastern Oklahoma A&M College (JUCO). Moore (6'2", 165) is originally from Kingston, New York. At this point, Moore holds offers from Saint Bonaventure and UIC.
Blessed to receive an offer from RMU @jjackson1124 @Brucebasketball @_CoachPC @NEOMensBBall @RMU pic.twitter.com/Y9dmP1Fxtp

— Brian Moore (@brianmoore_2) May 25, 2021

Update (3:24 PM)-
NWCA Scholar All-Americans 🎓

Nino Bonaccorsi 📚 @NeenBon
Micky Phillippi 📚 @Micky_Phill
Jake Wentzel 📚 @Jake_Wentzel

Congrats to this trio of Panthers honored by @NWCAWrestling for excellence on the mat and academically!#H2P pic.twitter.com/cQCg82dn37

— Pitt Wrestling (@Pitt_WRES) May 25, 2021
Update (3:22 PM)- 
**A nice honor for former Pitt point guard Travon Woodall.
St. Bonaventure assistant @TrayWoodall1 has been named the Atlantic 10 Assistant Coach of the Year by the Minority Coaches Association.

Woodall, who played for one of coach Bob Hurley's undefeated teams at St. Anthony's, is a rising star in the college game.

— Adam Zagoria (@AdamZagoria) May 25, 2021
Update (3:14 PM)-
Really good competition @Rivals & @AllStatePrepsFB camps. 💪🏾 Great preparation for our college camp tour in June. Camp dates…..@PennStateFball -6/6@Temple_FB – 6/11@RFootball – 6/13@OhioStateFB – 6/16@Pitt_FB – 6/19@WVUfootball – 6/21 pic.twitter.com/KlOHlHGMHC

— Richard (Wink) James (@_RichardJ_) May 25, 2021
❗️June camps 2021❗️

Wisconsin-June 3rd @CoachJoeRudolph

Marshall-June 6th @CoachSpringerST

Cincinnati-June 8th @CoachMikeTress

Kentucky-June 14th @vincemarrow

Ohio state-June 16th @CoachWash56

Pittsburg-June 19th@Coach_Manalac

— jaden (@jadenyat5s) May 25, 2021
Update (3:08 PM)-
@Avonworthschool @ThomasRalston2 @JeffHadleyEdD @DrBattistoneAES @Pitt_FB @cjlquips Great day of Reading and discussion with the Pitt Football Team and Staff! Kudos to the student athletes volunteering their time! pic.twitter.com/L0Zhx2X0zV

— Dean Zuppe (@DeanZuppe33) May 25, 2021
Update (2:17 PM)-
**Pitt extends an offer today to freshman wide receiver Zacharyus Williams (6'2″, 185) from St. Bernard High School in Playa Del Rey, California. Williams received the news from Brennan Marion and also holds offers from Florida State and Arizona State.
Update (2:10 PM)-
**A new offer comes in today for Pine-Richland 2022 linebacker Jeremiah Hasley.
After a great conversation with @HC_coachtoddgil, I'm blessed and excited to receive an offer from Holy Cross University!! @CoachKasper @PRRamsFootball @HCrossFB pic.twitter.com/B82j1eDmJ9

— Jeremiah Hasley (@jeremiahasley) May 25, 2021
Update (8:32 AM)-
**Monday night, Pitt extended an offer to 2023 wide receiver/defensive back Rodrick Pleasant from Los Angeles, California. Pleasant received the offer from Brennan Marion. It's interesting that Pleasant's other D-1 offer came from Penn State.
https://t.co/kieTtHtHbh@LMBPINKY @marvinpollard_6 @dominicadjr @AdoreeKnows @GregBiggins @latsondheimer @Serra__Football

— Rodrick Pleasant🗡 (@RodrickP16) April 18, 2021