The Frank Walker Law/PSN Daily Notebook: May 27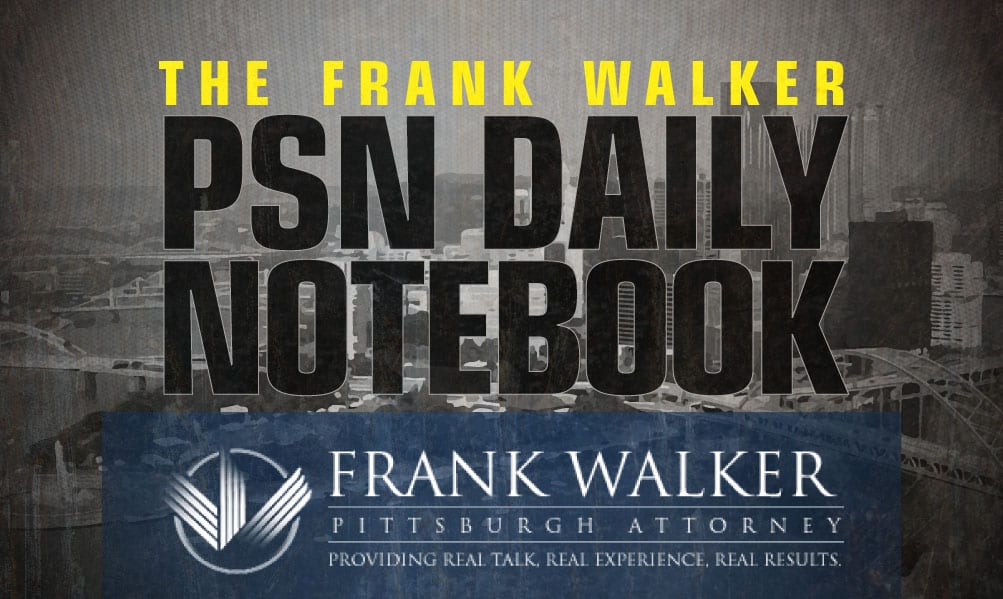 The PSN Daily Notebook is sponsored by Frank Walker, one of Pittsburgh and West Virginia's most respected criminal defense and injury lawyers. Mr. Walker has offices in Pittsburgh and Morgantown and has been named one of Top 100 National Trial Lawyers and is rated a perfect 10.0 Superb by Avvo for ethics, experience and results. To reach Mr. Walker, you can call 412-532-6805 or go to his website frankwalkerlaw.com. For real talk, real experience and real results, contact Frank Walker Law.
Update (9:48 PM)- 
**Tonight, Andre Powell and Pitt extend an offer to 2022 athlete Octavian Smith, Jr. from Burtonsville, Maryland. Smith (6'1", 170) holds offers from programs Northwestern, Toledo, Duke, Syracuse, Maryland, Navy, Vanderbilt and Bowling Green
Update (9:38 PM)-
Pittsburgh transfer OL Liam Dick has committed to Texas State @rivalsmike @PantherLair https://t.co/PVwoYMY0qs

— NCAA Transfer Portal (@RivalsPortal) May 28, 2021
Update (4:47 PM)-
Former Pitt great @SZellous1 finished off another 💪 pro season averaging 23.8 ppg, 8.2 rpg and 4.7 apg for Cankaya Universitesi Ankara.

✅ 1st Team KBSL
✅ Guard of the Year
✅ Import Player of the Year#H2P // #ForeverPanther pic.twitter.com/LKesgp2Ppj

— Pitt Basketball (@Pitt_WBB) May 27, 2021

Update (4:43 PM)-
Duquesne transfer Jett Roesing is hearing from programs within these conferences:

Conference USA
Big South
A10
Metro Atlantic
Colonial
Mid-American

The former First Love Christian Academy standout is one of the best available shooters in the portal. pic.twitter.com/UB7kfwqICX

— Endless Motor Sports (@endless_motor) May 27, 2021

Update (4:18 PM)- 
**Another major offer for Peters Township 2022 forward Journey Thompson, as she picks one up from Wisconsin.
@WPABruinsAAU 2022 F Journey Thompson picks up an offer from @BadgerWBB. Congratulations @JourneyT_2
#BruinsNation #PittsburghsNATIONALProgram #WhoDoYouPlayFor pic.twitter.com/4gZJ3JnmGb

— WPABruinsAAU (@WPABruinsAAU) May 27, 2021

Update (2:52 PM)- 
**Woodland Hills 2022 defensive back Deontae Williams will attend a Pitt prospect camp on June 6.
See you down Pitt June 6th✌🏽@Kzovko @WhCoachTim @GatorsGarfield

— Deontae Williams (@Situation5300) May 27, 2021

Update (2:22 PM)-
🚨𝙉𝙀𝙒 𝙋𝘼𝙉𝙏𝙃𝙀𝙍🚨

BIG NEWS.

Welcome Guewe Diouf to Pittsburgh!

✨2020 @AVCAVolleyball Southwest Region Freshman of the Year
✨2020 All-Big 12 First Team
✨2020 All-Big 12 Rookie Team

📰 https://t.co/Hn73imkb9c#H2P pic.twitter.com/0dzbRujgFn

— Pitt Volleyball (@Pitt_VB) May 27, 2021
Update (2:06 PM)-
Extremely excited to get back home to the 412, and attend the University of Pitt football camp!💙💛@CoachDuzzPittFB @CoachTimSalem @BrennanMarion4 @coachprice80 @CoachKyleBrey pic.twitter.com/UIaN72Lku9

— 𝕵𝖆𝖒𝖊𝖘 𝕺𝖑𝖘𝖊𝖓⁸⁸ (@jamesfootball88) May 27, 2021
Update (1:55 PM)-
Metrosky joining the #Pitt football program as a PWO center. He's a physical lineman with tremendous potential. #H2P https://t.co/lW50uZBJ0a

— Harry G. Psaros (@PittGuru) May 27, 2021
Update (1:42 PM)-
**Laurel Highland two-way star Rodney Gallagher receives a basketball offer today from West Virginia. The 4-star recruit for basketball and football has hoops offers from Pitt, Penn State, West Virginia, Florida, Illinois, Wake Forest, Rhode Island, Hampton and George Mason.
Update (9:00 AM)-
WPIAL baseball championship schedule (games at Wild Things Park):
𝐓𝐮𝐞𝐬𝐝𝐚𝐲
1A: Union/Riverview, 1:30
5A: Franklin Regional/Bethel Park, 4:30
6A: NA/Hempfield, 7:30
𝐖𝐞𝐝𝐧𝐞𝐬𝐝𝐚𝐲
2A: Seton LaSalle/Shenango, 1:30
3A: Hopewell/South Park, 4:30
4A: Montour/New Castle, 7:30

— Brad Everett (@BREAL412) May 26, 2021