The Frank Walker Law/PSN Daily Notebook: May 29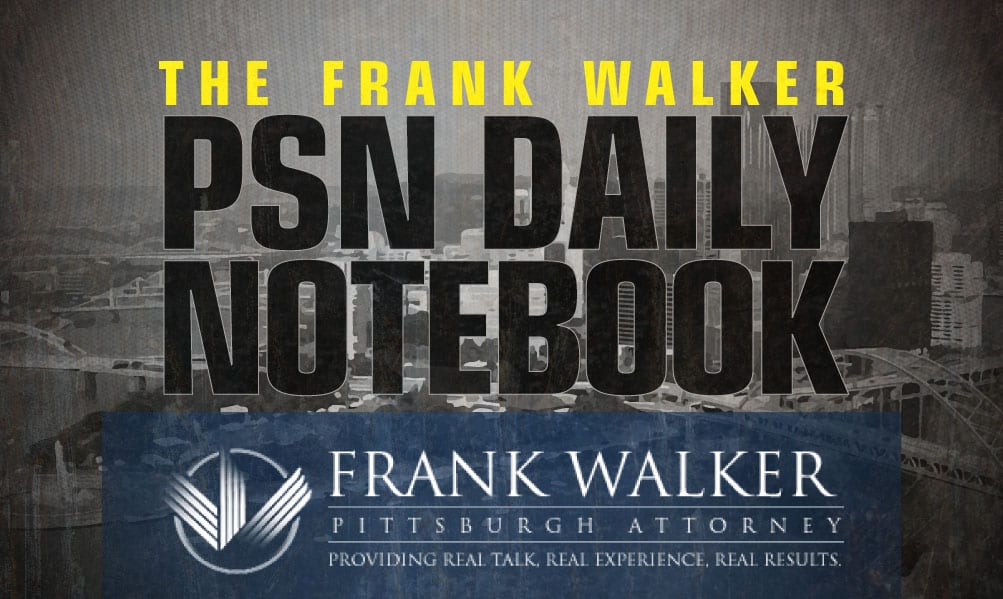 The PSN Daily Notebook is sponsored by Frank Walker, one of Pittsburgh and West Virginia's most respected criminal defense and injury lawyers. Mr. Walker has offices in Pittsburgh and Morgantown and has been named one of Top 100 National Trial Lawyers and is rated a perfect 10.0 Superb by Avvo for ethics, experience and results. To reach Mr. Walker, you can call 412-532-6805 or go to his website frankwalkerlaw.com. For real talk, real experience and real results, contact Frank Walker Law.
Update (8:57 PM)- 
**Lamont Payne is a 2023 3-star cornerback from Chartiers Valley High School. Payne holds offers from Pitt, Penn State, West Virginia, Rutgers and Kent State.
I will be taking a unofficial vist to Pitt on June 1st💛💙 @coachcsanders @247recruiting @PghSportsNow

— Lamont Payne🕷🦋 (@Lamontpayne18) May 29, 2021

Update (8:31 PM)-
Robert Morris transfer Dante Treacy has transferred to UNCG! pic.twitter.com/fvP3yRX7iB

— 336 Edits (@336edits) May 30, 2021
Update (12:36 PM)- 
**AJ Salley is a 2023 DE/OT that recently received an offer from Randy Bates and Pitt. Salley has listed his list of camps and visits he'll be doing in June.
(Last official schedule for June)
Visits and camps

June 1st- Cincinnati 🐾

June 6th- Notre Dame🍀

June 10th- Cincinnati 🐾

June 13th- Toledo🚀

June 16th- Ohio state🌰

June 19th- Pittsburgh💛

June 22nd- Kentucky💙

June 27th- Michigan state💚

— aj salley (@salley_aj) May 29, 2021

Update (11:05 AM)-
**The interesting story of Pine-Richland 2022 DE/OT Jalen Klemm continues as he receives an offer this morning from Arizona State. This becomes Klemm's second D-1 offer, with the offer coming from Nebraska. Earlier this week, PSN spoke to Klemm about his recruitment and his late start playing football.
Update (10:48 AM)-
South Park senior Maddie Raymond finally did it. She won a state title. #WPIAL #HSSN @Southparkpride @SPSDinfohttps://t.co/Mi7vuWclBp

— TribLive HSSN (@TribLiveHSSN) May 29, 2021
Update (9:24 AM)-
Moon's Mia Cochran surges to win the Class 3A 3.200-meter run title. Finishes is 10:20.04. That's the No. 3 time in WPIAL history! pic.twitter.com/wUoMePliws

— Brad Everett (@BREAL412) May 29, 2021

Update (8:52 AM)-
#RMU hockey alumni coming together and rallying to help save the men's and women's program. https://t.co/3J3HJ5uOBF

— Andrew Stockey (@astockeyWTAE) May 29, 2021
Update (8:37 AM)-
**2023 DB/WR Tyler Cusumano will attend a Pitt prospect camp on June 6. Cusumano is from Stroudsburg, Pennsylvania but attends The Peddie School in New Jersey. Cusumano will attend a camp in West Virginia on June 10 and at Rutgers on June 12.