The Frank Walker Law/PSN Daily Notebook: June 3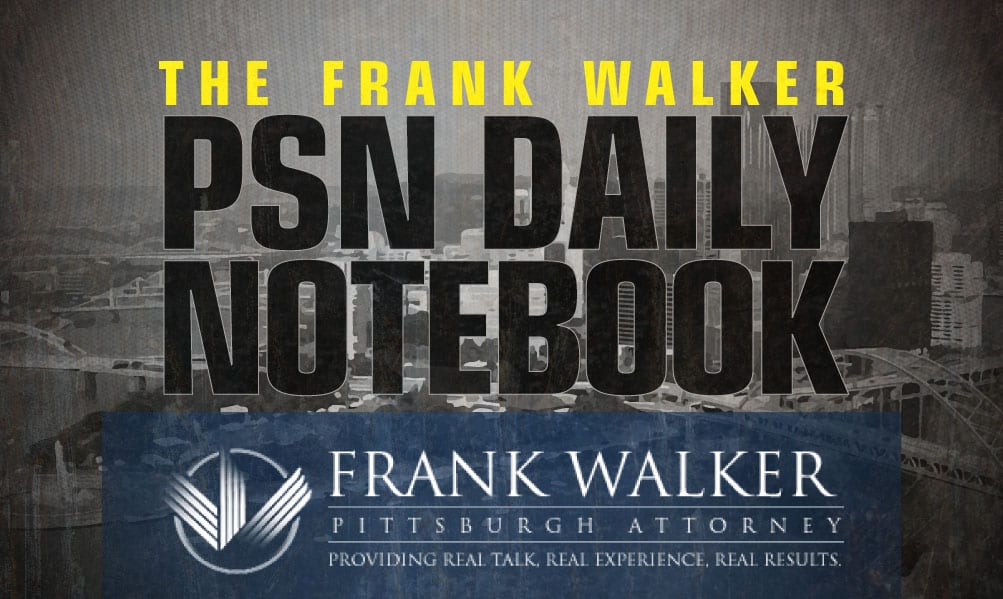 The PSN Daily Notebook is sponsored by Frank Walker, one of Pittsburgh and West Virginia's most respected criminal defense and injury lawyers. Mr. Walker has offices in Pittsburgh and Morgantown and has been named one of Top 100 National Trial Lawyers and is rated a perfect 10.0 Superb by Avvo for ethics, experience and results. To reach Mr. Walker, you can call 412-532-6805 or go to his website frankwalkerlaw.com. For real talk, real experience and real results, contact Frank Walker Law.
Update (3:36 PM)- 
**2022 3-star athletes (Utah) Dominique and Marcus McKenzie arrived to Pitt for their official visit and got a picture with Pittsburgh Steelers 1st round pick Najee Harris.

Update (2:37 PM)- 
**Penn Hills 2024 DT/OT Carter Lance will be taking part in a football camp tonight at Duquesne.
I will be attending Duquesne University camp🔴🔵@swarm412 @210ths @PH_Athletics @Coach_LeDonne @PghSportsNow

— Carter Lance (@CarterLance4) June 3, 2021

Update (1:47 PM)-
Offensive coordinator Mark Whipple made his ACC Network debut today to preview Pitt's attack in 2021.@CoachWhipPitt @MarkPacker@WesDurham#H2P » @ACCNetwork pic.twitter.com/9BFe7E1C39

— Pitt Football (@Pitt_FB) June 3, 2021
Update (12:51 PM)- 
**Brashear 2022 athlete Daquan Griffin will be visiting the Duquesne football program today.
Daquan Griffin
Class '22
Ath
5'9
170
Current Gpa:3.6
Brashear Highschool
Pittsburgh,PA
griffindaquan0@gmail.com
Cell:412-694-3872

(Film: https://t.co/YYBHwWSDry) @210ths @Evolve2tenths @Cover3_ATH @PGHCityLeague @PaFootballNews @_Drew_55 @brashear_bulls

— DAQUAN GRIFFIN (@DaquanGriffin_1) November 30, 2020
UPDATE I WILL BE ATTENDING DUQUESNE TODAY🔴⚪️🔵 @CoachMcCoy28 @Evolve2tenths @210ths @_Drew_55 @Brashear_Fball @PghSportsNow

— DAQUAN GRIFFIN (@DaquanGriffin_1) June 3, 2021
Update (11:49 AM)-
I've been watching everything I can on new #Pitt basketball addition Mo Gueye. Top 10 shot blocker in the nation. Nearly 6-ft-10 inch, athletic, rim protector. Gueye is a bit thin. His strength is my only question. Hoping he can hold up in the paint. A solid addition. #H2P https://t.co/2zP6DJDp6l

— Harry G. Psaros (@PittGuru) June 3, 2021
Update (11:46 AM)-
RIP to former Pitt basketball great, Eric Mobley. Eric was one of the best players in our programs history, and a former first round pick in the NBA draft. My thoughts and prayers are with his family and friends.

— Jeff Capel (@jeffcapel) June 3, 2021
Update (10:21 AM)- 
**Chartiers Valley 2023 3-star cornerback Lamont Payne will make an unofficial visit to Penn State this weekend. He will take part in a prospects camp. Payne holds offers from Pitt, Penn State, West Virginia, Rutgers and Kent State.
I will be attending Penn State June 6th🦁 @RivalsFriedman @247recruiting @PennStateFball @CoachTerryPSU

— Lamont Payne🕷🦋 (@Lamontpayne18) June 2, 2021
Update (10:10 AM)-
🚨 WELCOME BACK 🚨

We are beyond excited to announce that former Panther @BriannaKiesel03 has been tabbed as our new assistant coach‼️

✅ 1938 points (5th all-time)
✅ 433 assists (5th all-time)
✅ Name etched on Varsity Walk

📰 https://t.co/CEkkF9FlU4#H2P // #GoBeyond pic.twitter.com/yipsBhNorM

— Pitt Basketball (@Pitt_WBB) June 3, 2021
Update (9:19 AM)- 
**North Hills 2022 athlete Robert Dickerson made an unofficial visit on Wednesday to Miami, Ohio.
Thanks for having me @MiamiOHFootball 🃏🎲🏴‍☠️ pic.twitter.com/GiiUQuGs1y

— 𝑅𝑂𝐵𝐸𝑅𝑇 𝐷𝐼𝐶𝐾𝐸𝑅𝑆𝑂𝑁 🖖🏽 (@RobDickerson16) June 3, 2021