The Frank Walker Law/PSN Daily Notebook: June 11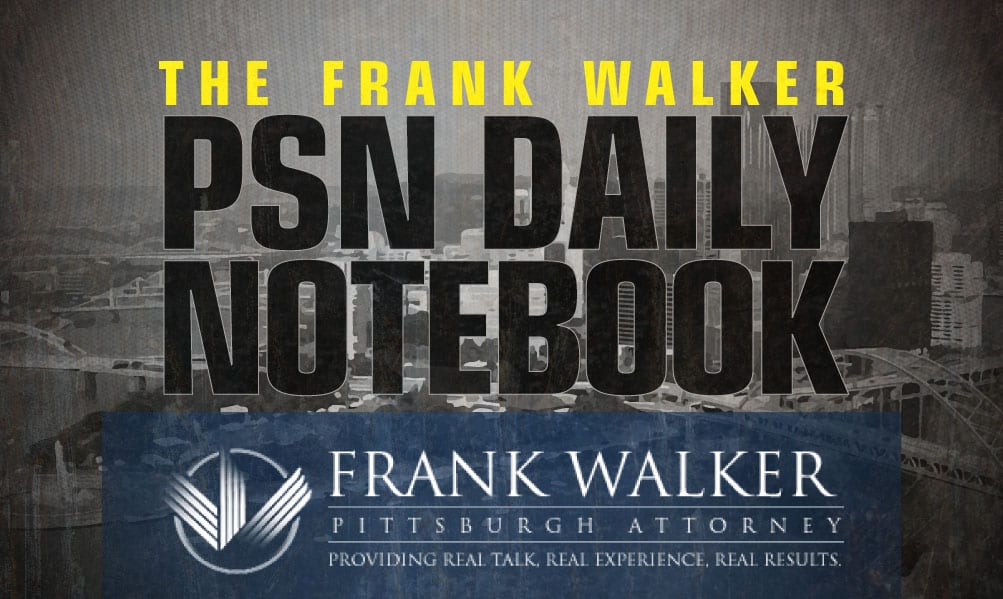 The PSN Daily Notebook is sponsored by Frank Walker, one of Pittsburgh and West Virginia's most respected criminal defense and injury lawyers. Mr. Walker has offices in Pittsburgh and Morgantown and has been named one of Top 100 National Trial Lawyers and is rated a perfect 10.0 Superb by Avvo for ethics, experience and results. To reach Mr. Walker, you can call 412-532-6805 or go to his website frankwalkerlaw.com. For real talk, real experience and real results, contact Frank Walker Law.
Update (9:30 PM)-
North ⬆️ @P_Jones9
South ⬇️ @QOllison
East ➡️ @DJack11_
West ⬅️ @JamesConner_

A total of 2️⃣8️⃣ former Pitt Panthers across the country are on rosters and preparing for the @NFL season.#H2P pic.twitter.com/jiFdjZ5r61

— Pitt Football (@Pitt_FB) June 11, 2021
Update (9:07 PM)- 
**The latest Power 5 offer for Pine-Richland 2022 OT Jalen Klemm comes from NC State. Klemm also holds offers from Akron, Columbia, Colorado, Arizona State, Florida Atlantic and Nebraska.
Blessed to receive an offer from NC State #1Pack1Goal #NCState #HTT pic.twitter.com/mTNG8ExjZV

— Jalen Klemm (@JalenKlemm) June 12, 2021

Update (8:55 PM)- 
**Pitt extends an offer this afternoon to 2024 James Madison II from St. Thomas Aquinas in Fort Lauderdale, Florida. Madison (6'3", 170) also offers from Colorado, Florida State, Maryland, Miami, Syracuse and Tennessee.
— james madison ii (@JamesJTMadison2) May 27, 2021

Update (8:23 PM)- 
**Defensive end Jimmy Scott and wide receiver Addison Copeland on their Pitt official visit.
716 in PITT… @D1_AC3 x @jimmybearscott1 pic.twitter.com/QYsmQ4xTYe

— Coach McCann (@CoachMcCannERT) June 11, 2021
Update (6:28 PM)-
On his birthday, @_Deslin gave back to the community. Thank you Des and Happy Birthday!! #H2P @Pitt_ATHLETICS pic.twitter.com/FCtEZfabns

— Charlie Partridge (@CoachPartridge) June 11, 2021
Update (5:05 PM)-
**The second offer of the day for Penn Hills 2023 athlete Raion Strader.
Happy to announce that I have earned my second d1 offer to Duquesne university 🔴🔵@DuqFB @CoachFarisonDUQ @LcooleyDuq5 @GoDuquesne @CoachSchmittDU pic.twitter.com/vk7kTv3Xvl

— RaionStrader (@RaionStrader) June 11, 2021
Update (4:56 PM)- 
**Laurel Highlands 2023 4-star athlete Rodney Gallagher on his unofficial visit to Ohio State.
Ohio state unofficial🔴⚫️⚪️(not committed) pic.twitter.com/GFOWOjy6Hw

— Rodney Gallagher 3rd (LLC💞) (@RodneyG_3rd) June 11, 2021
Update (10:13 AM)-
Titans Signed Fourth-Round DE Rashad Weaver https://t.co/b4uSvrkTzp #Titans

— NFLTradeRumors.co (@nfltrade_rumors) June 11, 2021
Update (7:51 AM)- 
**Congrats to Penn Hills 2023 WR/DB Raion Strader (6'0", 160) for earning his first D-1 scholarship offer on Thursday.
Happy to say that I received my First D1 offer from the University of Akron🖤@ZipsFB @CoachFeeney_AK @Coach_Cicione @HimmothyJr #GoZipsss🦘🦘 pic.twitter.com/ilyQRQjSsp

— RaionStrader (@RaionStrader) June 11, 2021
Update (7:41 AM)-
**Elizabeth Forward 2022 OL/DT Nicholas Murphy (6'2", 285) earned his first D-1 offer on Thursday from Duquesne. Murphy is a 2-time All-Conference player.
Blessed and honored to receive my first division 1 offer from Duquesne University!! @DuqFB pic.twitter.com/s8wqRSa3Rd

— Nicholas Murphy (@5NickMurphy4) June 11, 2021

Update (7:40 AM)-
Few of Pitt's newcomers showing off the new uniforms on Instagram. pic.twitter.com/v4XFykdCKB

— George Michalowski (@MichalowskiCBB) June 10, 2021
Update (7:37 AM)-
Pitt looks better🙃 https://t.co/PQq5F0PnJy

— 15🌴 (@RashadBattle15) June 11, 2021
Update (7:33 PM)-
North Allegheny grad Ayden Owens finishes second in the decathlon at the NCAA championships. #WPIAL pic.twitter.com/TB6ZOfPBj0

— Brad Everett (@BREAL412) June 11, 2021