The Frank Walker Law/PSN Weekend Notebook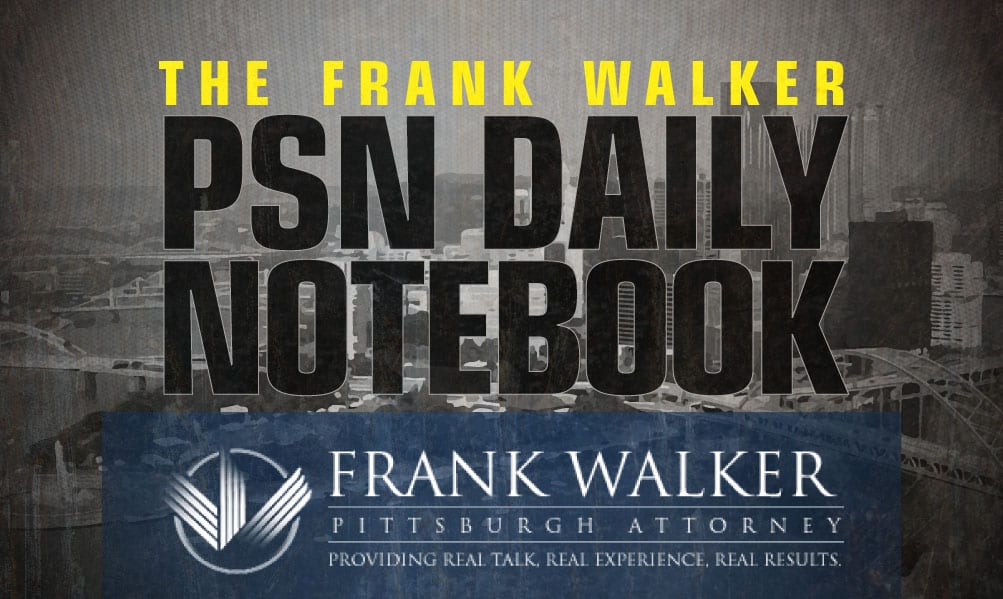 The PSN Daily Notebook is sponsored by Frank Walker, one of Pittsburgh and West Virginia's most respected criminal defense and injury lawyers. Mr. Walker has offices in Pittsburgh and Morgantown and has been named one of Top 100 National Trial Lawyers and is rated a perfect 10.0 Superb by Avvo for ethics, experience and results. To reach Mr. Walker, you can call 412-532-6805 or go to his website frankwalkerlaw.com. For real talk, real experience and real results, contact Frank Walker Law.
Update (8:13 PM)-
New graphics in the practice gym! Excited to get back to work with our guys this summer. Creating OUR culture each day.
🧱 by 🧱 #H2P
We Show Up
We Keep Our Promises
We Appreciate What We Have
No Excuses pic.twitter.com/G3waYBENhc

— Jeff Capel (@jeffcapel) June 13, 2021

Update (7:12 PM)-
Had a great time getting work in at the @Pitt_FB camp today‼️💪 @Abaskerville_7 @toddavasey pic.twitter.com/6t1wRJ9v5f

— Alex Arledge (@alex_arledge12) June 13, 2021
Update (5:38 PM)- 
**Thomas Jefferson 2022 lineman Nick Bryan spent the day at Marshall.
I had a fantastic camp at Marshall today, had a chance to work and compete for @CoachEMorrissey. Also had a great conversation with @CoachHuff!@tcramsey19 @HerdFB @RecruitTheHerd pic.twitter.com/p8xZiu1hy8

— Nick Bryan (@NickBry46357328) June 13, 2021

Update (3:42 PM)- 
**Another D-1 offer for Mt. Lebanon 2022 athlete Alex Tecza.
After a great camp and conversation with @HC_coachtoddgil and @CoachTerp_, I am grateful to receive an offer from @HCrossFB!!!! pic.twitter.com/pajw1cwjTW

— AlexTecza (@AlexTecza2) June 13, 2021
Update (3:22 PM)-
Amazing experience competing today @Pitt_FB Rising Stars Prospect Camp today. Thank you to all the coaches that took time to talk with me today and special thanks to @BrennanMarion4 for working with me today! #h2p pic.twitter.com/3IeQ6ewxdX

— Griffin LaRue🦋 (@Griffin_LaRue3) June 13, 2021
Update (3:14 PM)- 
**Matt Gemma is a 2023 tight end/defensive end from Morristown, New Jersey.
Had a great tour and camp at PITT today!! Looking forward to the game day visit!!💙💛Thanks @CoachPartridge @CoachDuzzPittFB @CoachTimSalem @Kzovko @NickPetrillo18 pic.twitter.com/oyUb7QtmVs

— Matt Gemma (@gemma_matt) June 13, 2021
Update (11:07 AM)- 
**A group of players from the talent rich program from Cass Tech in Detroit are at Pitt today.
Good morning Pittsburgh. #CTFB pic.twitter.com/KrTSPsXlft

— Coach Marvin Rushing (@CoachRush_CTFB) June 13, 2021
———————————————-

Update (10:01 PM)-
West Allegheny star Nodin Tracy will solidify be on the #Pitt coaching staff. A versatile athlete. #H2P 🟡🔵 https://t.co/6hdRgAXL1k

— Harry G. Psaros (@PittGuru) June 13, 2021
Update (9:41 PM)- 
**Gateway 2023 athlete Racari El will be working out tomorrow at Pitt.
Check out my highlight – https://t.co/47zx0ehwIg year 2 in the books. year 3 is going to be something special 🙌🏽🖤

— Racari El ⛓⛓ (@official_cari3) November 14, 2020
Pitt prospect camp tomorrow🔵🟡. Ready to compete!! @PittPanthers247 @210ths @Coach_Manalac @PghSportsNow @GatewayGatorsFB @PaFootballNews @Team412coach

— Racari El ⛓⛓ (@official_cari3) June 13, 2021

Update (9:38 PM)- 
Not a bad day on the river! @nate_temple6 pic.twitter.com/qO1uUFm2jt

— Kenny Pickett (@kennypickett10) June 12, 2021
Update (9:23 PM)-
**Tonight, Pitt offered elite 4-star 2023 offensive lineman Amir Herring from West Bloomfield, Michigan. Herring received the news from Archie Collins. The 6'3", 280 pound offensive guard also holds offers from Arizona State, Arkansas, Kentucky, Maryland, Michigan, Michigan State, Ole Miss, Missouri, Penn State and Syracuse.
Update (9:19 PM)-
Exited for the Pitt camp tomorrow! We here😈 #H2P @JoshuaNarcisse5 @CoachTimSalem @Pitt_FB @PghSportsNow @StepinacSports @PittGuru @ARCHIECOLLINS22 @CoachKenBarger @247recruiting @StepinacJungle pic.twitter.com/YixOAm9UVt

— Bodhi Ogg (@bodhi_ogg) June 13, 2021

Update (9:09 PM)-
Had a great time during my OV in Pitt.🟡🔵#H2P @CoachTimSalem @CoachDuzzPittFB @Pitt_FB @CoachPartridge @CoachHarriott pic.twitter.com/RijlMIO4iG

— Mason Taylor (@MasonTaylor52) June 12, 2021
Had a great time @Pitt_FB thank you #H2P💙💛 @CoachDuzzPittFB @CoachPartridge @ARCHIECOLLINS22 pic.twitter.com/Sx0rKcUnXI

— Jaylin Marshall (@breadwinnerjay_) June 12, 2021
H2P💛 pic.twitter.com/Aa4VfBskQW

— Keon Wylie (@KeonWylie) June 13, 2021

Update (9:01 PM)- 
**The D-1 offers continue to come in for Butler 2022 combo guard Devin Carney.
After a great unofficial visit, I'm beyond blessed to receive an offer from Coach Schrage and Elon University! #GoPhoenix🦅❤️ pic.twitter.com/Sv1n1vX88l

— Devin Carney (@devin24carney_) June 12, 2021
Update (8:50 PM)- 
**Serra 2022 defensive back Pharoh Fisher will be one of the campers tomorrow at Pitt.
Pitt camp tomorrow 🟡🔵🐾 @PghSportsNow @Kzovko @coachcsanders @BrennanMarion4 @CoachMJacobs34

— Pharoh Fisher (@fisher_pharoh) June 13, 2021
Update (8:45 PM)-
**A day after visiting Ohio State, Laurel Highlands 2023 4-star athlete Rodney Gallagher made an unofficial visit to West Virginia.
Unofficial to West Virginia today🙏🏼

— Rodney Gallagher 3rd (LLC💞) (@RodneyG_3rd) June 12, 2021
Update (8:44 PM)- 
**Wide Receiver Marcus Peterson, who is a top Pitt 2022 recruiting target, is on an official visit to Central Florida this weekend.
#UCF Official ‼️ #ChargeOn pic.twitter.com/M0HgXtz1NY

— Marcus Peterson (@MarcusPeterson_) June 12, 2021