The Frank Walker Law/PSN Daily Notebook: June 15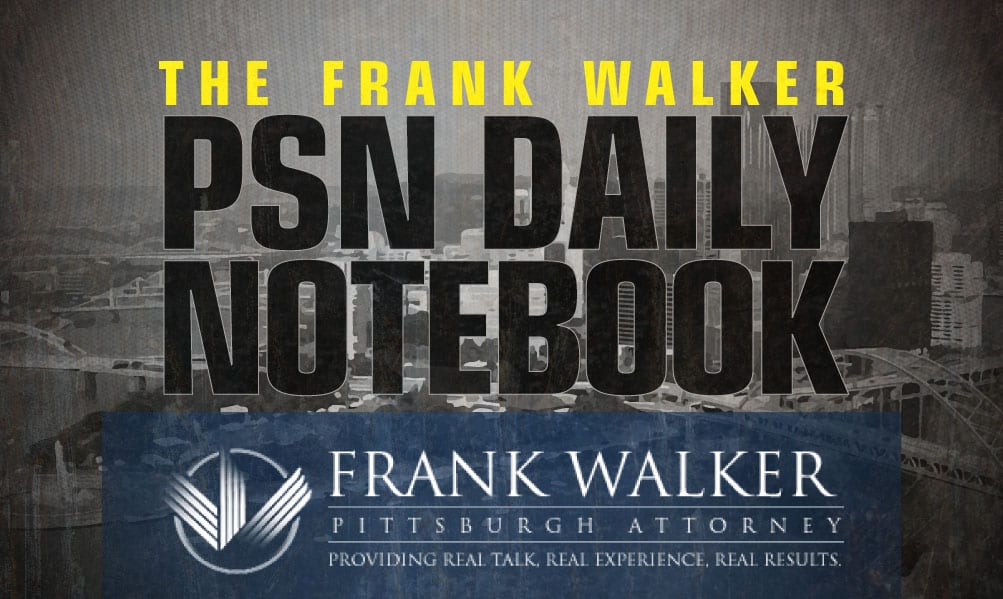 The PSN Daily Notebook is sponsored by Frank Walker, one of Pittsburgh and West Virginia's most respected criminal defense and injury lawyers. Mr. Walker has offices in Pittsburgh and Morgantown and has been named one of Top 100 National Trial Lawyers and is rated a perfect 10.0 Superb by Avvo for ethics, experience and results. To reach Mr. Walker, you can call 412-532-6805 or go to his website frankwalkerlaw.com. For real talk, real experience and real results, contact Frank Walker Law.
Update (9:04 PM)- 
** The latest Power 5 offer is in for Pine-Richland 2022 OT Jalen Klemm.
Blessed to receive an offer from Washington State University #GoCougs #LetsRoll pic.twitter.com/cP8zxuS9q6

— Jalen Klemm (@JalenKlemm) June 15, 2021

Update (8:49 PM)-
Penn Hills sophomore hooper Daemar Kelly picks up his first Division I offer. https://t.co/Yi30oTYWeJ

— Brad Everett (@BREAL412) June 15, 2021
Update (8:40 PM)- 
**Robert Morris extends an offer today to 2023 Point Guard Jayden Reid from Long Island Lutheran High School in Westbury, New York. Reid also holds offers from Dayton, Fordham and Stony Brock.
Update (5:53 PM)-
**Three players from Brush High School in Cleveland, Ohio made unofficial visits today to Pitt.
Them Brush Boys at the University Of Pittsburgh getting some great run in 💪🏾
2022 6'3 Elmore James
2022 6'8 Antwone Woolfolk
2023 6'8 Tyler Williams pic.twitter.com/KmJFjJyFs3

— chet mason (@ChetMason32) June 15, 2021
Update (5:41 PM)- 
**Congrats to 2022 Peters Township forward Journey Thompson for committing today to Delaware. Thompson is one of the top local players in the WPIAL.
Committed 💛💙 @DelawareWBB pic.twitter.com/RX11qSzflH

— Journey Thompson (@JourneyT_2) June 15, 2021

Update (4:09 PM)-
2023 SF Tyler Bey tells me that he has heard from Bryant, LaSalle, Pittsburgh, and Providence today (@TylerBey1 ).

— Recruits Zone (@recruitszone) June 15, 2021
Update (3:17 PM)-
Pitt women's hoops hosting two big-time sophomores from the WPIAL — North Allegheny point guard Jasmine Timmerson and Pine-Richland center Eve Fiala. Both have high-major offers. (via @WPABruinsAAU) pic.twitter.com/eMduMm90R1

— Brad Everett (@BREAL412) June 15, 2021
 Update (1:33 PM)-
Pitt just reached out to 2023 Deshawn Harris-Smith.

Four-star guard out of Virginia, holds an offer from Penn State.

— George Michalowski (@MichalowskiCBB) June 15, 2021
Update (1:28 PM)-
Two draft picks who haven't gotten much pub — CB Jason Pinnock and LB Hamsah Nasirildeen— have impressed this offseason. Both working with the first team. #Jets

— Rich Cimini (@RichCimini) June 15, 2021
Update (1:08 PM)-
Tim O'Toole reached out to '23 Scotty Middleton this morning.

"He told me about his background and we talked about my background a little. It was great to finally talk to him and looking forward to building a relationship with him and the Pitt family." pic.twitter.com/47bmHnXlaa

— George Michalowski (@MichalowskiCBB) June 15, 2021
Update (12:45 PM)- 
**Rahmir Barno is a 2023 guard from Imhotep Charter in Philadelphia. Barno also holds offers from Bryant, Temple, Drexel, LaSalle and Hofstra.
Rahmir Barno out @TepFamBball and @TeamFinalEYBL has just been offered by Robert Morris.

— jake lieberman (@jakelieberman2) June 15, 2021
Update (12:01 PM)-
2023 @PhillyPrideAAU and LaSalle College HS (PA) wing forward Horace Simmons just received an offer from Bryant, his coach tells me. Simmons has also heard from Pitt, La Salle, Drexel, Penn, and George Washington since the contact period began at midnight.

— Ari Rosenfeld (@ARosenfeldHoops) June 15, 2021
Update (11:58 AM)-
On the first day coaches can contact '23s RI Elite 7'1 @IsaiahSaMiranda has heard from Kentucky UCONN Providence Rutgers PITT Illionois ECU South Carolina Siena UPenn #RIEliteFam @treymorin @HGSL_HoopGroup @JamieShaw5 @ebosshoops @AdamFinkelstein @trigonis30 @ARosenfeldHoops pic.twitter.com/BIWukonPr7

— Rhode Island Elite (@RIElite_) June 15, 2021
Update (11:46 AM)-
2023 prospect Kachi Nzeh has heard from Butler, Harvard, Pitt, UPenn, Miami, Sienna, Drexel, LaSalle, George Washington, Penn State, Ohio State, Bryant, and Seton Hall, he told @Stockrisers.

I watched him play at #TheWarmup last weekend.

— Jake (@jakeweingarten) June 15, 2021
Class of 2023 shooting guard James Johns Jr. Has heard from George Washington, Ole Miss, St. Joes, Pitt
Lasalle, Miami, Drexel, Dayton, Bryant and UPenn his coach tells @247Sports pic.twitter.com/RIleYs0k9k

— Dushawn London (@DushawnLondon1) June 15, 2021
Update (11:41 AM)-
Freddie Dilione (@Freddiedilione5) has been contacted by Wake Forest, Tennessee, Pittsburgh since midnight.

College of Charleston has offered.

— jake lieberman (@jakelieberman2) June 15, 2021
Update (11:38 AM)-
Welcome to 𝐓𝐡𝐞 𝐁𝐥𝐮𝐟𝐟! Let's get to work 💪#GoDukes pic.twitter.com/Ypoy6gFqJN

— Duquesne Basketball (@DuqMBB) June 15, 2021
Update (9:07 AM)-
Jeff Capel also reached out to Jalen Hooks, talented 2023 prospect from Indy. He says he planned a visit for the end of the month.

— George Michalowski (@MichalowskiCBB) June 15, 2021
Update (9:04 AM)-
17 minutes in and @SFA_Basketball & Team Durant CG Jahn Lamothe has heard from the following schools:

Pitt
Tennesee
George Washington
Penn State
Va Tech pic.twitter.com/aY8rdtfeGs

— Colby Giacubeno (@ColbyGHoops) June 15, 2021
Update (8:56 AM)-
2023 prospect Tyler Williams has heard from Pittsburgh, Michigan, and Cleveland State, his coach told @Stockrisers. The 6'8 forward will visit Pittsburgh later today.

— Jake (@jakeweingarten) June 15, 2021
Contact period is underway.

Jeff Capel has reached out to 2023 Greg (GG) Jackson. Jackson is 30th overall according to 247. 6'8 power forward.

— George Michalowski (@MichalowskiCBB) June 15, 2021