The Frank Walker Law/PSN Daily Notebook: June 18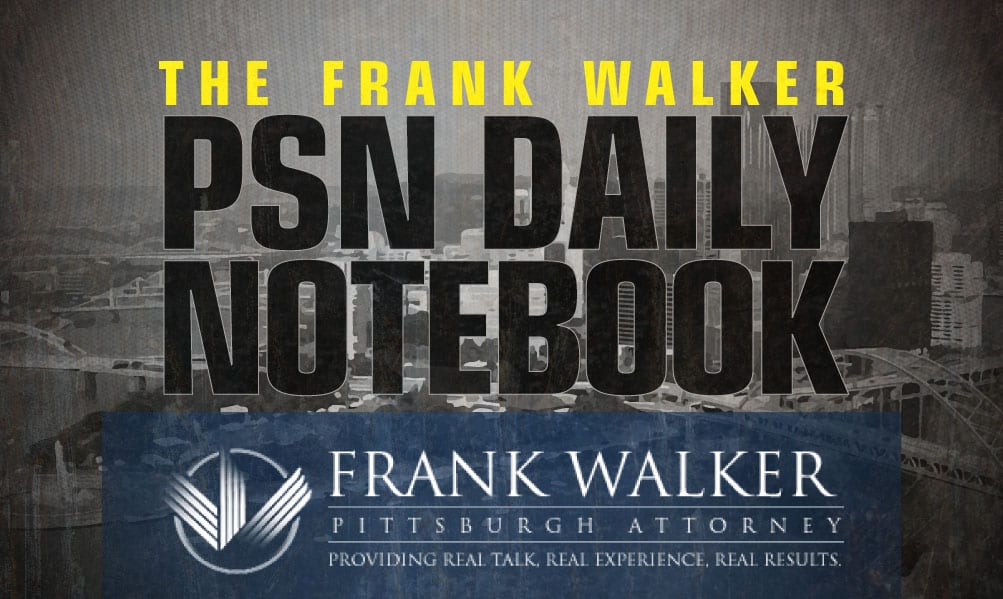 The PSN Daily Notebook is sponsored by Frank Walker, one of Pittsburgh and West Virginia's most respected criminal defense and injury lawyers. Mr. Walker has offices in Pittsburgh and Morgantown and has been named one of Top 100 National Trial Lawyers and is rated a perfect 10.0 Superb by Avvo for ethics, experience and results. To reach Mr. Walker, you can call 412-532-6805 or go to his website frankwalkerlaw.com. For real talk, real experience and real results, contact Frank Walker Law.
Update (8:55 PM)-
**Pitt received an unofficial visit today from 2023 wide receiver Chris Lawson Jr., from Ridge View High School in Cornelius, North Carolina. Lawson holds offers from Pitt, South Carolina, NC State, Florida International and Charlotte.
Great time at the NPshowcase yesterday!🕸 @NPCoachJeff @247Sports @RivalsFriedman @DonCallahanIC @fastdawg101 @Coach_Burris @Coach3mith @NPCoachZim pic.twitter.com/wvPQjkdtRC

— Chris Lawson Jr *CLJ* (@Chris_Lawson_Jr) May 30, 2021
Update (8:38 PM)-
DMV Live: DeMatha vs Paul VI set to tip.

22' Rodney Rice
22' Tyrell Ward
22' Dug McDaniel

Nate Oats, Jeff Capel, Chris Mack, Mark Turgeon, Jay Wright, Mike Young, Pat Ewing, LaVall Jordan, Travis Steele, Mike Brey all front row.

Also assts from Duke, LSU, Providence, Virginia pic.twitter.com/OoEByPcWIu

— Endless Motor Sports (@endless_motor) June 19, 2021
Update (3:16 PM)-
. @Westtownhoops vs @TheKiskiSchool
Among those in attendance:
Siena
St. John's
UConn
Pittsburgh
Duke
Michigan
UNC
Niagara
Clark
Georgetown
Providence
St. Bonaventure
American
LaSalle
Duquesne
NJIT
Marist
UNH
COBL
Colgate
Lafayette pic.twitter.com/PlaStfqnSj

— 𝒜𝓃𝒹𝓇ℯ𝓌 𝒮𝓁𝒶𝓉ℯ𝓇 (@Andrew__Slater) June 18, 2021
Update (1:39 PM)-
Chris Mack, Mark Turgeon, Jeff Capel, Mike Young, LaVall Jordan, Brad Underwood, Patrick Ewing, Mike Brey all here front row for 2022 wing Cam Whitmore of Archbishop Spalding/Team Melo at DMV Live.

Also assistants from Marquette, Nova, Stanford and Wake Forest. pic.twitter.com/tohKuBQls8

— Endless Motor Sports (@endless_motor) June 18, 2021
2022 Cam Whitmore |@_camwhitmore_| of Archbishop Spalding is an elite quick-twitch athlete.

The 6'7 wing had that explosiveness on full display here at DMV Live in front of Jeff Capel, Mark Turgeon, Mike White, Chris Mack, Brad Underwood, Mike Brey, Pat Ewing and more. pic.twitter.com/4qhGIALIKa

— Endless Motor Sports (@endless_motor) June 18, 2021
Update (12:41 PM)-
**Interesting offer today as Pitt extends offer to 2022 3-star defensive tackle Bradley Mann from Jacksonville, Florida. Mann (6'6", 260) received the offer from Tim Salem and also holds Power Five offers from Indiana, Louisville, Virginia Tech and Wake Forest.
Had a great first haft against Orange Park in our spring game! @Bolles_Football @DeshawnBrownInc @Alphasportsra https://t.co/2iDcbxgjkY #hudl

— Bradley Mann (@Bradleymann5422) May 24, 2021
Update (12:32 PM)-
Ryan Hayden is stepping down as athletic director at Jeannette after two years on the job.https://t.co/sJFpXnXDJZ

— Tribune-ReviewSports (@TribSports) June 18, 2021
Update (11:12 AM)-
**This weekend, Ohio 2023 3-star lineman/defensive AJ Salley will be making an unofficial visit to Pitt. Salley is in the middle of touring a bunch of programs. Yesterday, Salley made a visit to Ohio State and prior to that was at Cincinnati. Salley (6'5″, 260) holds offers from Pitt, Cincinnati, Iowa State, Kentucky, Oregon, Tennessee and Toledo.
Good rep from Ohio state camp , starting to feel more comfortable in my movement ❕ pic.twitter.com/h1yJm7kZ0H

— aj salley (@salley_aj) June 17, 2021
Update (10:32 AM)- 
**Congrats to Moon 2022 guard/forward Emma Theodorsson for making a commitment today to Bucknell.
Committed 🧡💙🦬 pic.twitter.com/ku7Qj90Jwz

— Emma Theodorsson (@emmatheodorsson) June 18, 2021
Update (9:28 AM)-
'23 @SFA_Basketball/@TeamMe7oEYBL G Carlton Carrington has heard from the following programs:

Pitt
Rutgers
George Washington
Elon
Yale
Penn
Bryant pic.twitter.com/Xv1F4xXrLI

— Colby Giacubeno (@ColbyGHoops) June 17, 2021
Update (9:00 AM)-
**2022 3-star OL Brian Parker makes a commitment to play at Duke. Parker made an official visit to Pitt during the first week of June.
I'd like to thank my Family, Teammates, Coaches, and the St. X community for helping me become the man I am today. Also I want to thank the Duke Coaching Staff for this opportunity. With that being said I am announcing my commitment to Duke University! pic.twitter.com/RxmeGp7xj6

— Brian Parker II (@parkerbt53) June 18, 2021
Update (8:43 AM)-
2023 G Joshua Wyche (@Josh1Wyche) tells us he's been in contact with Drexel, LaSalle, Colgate, and Robert Morris (offered) since the contact period started.

— Hoop Scoop Media™️ (@HoopScoopMedia) June 18, 2021
Update (8:35 AM)-
Facing 1-year suspension, Seton LaSalle football coach Mauro Monz resigns #HSSN https://t.co/8qo5818iyC

— Chris Harlan (@CHarlan_Trib) June 18, 2021