The Frank Walker Law/PSN Daily Notebook: June 20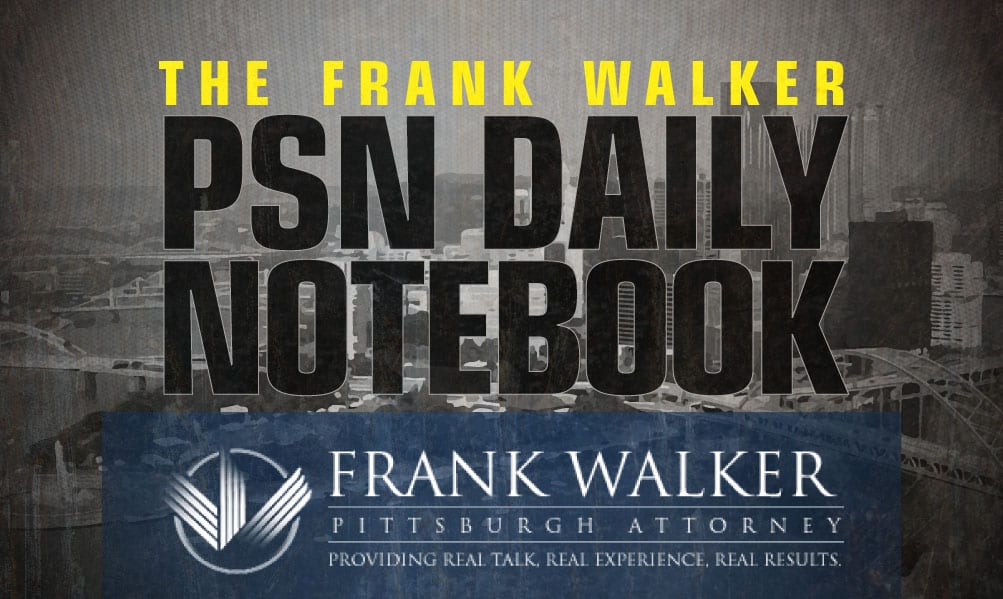 The PSN Daily Notebook is sponsored by Frank Walker, one of Pittsburgh and West Virginia's most respected criminal defense and injury lawyers. Mr. Walker has offices in Pittsburgh and Morgantown and has been named one of Top 100 National Trial Lawyers and is rated a perfect 10.0 Superb by Avvo for ethics, experience and results. To reach Mr. Walker, you can call 412-532-6805 or go to his website frankwalkerlaw.com. For real talk, real experience and real results, contact Frank Walker Law.
Update (10:18 Pm)-
Among the many schools in attendance at the Hun School/Sauna today were:
Albany
St. John's
Auburn
Siena
Pittsburgh
Yale
Hofstra
UConn
Temple
Rider
Dartmouth
Brown
Providence
Marist
Loyola
Davidson
Central CT
W & M pic.twitter.com/694Uvpxbln

— 𝒜𝓃𝒹𝓇ℯ𝓌 𝒮𝓁𝒶𝓉ℯ𝓇 (@Andrew__Slater) June 20, 2021

Update (5:27 PM)-
**Brashear 2023 4-star Ta'Mere Robinson made an unofficial visit this weekend at Michigan.
It was real this weekend in Ann Arbor🔥 I will be back again!! #GoBlue 〽️ #notcommitted pic.twitter.com/CcdmBZcO43

— ᴛᴀᴅᴅᴇʀ ③ (@TaMereRobinson3) June 20, 2021
Update (4:37 PM)- 
**The latest D-1 offer for Pine-Richland 2022 linebacker Jeremiah Hasley comes from Kent State.
After a great visit and conversation with @TheHC_CoachLew, I'm blessed and excited to receive an offer from Kent State University!!! @CoachTomKaufman @PRRamsFootball @CoachKasper pic.twitter.com/97D9dXuTDw

— Jeremiah Hasley (@jeremiahasley) June 20, 2021
Update (4:09 PM)-
**This afternoon, Robert Morris extends an offer to 2022 shooting guard Davin Cosby Jr. (6'5″, 180) from John Marshall High School in Richmond, Virginia. Cosby also holds offers from Howard, Florida A&M and Jackson State.
Davin Cosby Jr (@Cosby10D )

6'4" SG – Class of 2022 – John Marshall HS@TeamLoadedBBall @theCBGLive

🎥: @DeeBanks__ pic.twitter.com/5RZUAUEp3g

— TeamLoaded_804 (@TeamLoaded804) March 23, 2021
Update (3:36 PM)-
**Perry 2022 4-star defensive Tyreese Fearbry makes an unofficial visit to Penn State this weekend.
Had a tremendous time at Penn state look forward to see what happens next👀@The__Hunt @coachjfranklin @CoachTerryPSU @PSUPride_1 @247Sports @CoachJScott_DL pic.twitter.com/3VZN65LPOB

— Tyreese Fearbry (@FearbryTyreese) June 20, 2021
Update (9:59 AM)-
Dear Dad,

An open letter from Tyson Acuff reflecting on the impact his dad has had on his life. Today, we'd like to wish a very #HappyFathersDay to all of the dads out there!#GoDukes pic.twitter.com/HkTkRTveCd

— Duquesne Athletics (@GoDuquesne) June 20, 2021
Update (9:48 AM)- 
**2023 Johnstown wide receiver Tavione Thomas worked out at Pitt on Sunday.
I had a great camp day at Pitt today! @PaFootballNews @Pa_Preps @210ths @Evolve2tenths @JohnstownTroja1
40 yard dash: 4.67
Shuttle: 4.54 pic.twitter.com/rlre4n0orv

— Tavione Thomas (@tavione__) June 19, 2021
Update (9:22 AM)-
Source: Pitt will host Jacksonville as part of its 21-22 non-conference schedule.

— Jon Rothstein (@JonRothstein) June 19, 2021
Update (9:11 AM)- 
**Pitt received an unofficial visit yesterday from 2023 combo guard Alexis Hess from Blandon, Pennsylvania. Hess was 1st Team All-County as both a freshman and a sophomore.