The Frank Walker Law/PSN Daily Notebook: June 26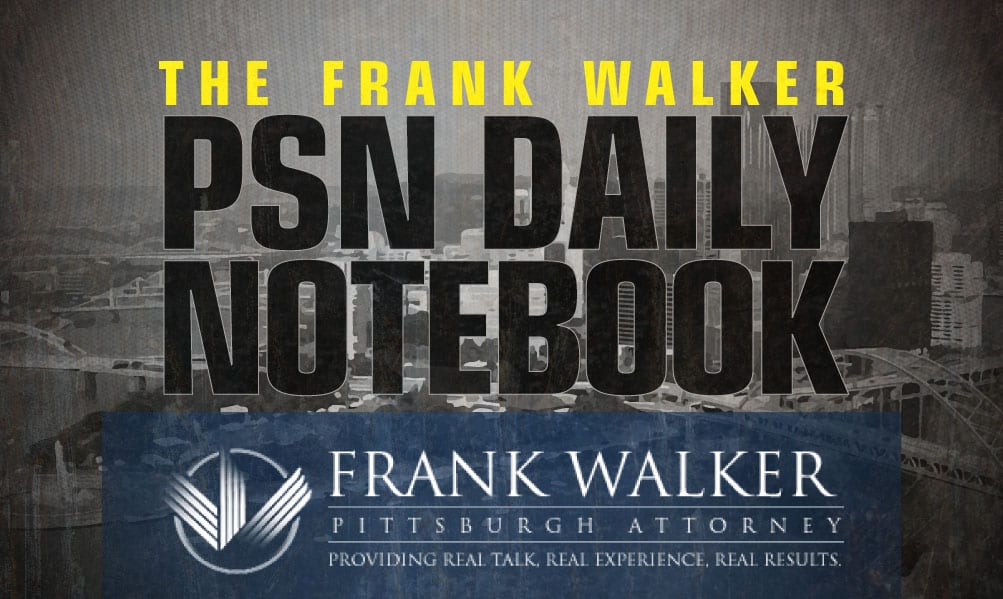 The PSN Daily Notebook is sponsored by Frank Walker, one of Pittsburgh and West Virginia's most respected criminal defense and injury lawyers. Mr. Walker has offices in Pittsburgh and Morgantown and has been named one of Top 100 National Trial Lawyers and is rated a perfect 10.0 Superb by Avvo for ethics, experience and results. To reach Mr. Walker, you can call 412-532-6805 or go to his website frankwalkerlaw.com. For real talk, real experience and real results, contact Frank Walker Law.
Update (10:11 PM)- 
**Saturday night, Moon 2022 offensive lineman Trent Fraley announces his commitment to Marshall.
100% committed 💚🦬!!! #Goherd #5strong @CoachEMorrissey @CoachHuff @michael_bartrum @HerdFB @Moon_Football @Coach_Linn pic.twitter.com/aQhRF0owHT

— Trent Fraley (@fraley_trent) June 27, 2021
Update (8:08 PM)-
I had a great time at the @Pitt_WBB camp today! A huge thanks to @Pitt_CoachWhite for putting together an awesome camp! Thanks to @CoachTerri_Pitt for talking to me and giving me tips throughout the day!! @PITT_CoachP @BriannaKiesel03 @ali_hoesly @sheanamariee pic.twitter.com/ers7k6bnDM

— Hannah Stemple (@hannahstemple) June 26, 2021
Update (8:06 PM)-
Dana Altman, Jeff Capel, Mike Anderson, Kevin Willard, and Speedy Claxton among those in the gym to watch Upper Room Christian (NY) defeat Zion Cruz and The Patrick School (NJ)

Youssouf Singare '23 helped himself with a strong performance@Andrew__Slater @PittGuru @ChrisDokish pic.twitter.com/TRalk3dlDO

— Pro Insight™️ (@_proinsight) June 26, 2021
Update (3:37 PM)- 
**Congrats to former Aliquippa star running back Terry Swanson for his new job at Toledo.
Welcome home @Tswan_2!! https://t.co/XeHDKCQqz8#ONErocket pic.twitter.com/lbcFuUJiuA

— Toledo Football (@ToledoFB) June 23, 2021

Update (1:15 PM)-
@Pitt_FB 2022 OL target @jacksonbrown_77 earns another offer https://t.co/ldBSjS9BRr

— mike vukovcan (@mvukovcan) June 26, 2021
Update (12:50 PM)-
2023 prospect Leland Coleman (@LelandColeman9) tells me that he's recently heard from Drexel and University of Penn.

Robert Morris has extended an offer thus far.

— jake lieberman (@jakelieberman2) June 26, 2021
Update (12:01 PM)-
**Pittsburgh Sports Now us told that Pitt coaches are at this game recruiting 2022 center Matt Filipowski (6'11", 235) from Wilbraham, Massachusetts. Filipowski does hold an offer from Pitt.
Among the Many coaches for @WMA_Basketball vs St. Andrew's
UCLA
Michigan
Pitt
LMU
Iowa
Clark
Duke
Siena
Virginia
Notre Dame
Indiana
Harvard

Guy on the left has a future in basketball pic.twitter.com/dbHV4Of9Ux

— 𝒜𝓃𝒹𝓇ℯ𝓌 𝒮𝓁𝒶𝓉ℯ𝓇 (@Andrew__Slater) June 26, 2021

Update (9:51 AM)-
The recruits on their @Pitt_FB official visit getting a tour of the campus from @CoachDuzzPittFB and his staff. pic.twitter.com/GadEQd6TWZ

— Pittsburgh Sports Now (@PghSportsNow) June 26, 2021
Update (9:49 AM)- 
**Another nice game yesterday from Justin Champagnie at the NBA Combine.
Another 💪 effort from @JusChampagnie at #NBACombine pic.twitter.com/Bll29QZ3lb

— Pitt Basketball (@Pitt_MBB) June 26, 2021