Pat Narduzzi: Pitt Football is 92% Vaccinated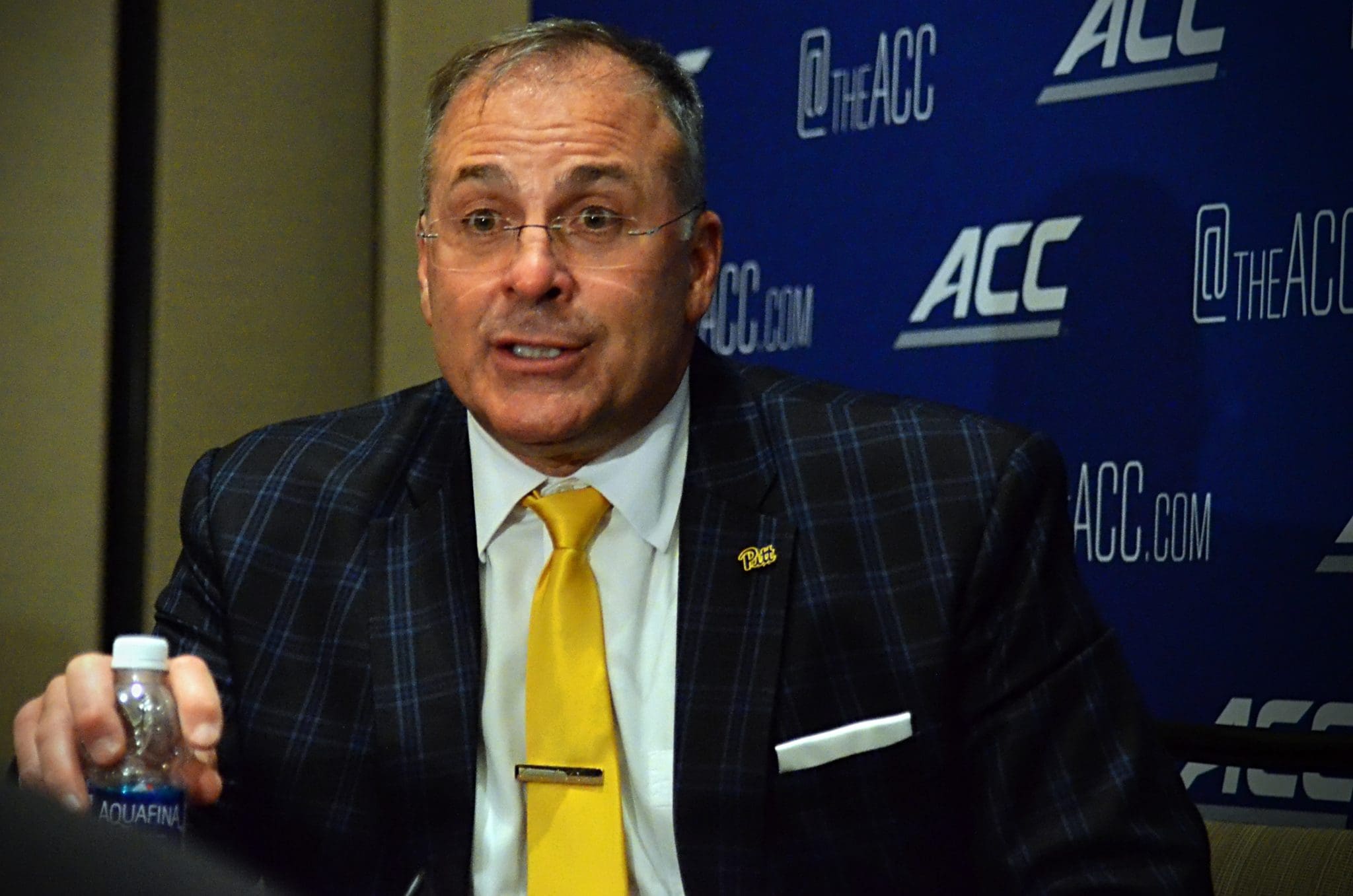 CHARLOTTE, N.C. – If you see smoke coming out of Pitt's football locker room this fall, don't be alarmed. Pat Narduzzi insists that'll be a sign of celebration.
It'll mean that all of Pitt's football team is vaccinated for COVID-19, because when that happens, Narduzzi says, he's torching all of his face masks.
"I'm going to burn my masks as soon as we hit 100%. That might be a good idea," Narduzzi said, with his tongue in his cheek just a bit. "Everybody throw your masks in the fire, let's have a bonfire. I've probably got 60 of them in my locker, depending on which color you want to go with today."
Indeed. Like a lot of folks, Pitt's head football coach is tired of wearing a mask.
Narduzzi said Wednesday at the ACC Kickoff at the Westin in downtown Charlotte that Pitt's football team is 92% vaccinated, well past the 85% threshold set by the ACC, SEC, the NFL and other leagues. ACC commissioner Jim Phillips said that over half of the conference has hit that mark already, and Pitt among the squads in that group.
"I'm proud of our kids, our doctors, our trainers. They've done an outstanding job of just managing the whole thing," Narduzzi said. "I think our kids have wanted to do it as a team. We'd like to have no problems as a team… It takes everybody. You know, I'll go out and say this publicly, we need this country to get going and get to a better place. We don't want to run into what we ran into last season. We've got to trust the process and trust these doctors."
It's unclear which other ACC schools are past the 85% threshold, but UNC coach Mack Brown revealed that his team is not quite there yet.
"We're getting really close. We have encouraged everybody to get it," Brown said. "Some, as we know, across our country and our world, do not want to get it. We understand that. That's fair. Our job is to educate; their job is to make personal decisions."
The ACC is not mandating that all of its student-athletes be vaccinated, but six of its member schools – and Notre Dame – require it. Pitt is not one of the institutions that requires vaccinations.
"Personally, I believe that vaccinations are critical to the protection of all and helping to achieve the goal of eliminating the COVID-19 virus and its variants," Phillips said. "But I also deeply respect that getting vaccinated is a personal choice."
Narduzzi said that getting the majority of the Panthers vaccinated was a gradual process. Coaches didn't force the vaccine, but they gave players all the information and educational material they needed. Narduzzi said he had individual talks with players – he named redshirt senior long snapper Cal Adomitis as one – who were initially hesitant and wanted to know more.
"A lot of times it was that one-on-one conversation, as opposed to a team meeting," Narduzzi said. "But we tell them what's happening, you know? The Yankees and Red Sox just got canceled last week. And I'm a news guy – I watch the news – that delta variant… it's coming. It's here now. What are we doing to make sure it stops?"
Narduzzi added that he used N.C. State's baseball situation in the College World Series as a teaching moment for his team, as a reminder that COVID-19 can still wipe out a season or championship aspirations.
Before playing Vanderbilt in the semifinals of the CWS, four N.C. State players tested positive for the virus and the NCAA ruled that only vaccinated players could play, leaving the Wolfpack with 13 players. After a hard-fought Game One, the NCAA then tested all N.C. State players and found four more positive tests. The NCAA medical group then ruled the Wolfpack out of the tournament.
"Our kids were shocked," Narduzzi said of N.C. State being ousted from the CWS. "The point is, the vaccine is not going make you not get COVID, but you're certainly not going to have any symptoms."
For Narduzzi, getting the vaccine was all about not having a repeat of the 2020 season, where the Panthers – and teams across college football – saw their schedules jumbled and players miss games.
"I would not want to go through another season like (last year)," said Narduzzi, entering his seventh season of leading the Panthers. "I think that conflict of sticking something up your nose three times a week, all the headaches of wearing a mask, I think it wears people out. I don't want anything to do with it."