Frank Walker Law/PSN Daily Notebook: July 30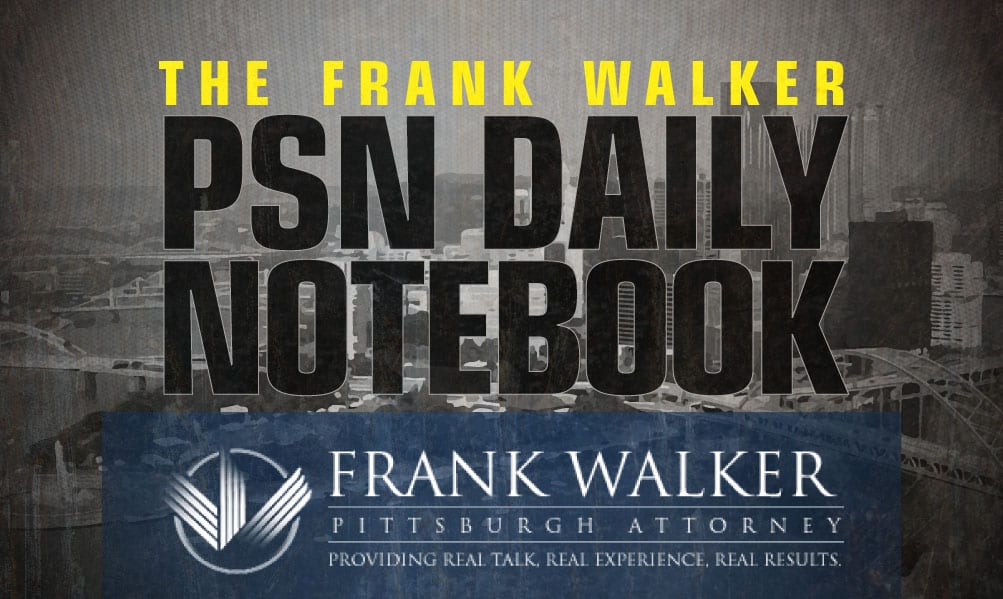 The PSN Daily Notebook is sponsored by Frank Walker, one of Pittsburgh and West Virginia's most respected criminal defense and injury lawyers. Mr. Walker has offices in Pittsburgh and Morgantown and has been named one of Top 100 National Trial Lawyers and is rated a perfect 10.0 Superb by Avvo for ethics, experience and results. To reach Mr. Walker, you can call 412-532-6805 or go to his website frankwalkerlaw.com. For real talk, real experience and real results, contact Frank Walker Law.
Update (8:16 PM)-
So proud of this kid! Not many people have the GUTS to chase their dream. This young man chased and achieved his! And trust me, this is ONLY THE BEGINNING! Toronto is getting a killa…one that is MORE MOTIVATED THAN EVER! Salute @JusChampagnie! I ALWAYS GOT YOUR BACK! pic.twitter.com/fAGACgsjq3

— Jeff Capel (@jeffcapel) July 31, 2021
Update (7:35 PM)-
**Pitt received an unofficial visit today from 2022 TE Jesse Meyers from Coldwater, Ohio.
Had a great time @Pitt_FB. Thanks @CoachTimSalem for showing me around the awesome facility! @BatesBacker pic.twitter.com/oheJ0qqCuB

— Jesse Meyer (@JesseMeyer22) July 30, 2021
Take a look at some of my 1 on 1 camp highlights 👀 🔥 pic.twitter.com/BHf4ub8I3H

— Jesse Meyer (@JesseMeyer22) July 9, 2021

Update (7:27 PM)- 
**North Catholic 2023 PG Dacia Lewandowski receives an offer today from Mount Saint Mary's.
Super excited to say I have received a scholarship offer from Mount Saint Mary's University! Thank you so much @coach_white5!! pic.twitter.com/BVkAfgWV5r

— Dacia Lewandowski (@Dacia_J_Lew) July 30, 2021

Update (7:25 PM)-
Glad to see #Pitt's linebackers getting some well deserved credit. Led by upperclassmen, several will be playing on Sundays. #H2P #SeekandDestroy https://t.co/dAb9c1ow3P

— Harry G. Psaros (@PittGuru) July 30, 2021
Update (5:46 PM)-
Random stat of the day

Worst extra point percentages over the last five years among P5 schools:

1. Pitt – 96.3
2. Arkansas – 96.3
3. Duke – 96.4
4. Minnesota – 96.5
5. Indiana – 96.5

— ACC Content (@ACContent__) July 30, 2021
Update (2:47 PM)-
Girls hoops recruiting news: Chartiers Valley senior guard Marian Turnbull has committed to Northeastern. Third CV senior headed to play D1 ball. Aislin Malcolm (Pitt) and Perri Page (Columbia) are the others. #WPIAL #PAGirlsHoops https://t.co/hPOueC09VZ

— Brad Everett (@BREAL412) July 30, 2021