The Frank Walker Law/PSN Daily Notebook: August 2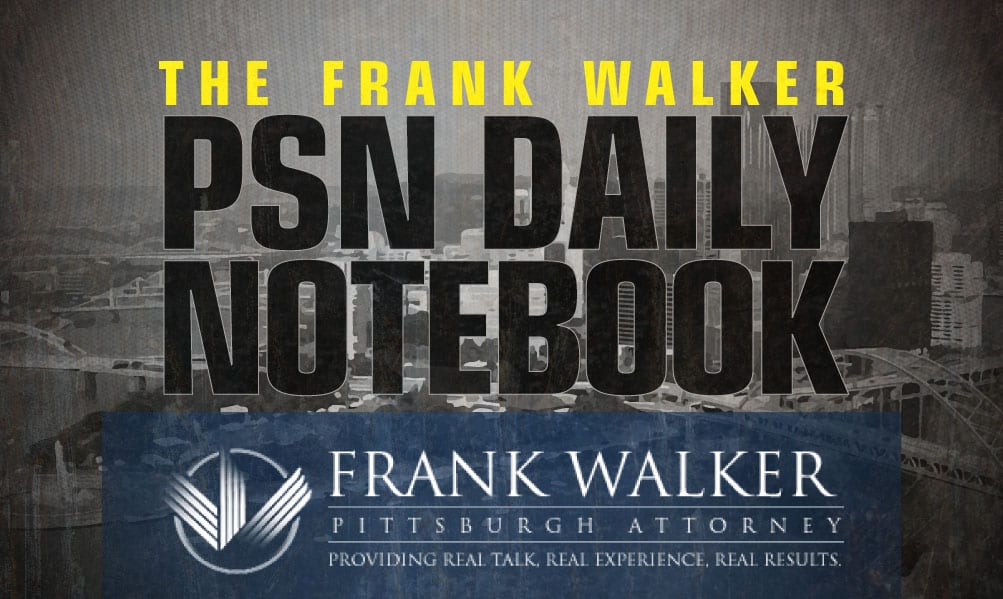 The PSN Daily Notebook is sponsored by Frank Walker, one of Pittsburgh and West Virginia's most respected criminal defense and injury lawyers. Mr. Walker has offices in Pittsburgh and Morgantown and has been named one of Top 100 National Trial Lawyers and is rated a perfect 10.0 Superb by Avvo for ethics, experience and results. To reach Mr. Walker, you can call 412-532-6805 or go to his website frankwalkerlaw.com. For real talk, real experience and real results, contact Frank Walker Law.
AROUND THE NETWORK
It's game week for the Steelers as they get ready to take on the Dallas Cowboys in the Hall of Fame game.
West Virginia encroaching into Pennsylvania to steal a 4-star receiver.
West Virginia Picks Up Commitment From 4-Star Pennsylvania Wide Receiver Kevin Thomas
The Flower in Chicago.
Dan's Daily: Kane Saga Gets Messy, Fleury Says, 'Hey Chicago, I'm In…'
Nittany Lions National Championship prediction? That probably won't work out.
PSU commit predicts 'national championship within the next 3-4 years'
If you like old fashioned golf, you'll love Stoughton Acres.
Course Review: A Wholesome Hacker's Haven at Stoughton Acres
In the mood for some auto racing this Labor Day weekend?
Riverhounds are on top of their division.
Update (5:42 PM)-
LeSean McCoy: I'll play if I find a good fit, if not I'll go into the sunset. https://t.co/iOULcKVqoR

— ProFootballTalk (@ProFootballTalk) August 2, 2021
Update (1:19 PM)-
**Today, Cory Sanders and Pitt extend an offer to 2023 defensive back Jayden Davis from Collins Hill High School in Suwanee, Georgia. Davis also holds offers from Michigan, TCU, Ole Miss and Kentucky. Watch the tape, this kid has a nose for the football. Big-time playmaker.
Year 2 https://t.co/jVAowI8SiI @GregoryLenny @SwickONE8 @BLinnell2 @RecruitGeorgia @jones8_jr @Frfountain2002 @CoachEarl_

— Jay Davis (@Jayden1Davis) January 2, 2021
Update (12:21 PM)-
**Perry 2022 defensive end Tyreese Fearbry picked up an offer on Monday from Tennessee. Last week, the 4-star defensive end de-committed from Penn State.
Update (10:49 AM)-
ACC predictions 2021: Conference standings, Heisman hopefuls and best games https://t.co/7ARvz4cUxc

— Bill Bender (@BillBender92) August 2, 2021
Update (10:46 AM)-
Day 1 grind.

Panther Challenge.#ZooEra l #H2P pic.twitter.com/5PGdDAndVd

— Pitt Basketball (@Pitt_MBB) August 2, 2021
Update (10:25 AM)-
**Pitt has extended an offer to 2023 3-star wide receiver Joe Walker (6'5″, 200) from Warren Central High School in Indianapolis, Indiana. This is Walker's second D-1 offer with the other coming from Purdue. Walker received the offer from Brennan Marion.
Had an awesome time @FBUcamp in Naples Florida‼️ great coaches great athletes and all around great staff, @LauerFBU thanks for having me can't wait to come back💙 @Mansell247 @247Sports @cspann28 pic.twitter.com/IMZ0PeMeXT

— joe walker (@Joewalker_81) July 13, 2021
Update (9:31 AM)- 
**Pitt 2022 commit Australian punter Sam Vander Haar.
Officially, official! Incredibly grateful for this opportunity every day. I'll be seeing you soon, Pittsburgh. 🔵🟡 #h2p @CoachDuzzPittFB @CoachAPowell @ProkickAus @JohnnyPKA pic.twitter.com/oOS0jbHBhg

— Sam Vander Haar (@SamVanderhaar) August 2, 2021
Update (9:21 AM)- 
**Pitt extends an official offer to 2022 4-star cornerback Marcus Allen from Walton High School in Marietta, Georgia. Allen is currently committed to North Carolina.
Thankful pic.twitter.com/qusFQhL75u

— Marcus X Allen (@MarcusXAllen7) August 1, 2021