The Frank Walker Law/PSN Daily Notebook: August 5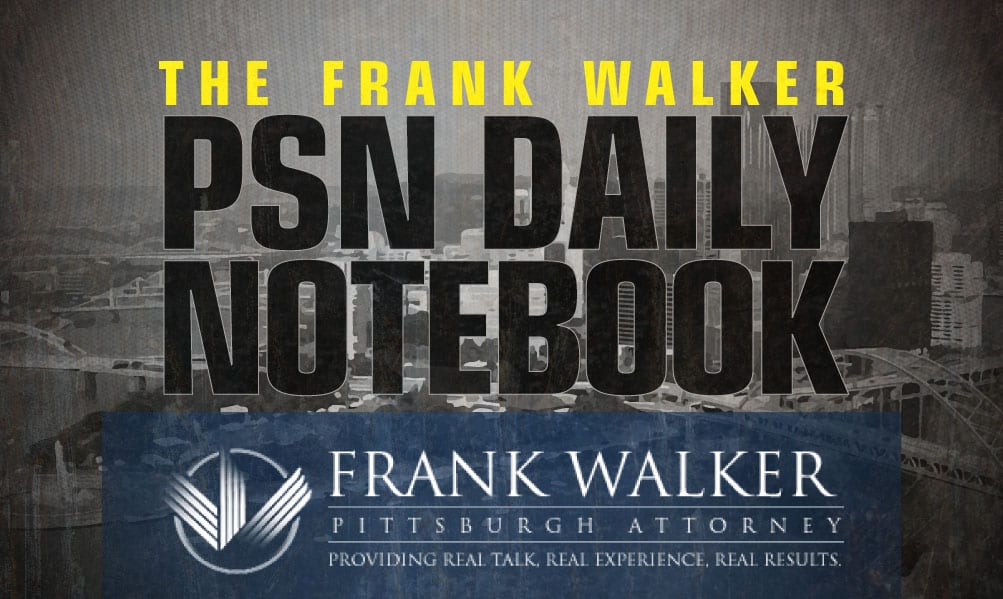 The PSN Daily Notebook is sponsored by Frank Walker, one of Pittsburgh and West Virginia's most respected criminal defense and injury lawyers. Mr. Walker has offices in Pittsburgh and Morgantown and has been named one of Top 100 National Trial Lawyers and is rated a perfect 10.0 Superb by Avvo for ethics, experience and results. To reach Mr. Walker, you can call 412-532-6805 or go to his website frankwalkerlaw.com. For real talk, real experience and real results, contact Frank Walker Law.
AROUND THE NETWORK
Pittsburgh Soccer Now: Pitt men ranked No. 3 in the nation.
Steelers Now: The season starts tonight vs. the Dallas Cowboys in the Hall of Fame Game.
Pittsburgh Hockey Now: P.O. Joseph and the Penguins extend opportunities to black players with new Willie O'Ree Academy
WV Sports Now: Mountaineers retooling on defense after losing players to Draft and portal.
Nittany Sports Now: Can Penn State football reach the next level under James Franklin?
Update (7:03 PM)-
**The Pitt women's basketball team receives an unofficial visit on Thursday from New Jersey 2024 guard Cristina Parrella. The 5'9″ guard holds offers from Pitt, Boston College, Michigan, Georgia, NC State, Florida State and Florida.
Huge thank you to @Pitt_CoachWhite @PITT_CoachP @CoachTerri_Pitt @BriannaKiesel03 and all the @Pitt_WBB players for an amazing unofficial visit!!! It was great to finally meet everyone and tour "The Pete"! pic.twitter.com/UP7x33PcY8

— Cristina Parrella (@cristinap_3) August 5, 2021
Update (4:46 PM)-
Alyssa Clutter, an outstanding all-around athlete at Trinity, commits to play basketball at Division I North Alabama. #WPIAL #PIAAGirlsHoops https://t.co/KqkoD5fb9l

— Brad Everett (@BREAL412) August 4, 2021
Update (4:14 PM)-
2022 Top-30 Jalen Hood-Schifino is down to five schools, he tells @On3Recruits.

In no order: Indiana, Florida, Texas, Tennessee, & Memphis. pic.twitter.com/in6wEFxP2o

— Joe Tipton (@TiptonEdits) August 5, 2021

Update (3:53 PM)-
Rick Pitino and Jim Boeheim now joining the party for '22 Dom Barlow. Syracuse and Iona both offered today, per his twitter.

From two weeks ago @PghSportsNow:https://t.co/qd9S9z0xAX

— George Michalowski (@MichalowskiCBB) August 5, 2021
Update (1:14 PM)-
Some highlights from Femi Odukale's game at Dyckman Park in NYC last night, via his Instagram. pic.twitter.com/QItDRxm0u2

— George Michalowski (@MichalowskiCBB) August 5, 2021
Update (12:35 PM)-
**The Pitt women's basketball program received a visit on Wednesday from 2023 guard Makaela Quimby from McDonogh High School in Maryland and a member of Team Durant 17u (AAU). Quimby holds offers from Virginia, West Virginia, North Carolina, Virginia Tech, Navy and Pitt.
Had such an amazing time with @Pitt_CoachWhite and his amazing staff on my unofficial visit at @Pitt_WBB ! I enjoyed getting to meet some of the players and seeing the campus! Thank you!🟡🔵 pic.twitter.com/tV9r08B4A8

— Makaela "MAK" Quimby (@MakaelaQuimby) August 4, 2021
Update (11:44 AM)-
Let's welcome to the @RMU_Football Defensive staff, our DL Coach @currydwayne01 & our DB Coach @Coach_M_Newton ‼️ Pumped to have these two talented coaches join our defensive staff! 🔴⚪️🔵#ReportDay #SwarmAndSmash #TheCHASEisON pic.twitter.com/C5SoTRvoB9

— Dave Plungas (@CoachPlungasRMU) August 5, 2021
Update (11:27 AM)-
Slippery Rock was voted as the team to beat in the PSAC Coaches Preseason Football Poll. https://t.co/OSTUphUl55

— Tribune-ReviewSports (@TribSports) August 5, 2021
Update (11:05 AM)-
**Another unofficial visitor for the Pitt women's basketball program on Wednesday was 2023 6'4″ forward Jordan Wood from Carmel Catholic Basketball in Mundelein, Illinois. Wood holds offers from Kentucky, Boston College, Ohio State, Penn State, Marquette, DePaul, Florida, Michigan, Illinois, Purdue, North Carolina, Arizona, Wisconsin, Minnesota, Michigan State and Pitt.  Wood received her offer from Pitt back on June 4, 2020. Wood is ranked by ESPN as the No. 35 overall player in the Class of 2023.
Thank you to @Pitt_WBB for having me out today on a great unofficial! @CoachTerri_Pitt @Pitt_CoachWhite @PITT_CoachP pic.twitter.com/GNYpkd4QAk

— JORDAN WOOD (@JordanW_13_) August 4, 2021
From deep deep…@JordanW_13_ . @ChiHoopsExpress pic.twitter.com/IkDSMqMMSn

— BBallQueens (@BBallQueens) October 31, 2020
Update (10:47 AM)-
**The Pitt women's basketball program received an unofficial visit on Wednesday from 2024 guard Jordyn Poole (Fort Wayne Snider High School in Indiana). Poole holds offers from Oklahoma State, Xavier, Kentucky, Memphis, Iowa and Pitt. Poole received the Pitt offer back in April.
Had a great visit today!! @Pitt_WBB Thank you so much for the opportunity!! @PITT_CoachP @Pitt_CoachWhite @CoachTerri_Pitt @BriannaKiesel03 💛💙🤍💛💙🤍 pic.twitter.com/0r9cfM6pr4

— Jordyn Poole (@JordynPoole3) August 4, 2021
@JordynPoole3 gettin' some early week shots up! #keepworking 🏀🏀🏀💪🏾💪🏾💪🏾 pic.twitter.com/cozdXelkc5

— Jason Barnes (@JAB260425) May 24, 2021
Update (10:34 AM)-
**Pitt has extended an offer to 2024 athlete Jerrae Hawkins, Jr. from Wheeling, West Virginia. Hawkins received the offer from Brennan Marion and it was his first D-1 offer. Hawkins is also a standout member of his high school track team.
It may not have been @Sup3r_Bash1 tracking down nearly the entire relay field in 2019, but @WPHSTrack freshman Jerrae Hawkins, Jr. made up some MAJOR ground to track down the leader to lift @WPHS_Athletics to 🥇
Hawkins also 2nd in 200 (22.07), 100 (10.75). What a bright future! pic.twitter.com/mnD8Oqbdh8

— Rob Metzger (@RMetzgerWTOV9) June 13, 2021