The Frank Walker Law/PSN Daily Notebook: August 19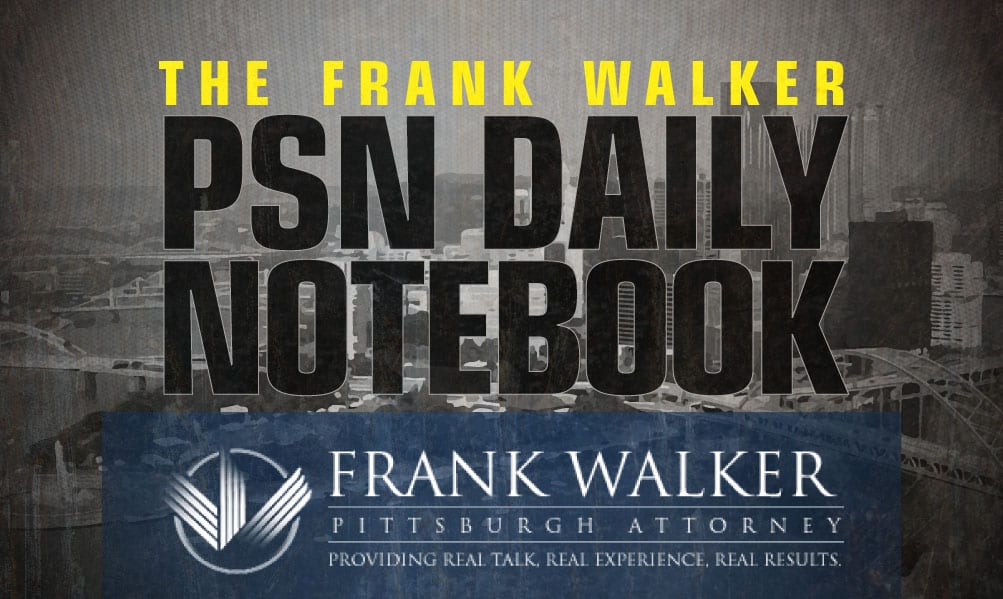 The PSN Daily Notebook is sponsored by Frank Walker, one of Pittsburgh and West Virginia's most respected criminal defense and injury lawyers. Mr. Walker has offices in Pittsburgh and Morgantown and has been named one of Top 100 National Trial Lawyers and is rated a perfect 10.0 Superb by Avvo for ethics, experience and results. To reach Mr. Walker, you can call 412-532-6805 or go to his website frankwalkerlaw.com. For real talk, real experience and real results, contact Frank Walker Law.
Update (8:13 PM)-
PITT WINS!@Pitt_WSOC started off the season with a bang!

The Panthers defeated Tulsa, 3-0 in Stillwater, OK.

Amanda West, Ellie Coffield and Amanda Pais each scored in the win.https://t.co/zw6PeLLcyb pic.twitter.com/hgbjIuaDd0

— Pittsburgh Soccer Now (@pghsoccernow) August 19, 2021
Update (7:05 PM)-
First Panther game of the year…

…first Panther win of the year! 🔵🟡#H2P https://t.co/sgI6HBDav5

— Pitt Athletics (@Pitt_ATHLETICS) August 19, 2021
Update (5:11 PM)-
WHAT A CAREER!! #CMU Head Football coach Rich Lackner will retire after 2021 season.

This is his 36th year at the helm of #Tartans, his 43rd as a coach at his alma mater & 47th on campus.

.647 win percentage..12 Conference titles & Coach of year 7 times !! Best Wishes Coach

— Bob Pompeani (@KDPomp) August 19, 2021
Update (4:51 PM)- 
**Despite de-committing from them, Pitt continues to pursue Florida 2022 3-star OT Ja'Kavion Nonar. These are graphics Pitt has sent him over the last 2 days. At this point, it appears to be a battle between Pitt, Florida and Ole Miss with the hometown Gators having the advantage. Despite that, Charlie Partridge and Pat Narduzzi aren't conceding this recruiting battle.
— Ja'Kavion "Bugatti" Nonar (@jayno1_) August 19, 2021
No Love lost🤞🏾🖤 @CoachPartridge @CoachDuzzPittFB pic.twitter.com/FUYu6AC3wq

— Ja'Kavion "Bugatti" Nonar (@jayno1_) August 19, 2021
Update (4:47 PM)-
3 Pitt Panthers Stand Out for Raiders https://t.co/OXCMgR4xZh @PittBorghetti

— Hondo Carpenter (@HondoCarpenter) August 19, 2021
Update (4:41 PM)- 
**One of Jeff Capel's top targets this year is Dom Barlow. Today, he is meeting today with Maryland.
Dom Barlow'22 @Dominickbarlow_ of @NYRhoops & @BridgtonAcademy will be on a Zoom meeting with #Maryland this afternoon 🐢🐢#Terps https://t.co/zCKW6ae6gq

— 𝒜𝓃𝒹𝓇ℯ𝓌 𝒮𝓁𝒶𝓉ℯ𝓇 (@Andrew__Slater) August 19, 2021

Update (4:39 PM)-
ACC teams that can't play because of COVID will forfeit. Report from Mike Barber @RTD_MikeBarber of the Richmond Times Dispatch #Football #ACC #COVID https://t.co/jTw33Xg0Uw

— Jim Quist (@ACCTheQ) August 19, 2021
Update (8:25 AM)-
Nobody better than @CoachPartridge the man is special. Relationships matter. #H2P #MyDash #NeverQuit https://t.co/v81EFzSDUt

— JJ Kitchen (@JJ_Kitchen40) August 19, 2021
Update (8:22 AM)-
Just sayin' again. First, Josh Shoop leaves Pine-Richland AD job to be Plum AD.

Then, Sean Simmons leaves Pine AD job for Shady Side Academy AD.

Now, Tom Salopek leaves AD job after only few months to N. Allegheny as asst. principal.

New AD will be fourth at Pine since 2018.

— Mike White (@mwhiteburgh) August 19, 2021
Around the Network 
Steelers Now – Former Pitt killer James Washington stands out in training camp after injury to Chase Claypool.
Pittsburgh Hockey Now – Now that the market has settled, are the Malkin and Letang contract talks easier now?
Pittsburgh Baseball Now – File under unsurprising: Pirates swept by Dodgers.
WVU Sports Now – Mountaineers vs. Bobcats series.
Nittany Sports Now – What kind of weirdo eats an entire brown banana whole?
Pittsburgh Soccer Now – Riverhounds force a draw against Rowdies.