The Frank Walker Law/PSN Daily Notebook: August 20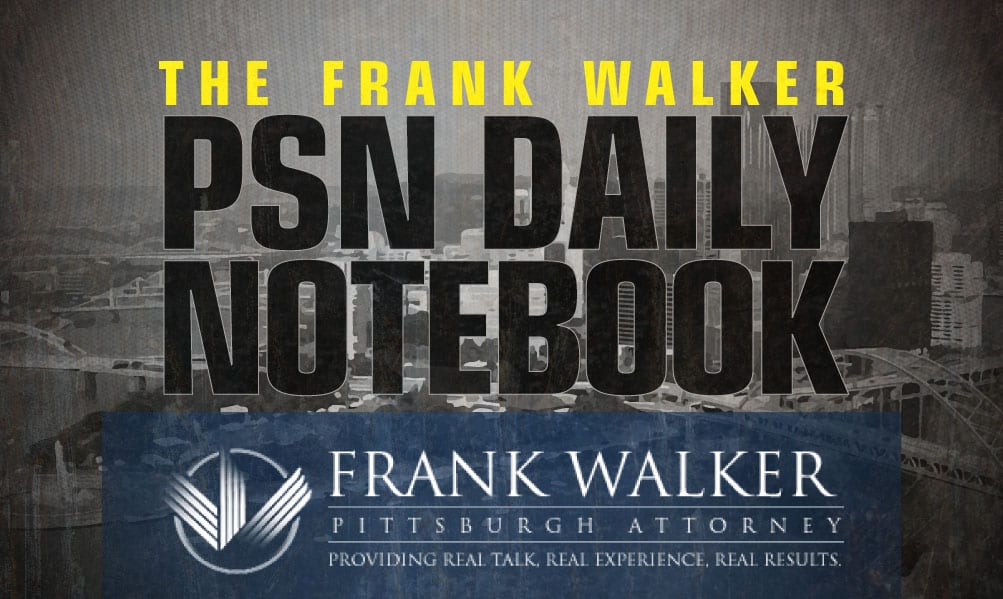 The PSN Daily Notebook is sponsored by Frank Walker, one of Pittsburgh and West Virginia's most respected criminal defense and injury lawyers. Mr. Walker has offices in Pittsburgh and Morgantown and has been named one of Top 100 National Trial Lawyers and is rated a perfect 10.0 Superb by Avvo for ethics, experience and results. To reach Mr. Walker, you can call 412-532-6805 or go to his website frankwalkerlaw.com. For real talk, real experience and real results, contact Frank Walker Law.
Update (8:14 PM)- 
**Congrats to Serra 2022 cornerback Pharoh Fisher as he makes a commitment tonight to Navy.
— Pharoh Fisher (@fisher_pharoh) August 22, 2021
COMMITTED⚓️🖤 #beatarmy @wpialsportsnews @SerraCatholicFB @Cover3_ATH @SportsByBLinder @210ths @recruitgfx pic.twitter.com/rYL6Fyzjpf

— Pharoh Fisher (@fisher_pharoh) August 22, 2021

Update (4:19 PM)-
Larry Fitzgerald Says He Doesn't 'Have Urge To Play Right Now' https://t.co/iiMbQwso1F pic.twitter.com/ijeIApE622

— NFLTradeRumors.co (@nfltrade_rumors) August 20, 2021
Update (3:42 PM)- 
** Another big offer for one of Pitt's top targets in the Class of 2022, forward Dominick Barlow.
6'10" Dominick Barlow'22 @Dominickbarlow_ of @NYRhoops & @BridgtonAcademy has earned an offer from The Ohio State University #Buckeyes 👀 📈 pic.twitter.com/OssxRyavPF

— 𝒜𝓃𝒹𝓇ℯ𝓌 𝒮𝓁𝒶𝓉ℯ𝓇 (@Andrew__Slater) August 20, 2021

Update (2:04 PM)-
Former Beaver Falls star Josh Hough (now a freshman at Syracuse) is selling clothing with a SWEET logo that was designed for him. His nickname is Big General. And get this: 50% of the proceeds go to support programs for military vets. Salute!
Merch — https://t.co/RhwJ2oPXXX pic.twitter.com/K2Ig3nV9n5

— Brad Everett (@BREAL412) August 20, 2021
Update (12:36 PM)-
The proposed alliance between the #BigTen, #Pac12 and #ACC might have scheduling as the most obvious product, but this really is about assuring that new and improved #SEC does not run rampant over the highest levels of college sports.https://t.co/1fIf477Vxv

— Michael DeCourcy (@tsnmike) August 20, 2021
update (11:26 AM)-
Three Panthers on the Preseason All-ACC Team!@Serrena7Gray (1x)@kaylund9 (3x)@NdeeChinaza (2x)#H2P pic.twitter.com/RFxuhg8jVp

— Pitt Volleyball 🏳️‍🌈🏳️‍⚧️ (@Pitt_VB) August 20, 2021
Update (11:17 AM)-
"We've got some really good pieces."

Coach Andre Powell made his debut on Packer & Durham to talk about Pitt's rushing attack, special teams and more.@CoachAPowell @MarkPacker@WesDurham#H2P » @ACCNetwork pic.twitter.com/dfTn4t6Nn9

— Pitt Football (@Pitt_FB) August 20, 2021
Update (10:04 AM)-
Good luck to all the high schools starting their seasons this week‼️

Every Football player and coach would agree, there is nothing like Friday Night Lights pic.twitter.com/crOWDiH7gn

— Pat Narduzzi (@CoachDuzzPittFB) August 20, 2021
Update (10:00 AM)- 
#H2P 🟡🔵 https://t.co/ThnNZhru3C

— Harry G. Psaros (@PittGuru) August 20, 2021
Around the Network 
Steelers Now: Big Ben wants a heavier workload during the pre-season.
Pittsburgh Hockey Now: PHN Q&A including trade talks and more.
Pittsburgh Baseball Now: Pirates in dead heat for worst record… and top draft pick!
WVU Sports Now: Big 12 Realignment talks not producing anything promising. Are they going to be left out?
Nittany Sports Now: Going back down memory lane
Pittsburgh Soccer Now: Pitt women's soccer wins 4-0