The Frank Walker Law/PSN Daily Notebook: September 3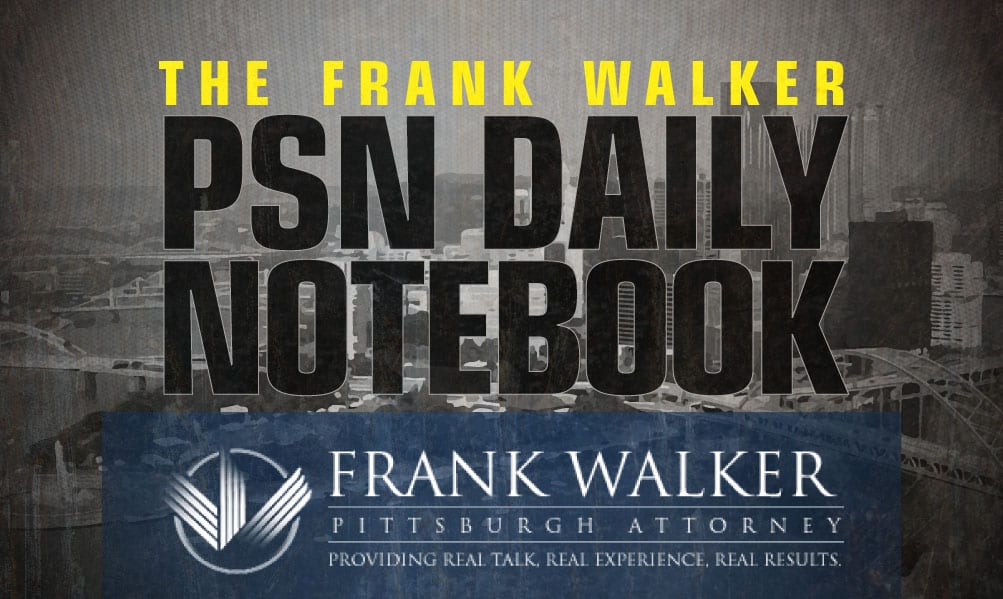 The PSN Daily Notebook is sponsored by Frank Walker, one of Pittsburgh and West Virginia's most respected criminal defense and injury lawyers. Mr. Walker has offices in Pittsburgh and Morgantown and has been named one of Top 100 National Trial Lawyers and is rated a perfect 10.0 Superb by Avvo for ethics, experience and results. To reach Mr. Walker, you can call 412-532-6805 or go to his website frankwalkerlaw.com. For real talk, real experience and real results, contact Frank Walker Law.
Update (3:58 PM)- 
**Pitt 2022 3-star commitment Che Nwabuko.
Winning!#WEnotME | #H2P 🔵🟡#CNtime | #WAMM 🔴⚫️ pic.twitter.com/Rt5C8uzT4C

— Che Nwabuko 📍 (@CheNwabuko1) September 3, 2021

Update (3:35 PM)- 
**Zion Flowers is a 2023 athlete from Jersey City, New Jersey.
Thank you for the good luck wishes 💛💙 @CoachDuzzPittFB @BrennanMarion4 @CoachTimSalem pic.twitter.com/NBoMbm7ECJ

— Zion Fowler ✞ (@CantGuardZion) September 3, 2021

Update (11:55 AM)- 
**Congrats to Rochester 2022 guard Corynne Hauser for committing today to play at Kent State.
next 4👏🏽 #committed pic.twitter.com/fHW6b9BD5q

— corynne hauser (@corynne_hauser) September 3, 2021
Update (11:27 AM)-
**This morning, Tim Salem and Pitt extended an offer to New York 2023 3-star tight end Andrew Rappleyea, who attends Milton Academy in Massachusetts. In the last couple of days, this rising prospect has picked up offers from Penn State and West Virginia to go along with other ones from Boston College, Colorado, Kansas, Michigan State, Ole Miss, Rutgers, Temple, Tennessee, Virginia and Wake Forest.
Working on speed cuts and top of routes, Still room for improvement. pic.twitter.com/8hKPFWjS8b

— Andrew Rappleyea (@andrewrappleyea) July 3, 2021
Update (8:20 AM)-
Thanks @PittTweet students for the support tonight at the bonfire pep rally at the Cathedral of Learning 🔥

See you at Heinz Field on Saturday!#H2P 🏈 pic.twitter.com/0ASSgSH37L

— Pitt Football (@Pitt_FB) September 3, 2021
Update (8:17 AM)-
What a goal!!! https://t.co/YhR8QJcnje

— Randy Waldrum (@CoachWaldrum) September 3, 2021
⁦@PittTweet⁩ students, ⁦@PittBand⁩,
⁦@Pitt_Cheer⁩, ⁦⁦@Pitt_DT⁩, @Pitt_FB⁩, ⁦@BGSPitt⁩, bonfire, fireworks and music! What a way to end the night! See you at Heinz field Saturday for some 🏈! #H2P pic.twitter.com/LpHzJAcuGF

— Heather Lyke (@Pitt_LykeAD) September 3, 2021
Update (7:58 AM)- 
It's College Football season.

See you Saturday at Heinz Field.

🎟️: https://t.co/IdIsD52tSb#H2P pic.twitter.com/Jnyp9BlTEX

— Pitt Football (@Pitt_FB) September 2, 2021
Around the Network
Steelers Now: Steelers O-Line issues got even worse
Pittsburgh Hockey Now: Penguins sign veteran goalie 
Pittsburgh Baseball Now: Mitch Keller dominates in a losing fashion against the Cubs
WVU Sports Now: WVU FB unveils week 1 uniforms
Nittany Sports Now: Penn State FB predictions from media