The Frank Walker Law/PSN Daily Notebook: September 8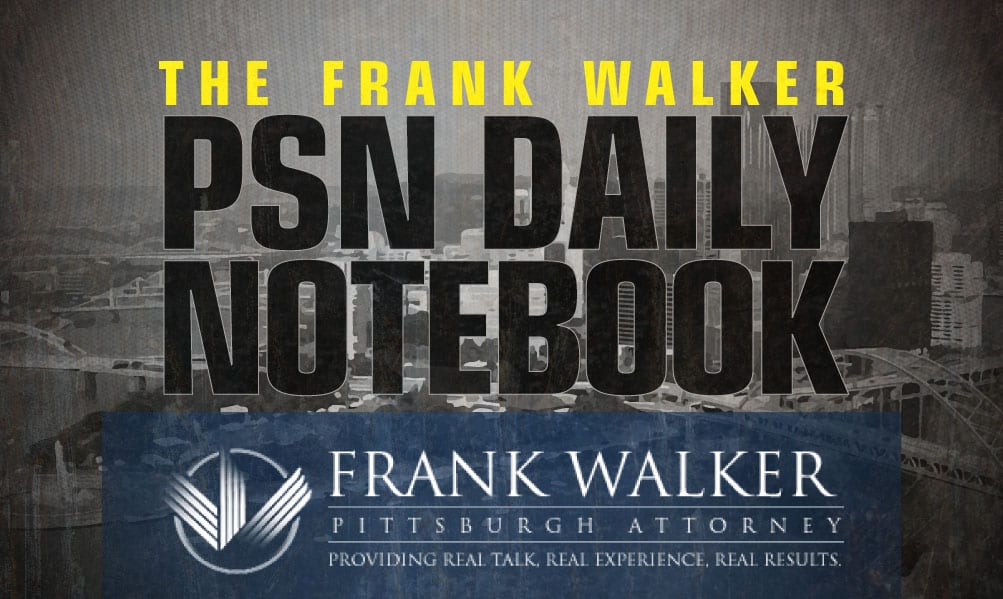 The PSN Daily Notebook is sponsored by Frank Walker, one of Pittsburgh and West Virginia's most respected criminal defense and injury lawyers. Mr. Walker has offices in Pittsburgh and Morgantown and has been named one of Top 100 National Trial Lawyers and is rated a perfect 10.0 Superb by Avvo for ethics, experience and results. To reach Mr. Walker, you can call 412-532-6805 or go to his website frankwalkerlaw.com. For real talk, real experience and real results, contact Frank Walker Law.
Update (4:18 PM)-
Injury report for Thursday night's Cowboys-Bucs opener with Jordan Whitehead being ruled out and Chris Godwin ready to go: pic.twitter.com/4onP6eEXuo

— Adam Schefter (@AdamSchefter) September 8, 2021

Update (1:56 PM)-
Panthers to the Pros‼️ Appreciate some of the rookies coming out to the game Saturday #ForeverPanthers @RashadWeaver @HamlinIsland @P_jones9 @BryceDeenie @Jason_Pinnock pic.twitter.com/cdT6FAPXPI

— Pat Narduzzi (@CoachDuzzPittFB) September 8, 2021
Update (1:31 PM)-
𝙎𝙘𝙝𝙚𝙙𝙪𝙡𝙚 𝘿𝙧𝙤𝙥!

Take a look at this season's non-conference slate, which includes eight games inside the UPMC Cooper Fieldhouse!

🔗https://t.co/nDc8zkQufT#GoDukes pic.twitter.com/dZqUmGh3gU

— Duquesne Women's Basketball (@DuqWBB) September 8, 2021
Update (1:28 PM)-
"He built a great program at Pitt."

Former Pitt Coach Jackie Sherrill called in to Packer & Durham this morning to reminisce on the huge impact that Johnny Majors had on Pitt Football history.#H2P » @ACCNetwork pic.twitter.com/LCyiSnuJzL

— Pitt Football (@Pitt_FB) September 8, 2021

Update (1:15 PM)-
Update: Beaver-Hopewell are good to go for Friday night. https://t.co/4TkPAGZ3LO

— The Times Sports (@timesscores) September 8, 2021
Update (12:05 PM)-
Field Pass 🎥🎬🔊

Pitt 51, UMass 7#H2P pic.twitter.com/a8pW1ZmpMk

— Pitt Football (@Pitt_FB) September 8, 2021
Update (8:18 AM)-
The NCAA continues to hand out waivers like they're seedless watermelon at a 4th of July Party.

This is now the "Rules of Engagement". https://t.co/qeuMF5lt3t

— Jon Rothstein (@JonRothstein) September 8, 2021
Update (7:28 AM)- 
**Knoxnews refers to Pitt as "mediocre ACC team".👀👀
Tennessee Vols football now best measured by game against mediocre ACC team | Adams https://t.co/OSe3XRo9Q3

— knoxnews (@knoxnews) September 7, 2021
Around the Network
Steelers Now: Ravens to sign former Steeler RB Le'Veon Bell
Pittsburgh Hockey Now: Roundup: Trade rumors and more!
Pittsburgh Baseball Now: Ben Gamel's legend continues to grow in 3-2 victory.
WVU Sports Now: Four Downs with Neal Brown
Nittany Sports Now: PSU FB moves up 8 spots in AP Poll
Pittsburgh Soccer Now: WPIAL boy's scoreboard