The Frank Walker Law/PSN Daily Notebook: September 9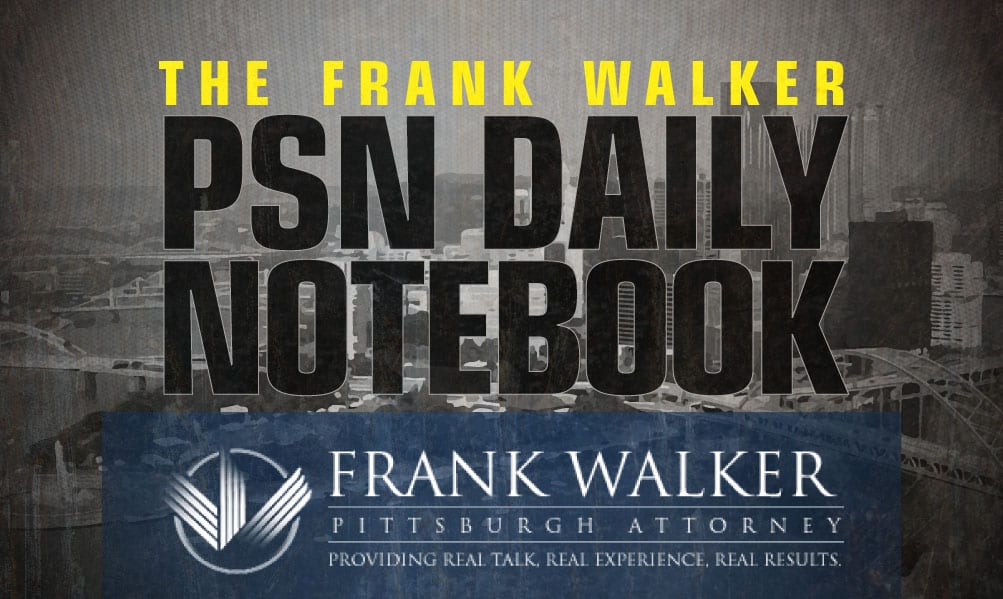 The PSN Daily Notebook is sponsored by Frank Walker, one of Pittsburgh and West Virginia's most respected criminal defense and injury lawyers. Mr. Walker has offices in Pittsburgh and Morgantown and has been named one of Top 100 National Trial Lawyers and is rated a perfect 10.0 Superb by Avvo for ethics, experience and results. To reach Mr. Walker, you can call 412-532-6805 or go to his website frankwalkerlaw.com. For real talk, real experience and real results, contact Frank Walker Law.
Update (9:42 PM)-
2022 6'5 CG Ethan Pires (@ethanbp20) has been gaining recent interest from Drexel, Robert Morris, and Fordham, he's told me.

— jake lieberman (@jakelieberman2) September 10, 2021
Update (7:39 PM)- 
**Dashawn Carter is a 2023 6'4", 225 defensive end from South Allegheny High School. Carter was also in attendance for the season opener against UMass.
Appreciate The Game Invite & The Love From Pitt 🟡🔵 #H2P @CoachPartridge @Kzovko @coachcsanders @_cgallagher @CoachDuzzPittFB @210ths pic.twitter.com/w8MkxcKkRa

— Dashawn Carter (@dashawncarter21) September 9, 2021

Update (6:21 PM)-
Packer & Durham regular Kenny Pickett checked in this morning to preview Saturday's showdown in Knoxville.@KennyPickett10@MarkPacker@WesDurham#H2P » @ACCNetwork pic.twitter.com/ljZZxL1rfZ

— Pitt Football (@Pitt_FB) September 9, 2021
Update (3:59 PM)-
For the Aliquippa/Central Valley game, Spectators will be required to wear masks……..Limited seating….Bleacher issues at the Pit….

— Pa Football News (@PaFootballNews) September 9, 2021

Update (9:26 AM)-
**Last night, Archie Collins and Pitt extend an offer to 2023 tight end Khamari Anderson from Cass Technical School in Detroit, Michigan. This was big for Anderson because it is his first D-1 offer.
Leeshaun Mumpfield to 2023 TE Khamari Anderson to open the scoring. Cass Tech up 7-0 on Muskegon. https://t.co/92EjwxS5FH pic.twitter.com/BmXFdPUClU

— Allen Trieu (@AllenTrieu) September 3, 2021
Update (9:17 AM)-
**Perry 2022 4-star defensive end Tyreese Fearbry will be making an unofficial visit this weekend to Indiana. Fearbry's recruitment is open after de-committing from Penn State last month. Indiana wasn't one of Fearbry's four finalists in July when committing to Penn State.
Update (7:30 AM)-
**The Duquesne basketball program extends an offer to 2022 guard Jesaiah McWright from Cypress Falls High School in Houston, Texas. McWright (6'5″, 180) also holds offers from Texas A&M, Colorado State, Sam Houston, Louisiana Tech, Rice, Texas State, McNeese State, Cal State Fullerton, North Texas and Lamar.
🎥 Jesaiah McWright went CRAZY in his first game of the weekend 🔥🔥🔥
The @RLewisAcademy guard scored the ball from all over the court in a close game against TRD basketball 💪 pic.twitter.com/V5FzMkFdnW

— UA Rise Circuit (@RiseCircuit) July 24, 2021
Around the Network
Steelers Now: Steelers injury updates 
Pittsburgh Hockey Now: How to replace Crosby and Malkin 
Pittsburgh Sports Now: Tennesse game a must-win for Pitt FB
WVU Sports Now: Cincinnati puts bid in to join BIG 12
Nittany Sports Now: James Franklin is sticking with Jordan Stout