The Frank Walker Law/PSN Daily Notebook: September 14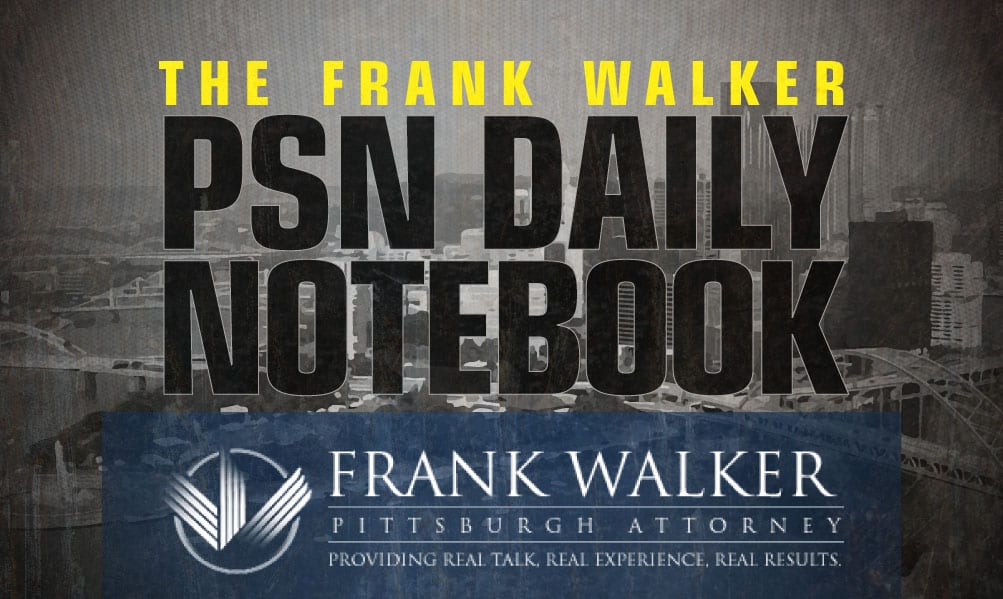 The PSN Daily Notebook is sponsored by Frank Walker, one of Pittsburgh and West Virginia's most respected criminal defense and injury lawyers. Mr. Walker has offices in Pittsburgh and Morgantown and has been named one of Top 100 National Trial Lawyers and is rated a perfect 10.0 Superb by Avvo for ethics, experience and results. To reach Mr. Walker, you can call 412-532-6805 or go to his website frankwalkerlaw.com. For real talk, real experience and real results, contact Frank Walker Law.
Update (9:36 PM)- 
** Congrats to Central Catholic 2024 wide receiver Peter Gonzalez for receiving an offer from Eastern Kentucky, which is his first D-1 offer. Gonzalez is the son of former Pitt quarterback Pete Gonzalez.
Check out this highlight! 4 receptions 73 Yards 1 Td https://t.co/IDg0TOBerZ

— Peter Gonzalez (@Petergonzalez70) September 11, 2021

Update (9:22 PM)-
**Brennan Marion and Pitt extend an offer to 2024 wide receiver Kylen Evans from Allen, Texas. This is big for Evans (6'2″, 180) because it's his first D-1 offer.
First 3 Games Down! 11 Catches, 250 Yards, 3TDs @SkysTheLimitWR @_K_Wright_ @EHSMavsFB @CoachKOMiller @Hudl https://t.co/mqb3y4wUFl #hudl

— Kylen Evans (@ky_2_) September 13, 2021
Update (9:13 PM)-
**Pitt extends an offer today to 2023 tight end Markus Dixon from Archbishop Wood in Warminster, Pennsylvania. Dixon (6'4″, 220) received the news from Cory Sanders and also holds offers from Boston College, Cincinnati, Georgia, Maryland, Ole Miss, Penn State, Rutgers, Syracuse, Temple, Texas A&M and West Virginia.
Update (3:34 PM)-
**Pitt football extends an offer today to 2023 wide receive Noble Johnson (6'2″, 205) from Rockwall, Texas. Johnson has received a bunch of offers over the last 2 days and at this point, holds ones from Arizona, Miami, Utah, USC, Tennessee, Louisiana Tech and UTSA.
Update (11:27 AM)- 
Dash Second Quarter notes on Michigan, Michigan State, Kentucky, Virginia Tech, Pitt, Kansas State, Maryland, Rutgers, San Diego State, Ole Miss, Mississippi State https://t.co/D8rJ1b4KIQ

— Pat Forde (@ByPatForde) September 14, 2021
Around the Network
Steelers Now: In the film room with Cam Sutton
Pittsburgh Hockey Now: Laying out the Pens lines without Crosby or Malkin
WVU Sports Now: WVU Sports Hall of Fame will welcome 11 members from last year
Nittany Sports Now: Big-name recruits set to visit Saturday's game against Auburn
Pittsburgh Soccer Now: Final: Pitt 1, Penn State 0