The Frank Walker Law/PSN Daily Notebook: September 15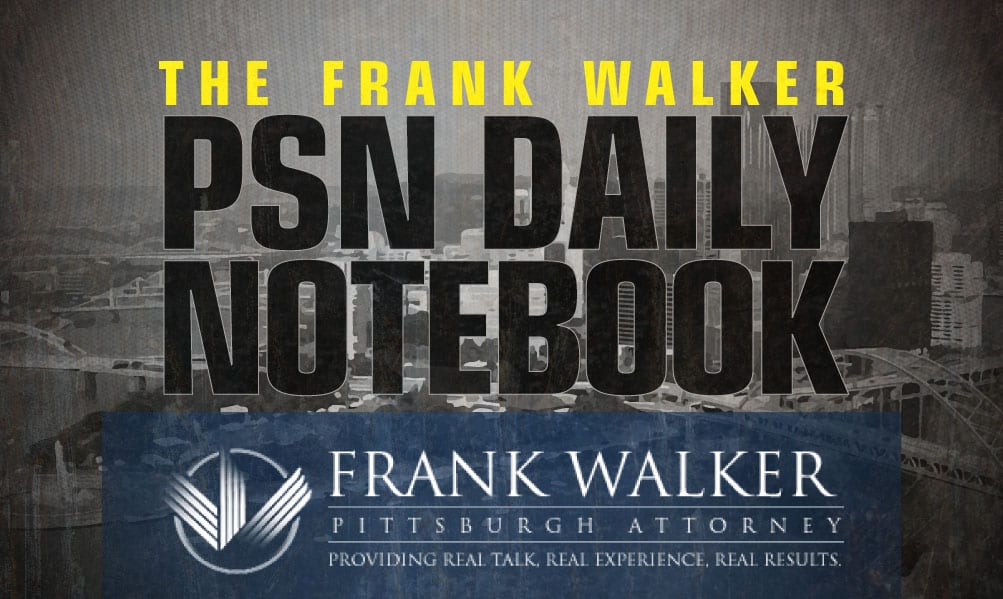 The PSN Daily Notebook is sponsored by Frank Walker, one of Pittsburgh and West Virginia's most respected criminal defense and injury lawyers. Mr. Walker has offices in Pittsburgh and Morgantown and has been named one of Top 100 National Trial Lawyers and is rated a perfect 10.0 Superb by Avvo for ethics, experience and results. To reach Mr. Walker, you can call 412-532-6805 or go to his website frankwalkerlaw.com. For real talk, real experience and real results, contact Frank Walker Law.
Update (8:30 PM)-
**Pitt extends an offer tonight to 2023 cornerback Jordan Castell from West Orange High School in Winter Garden, Florida. Castell received the offer from Tim Salem. Along with Pitt, Castell also has been offered by Boston College, Cincinnati, Florida State, Georgia Tech, Kentucky, Louisville, Mississippi State, Tennessee, Central Florida and Virginia.
Extremely blessed to receive an offer from University of Pittsburgh #AGTG @CoachTimSalem @WestOrangeFB pic.twitter.com/7mf5DrxaNb

— Jordan Castell (@Jordan_castell) September 16, 2021
Update (8:00 PM)-
Pitt commit, Judah Mintz says Will Jeffress, Noah Collier, and Femi Odukale "all played a huge role" in him committing to @Pitt_MBB. "They were honest about coach and about everything at the school."

Full interview: https://t.co/w2SBHsXYZc@Jmintz10 @MichalowskiCBB @PittGuru pic.twitter.com/Af2YQwHjLw

— Zach "🅂🄲🄷🅄🅉" Schumaker (@_SchuZ_) September 15, 2021
Update (7:56 PM)-
🚨 ACC SCHEDULE DROP 🚨

✅ ACC play begins Dec. 10 vs. NC State
✅ Seven @accnetwork games

Which game are you looking forward to most this season?

📅 https://t.co/5R7pFLECeo
🎟️ https://t.co/h07sLJBmjh#LEVELUP // #H2P

— Pitt Basketball (@Pitt_WBB) September 15, 2021
Update (7:29 PM)-  
**A second offer today for Brashear 2023 4-star LB Ta'Mere Robinson. Earlier today, Robinson picked one up from Wisconsin.
Blessed to receive an offer from Virginia Tech University 🦃 #GoHookies @Ky3fOUR @coach_ham @JackInTheBox58 @210ths @RivalsFriedman @BrianDohn247 @_Drew_55 pic.twitter.com/nMubUT4bg6

— ᴛᴀᴅᴅᴇʀ ③ (@TaMereRobinson3) September 15, 2021
Update (5:43 PM)-
**Chartiers Valley star and Pitt 2022 commit Aislin Malcolm makes her official visit to Pitt.
Thank you @Pitt_WBB for a great official visit! It was so nice to spend some time at home! H2P💛💙 pic.twitter.com/5uQZZCNR5g

— Aislin Malcolm (@AislinMalcolm) September 15, 2021
Update (4:21 PM)-
**Pitt football extends an offer today to 2023 3-star tight end Brennan Parachek from Dexter High School in Dexter, Michigan. Parachek (6'6″, 235) received the offer from Archie Collins and also holds offers from Michigan State, Arizona State, Central Michigan, Akron, Kentucky, Miami (OH) and Purdue.
Sophomore year in the books! Check out my year 2 highlights! https://t.co/MRSq3WTBUp

— Brennan Parachek (@parachek) January 20, 2021
Update (3:53 PM)-
**Brashear 2023 4-star linebacker Ta'Mere Robinson picks up another big Power Five offer today, this one from Paul Chryst and Wisconsin. Robinson also holds offers from Pitt, Ohio State, Michigan, Notre Dame, Kentucky, Rutgers, Syracuse, Tennessee, and West Virginia. Over the weekend, Robinson made an unofficial visit to Ohio State and this weekend, he'll he heading to Penn State.
Update (3:09 PM)-
Arians says Jordan Whitehead went at full speed today and will be fine to play Sunday vs. Falcons. Big boost for defensive secondary.

— Greg Auman (@gregauman) September 15, 2021
Update (2:35 PM)-
Freeport-Apollo-Ridge football game canceled https://t.co/Q7MbeOkpsr @FASD_Athletics @ApolloRidgeFB #HSSN

— TribLive HSSN (@TribLiveHSSN) September 15, 2021

Update (1:58 PM)-
Sean Clifford on Franklin USC speculation: "Coach Franklin talked to us yesterday and addressed the topic. I don't think it's something that we need to worry about, it's kind of out of our hands, so we're just going to focus on Auburn and go from there. "

— David Eckert (@davideckert98) September 15, 2021

Update (12:00 PM)-
The James Franklin to USC rumors might have legs after all.
Update (10:35 AM)-
Happy Birthday to Hall of Famer @DanMarino!#HBD | @MiamiDolphins pic.twitter.com/3P2Sf17Mu0

— Pro Football Hall of Fame (@ProFootballHOF) September 15, 2021
Update (9:50 AM)- 
Happy Birthday to #Pitt legend @DanMarino! Have a great day! #HBD #H2P 🔵🟡 pic.twitter.com/Pe7g3tGqPf

— Harry G. Psaros (@PittGuru) September 15, 2021
Around the Network
Steelers Now: Kevin Colbert attends North Carolina Practice
Pittsburgh Hockey Now: 5 Story Lines Going into Pens Camp
Pittsburgh Baseball Now: Dillon Peters shines in 6-5 win 
WVU Sports Now: Former WVU Guard Miles Mcbride Signs with Nike
Nittany Sports Now: Old Main's Lawn Will Host College Gameday