The Frank Walker Law/PSN Daily Notebook: October 5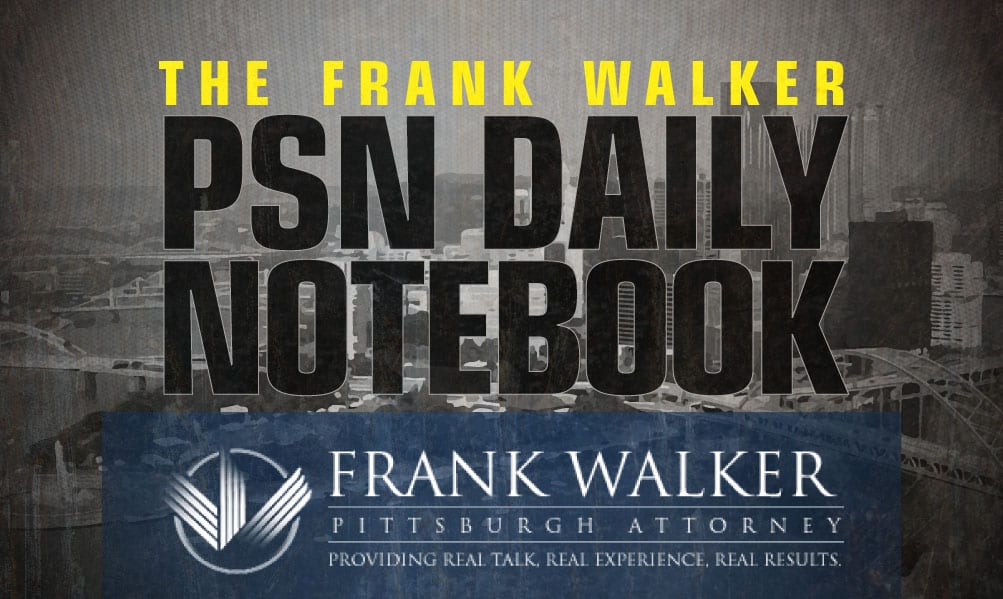 The PSN Daily Notebook is sponsored by Frank Walker, one of Pittsburgh and West Virginia's most respected criminal defense and injury lawyers. Mr. Walker has offices in Pittsburgh and Morgantown and has been named one of Top 100 National Trial Lawyers and is rated a perfect 10.0 Superb by Avvo for ethics, experience and results. To reach Mr. Walker, you can call 412-532-6805 or go to his website frankwalkerlaw.com. For real talk, real experience and real results, contact Frank Walker Law.
Update (8:48 PM)- 
**Tonight Pitt extends an offer to freshman athlete Josiah Abdullah (5'11", 170) from Woodward Academy in Atlanta, Georgia. Abdullah holds early Power 5 offers from both Georgia Tech and Arkansas.
First varsity touchdown the other day many more to come #year1💙@DellMcGee @NateCrutch @Coach_JohnCarr @ChuckLillie @CoachAAtkins @Coach_K2 @sirknight95 @Coach_TBell @CoachCwill @CoachBanks2008 @coachalpogue pic.twitter.com/HW7n5lIBLQ

— Josiah Abdullah (@13reasonz_) August 15, 2021

Update (8:34 PM)-
Free agent guard Brad Wanamaker is signing a training camp deal with the Pacers, sources tell ESPN.

— Adrian Wojnarowski (@wojespn) October 6, 2021
Update (8:27 PM)-
**Pitt football extends an offer tonight to 2024 quarterback Michael Van Buren from St. Frances Academy in Baltimore, Maryland. Van Buren received the offer from Andre Powell and also holds offers from Penn State, Temple, Michigan, Maryland and Boston College.
All credit to my O line and receivers!!! pic.twitter.com/fx8hMekYza

— Michael Van Buren (@mike3k_) October 2, 2021
Update (2:54 PM)- 
Jordan Addison? https://t.co/Kg99XkRDh4

— Coo🎱 (@Ckancey13) October 5, 2021
KENNY PICKETT ! IT'S ONLY ONE ANSWER ! #H2P #Kenny4Heisman https://t.co/Ljd31PrnKF

— John D Morgan III ™ (@JohnMorgan6__) October 5, 2021

Update (2:28 PM)-
Washington Signing K Chris Blewitt To Practice Squad https://t.co/YTdqqM5MiR pic.twitter.com/1Xi1I4G9G9

— NFLTradeRumors.co (@nfltrade_rumors) October 5, 2021

Update (1:37 PM)-
National Recognition for QB1 🎱

Kenny Pickett earned weekly honors from the Davey O'Brien Award and the Manning Award for his performance in Pitt's win at Georgia Tech on Saturday.@DaveyOBrien x @SugarBowlNola #H2P » @KennyPickett10 pic.twitter.com/5J6s8fYYoL

— Pitt Football (@Pitt_FB) October 5, 2021

Update (1:34 PM)-
Movin' up ⬆️

Pitt comes in at No. 13 in the latest @UnitedCoaches Poll.

That's 26 straight weeks nationally ranked!#H2P pic.twitter.com/zH6rXQptak

— Pitt Men's Soccer (@Pitt_MSOC) October 5, 2021

Update (1:14 PM)-
**On Tuesday, Archie Collins and Pitt extend an offer to 2024 safety Cornelius Heard Jr. from College Park, Georgia. Heard holds an impressive list of early offers from Florida, Tennessee, Central Florida, Louisville, West Virginia, Georgia Tech, Florida State, Boston College, Arkansas, Penn State, Ole Miss, Michigan State and Michigan.
Cj Heard 2024 Safety ..
5'11 190 ..@Davis33Coach @RecruitGeorgia @WAAcademyFB @CoachRaw_

— Cornelius "Cj" Heard Jr. (@CjHeard_) September 26, 2021
Update (12:54 PM)-
Pitt Football Offer Issues Handful of Offers To Young Talent in Virginia
Update (7:35 AM)-
Kenny Pickett getting a lot of love on the All ACC show on ACC Network pic.twitter.com/lVQiJZxeJg

— PittPanthersFanatics (@PittFanaticsFB) October 5, 2021