The Frank Walker Law/PSN Daily Notebook: October 15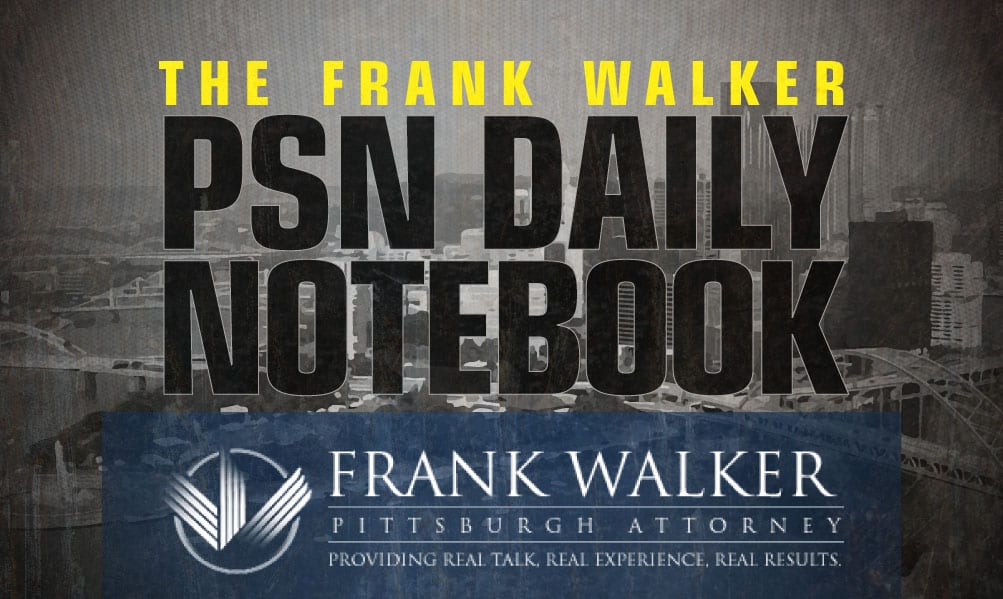 The PSN Daily Notebook is sponsored by Frank Walker, one of Pittsburgh and West Virginia's most respected criminal defense and injury lawyers. Mr. Walker has offices in Pittsburgh and Morgantown and has been named one of Top 100 National Trial Lawyers and is rated a perfect 10.0 Superb by Avvo for ethics, experience and results. To reach Mr. Walker, you can call 412-532-6805 or go to his website frankwalkerlaw.com. For real talk, real experience and real results, contact Frank Walker Law.
AROUND THE NETWORK:
West Virginia Sports Now:  WVU basketball coach Bob Huggins met with the media and talked about his 2021-22 team, who have a home scrimmage tonight.
WATCH: WVU MBB HC Bob Huggins Offers Evaluation of Team Before Season 10/14/21
Nittany Sports Now: Following their loss to Iowa, the odds in Vegas have dipped for Penn State to win the Big 10.
Pittsburgh Hockey Now: An exciting game last night between the Pens and the Florida Panthers but the Pens fall short in OT. Plus, a Penguin achieves a big career milestone.
Update (2:50 PM)-
Rolled into Lane. 🚛

@Pitt_FB 🆚 VT tomorrow!#H2P pic.twitter.com/iaxtKxzNP4

— PITT Football Equip (@PITTequipment) October 15, 2021
Update (2:43 PM)-
🤑🤑🤑🤑🤑🤑🤑🤑🤑🤑🤑🤑🤑 https://t.co/KxcuwKCa3z

— Rashad Weaver (@RashadWeaver) October 15, 2021
Update (11:14 AM)-
#Steelers statement on Rayme Olsavsky, who passed away this morning and is the wife of Inside Linebackers Coach Jerry Olsavsky. May she rest in peace. pic.twitter.com/qcQzgTYgmc

— Burt Lauten (@SteelersPRBurt) October 15, 2021
Update (9:32 AM)-
Former Seton LaSalle standout and current @UMUMensSoccer player Tyler Stack (@Stack4Tyler) learned this week that he earned a spot on @USADeafSoccer Men's National Team. https://t.co/C1uiLruR27

— Pittsburgh Soccer Now (@pghsoccernow) October 14, 2021
Update (9:22 AM)- 
**Congrats to Upper St. Clair 2023 athlete Aidan Besselman for receiving his first D-1 offer. Besselman also has a 4.1 GPA.
Weeks 3-6 coaches take a look! 👇https://t.co/qT15sMZxoF

— Aidan Besselman ⁴ (@aidanbessy) October 4, 2021

Update (9:05 AM)-
Player Feature: @Lucas_Krull_

His athletic journey includes the MLB Draft, tough decisions and plenty of highs and lows.

This season, Pitt's Lucas Krull has become one of the most productive tight ends in all of college football.#H2P » @JohnMackeyAward pic.twitter.com/DPSh904zXf

— Pitt Football (@Pitt_FB) October 14, 2021