The Frank Walker Law/PSN Daily Notebook: October 19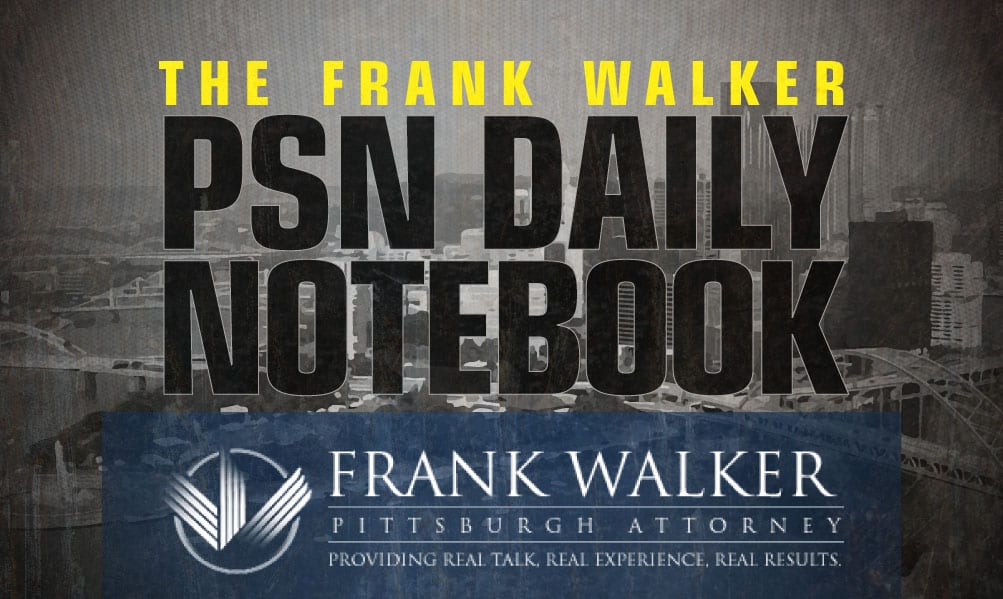 The PSN Daily Notebook is sponsored by Frank Walker, one of Pittsburgh and West Virginia's most respected criminal defense and injury lawyers. Mr. Walker has offices in Pittsburgh and Morgantown and has been named one of Top 100 National Trial Lawyers and is rated a perfect 10.0 Superb by Avvo for ethics, experience and results. To reach Mr. Walker, you can call 412-532-6805 or go to his website frankwalkerlaw.com. For real talk, real experience and real results, contact Frank Walker Law.
Update (5:48 PM)- 
**Today, Brennan Marion and Pitt extend an offer to 2024 wide receiver/defensive back Cameron Mitchell from Pasadena, California. Mitchell (5'9", 160) also holds offers from Boston College, Arizona and Colorado.
Check out my highlight – Burbank High School #redisbetter@Phsfootball52 @Coach_Maxie626 @CoachReg_626 @PasadenaHSFB @GregBiggins @adamgorney @BrandonHuffman @MaxPreps #camcamallday #10 pic.twitter.com/jDuniuBcYx

— Cameron.Mitchell_5 (@CamMitchell_5) October 12, 2021

Update (5:11 PM)- 
**Former Pitt punter Ryan Winslow is signed to the Carolina Panthers 53- man roster.
Punter Ryan Winslow signed to the active rosterhttps://t.co/RdUCgh0bHu

— Carolina Panthers (@Panthers) October 19, 2021
Update (4:52 PM)- 
**Today, Pitt extends an offer to freshman linebacker Ethan Adams (6'0", 215) from Temecula, California. Adams received the offer from Brennan Marion and this is his first D-1 offer.
Just trying to get better 1 day at a time,was able to put up 290 in the weight room then get better with some solid work in a round robin against schools like centennial. So glad to be a part of @MVNighthawkFB and can't wait to see where this journey leads#TheMarathonContinues pic.twitter.com/BMDj8egqR0

— Ethan Adams (@Ethan_Adams32) June 30, 2021
Update (2:54 PM)-
SCHEDULE ALERT
CBSSN has announced times for its A-10 games …
Feb. 12 Fordham at Duquesne will tip at 5:30pm#GoDukes pic.twitter.com/RDORa8iyLq

— Duquesne Basketball (@DuqMBB) October 19, 2021
Update (2:48 PM)- 
No. 1️⃣0️⃣

Pitt extends its nationally ranked streak to 28-straight weeks in the @UnitedCoaches poll.#H2P pic.twitter.com/XvWDjiL5g2

— Pitt Men's Soccer (@Pitt_MSOC) October 19, 2021
**Former Pitt kicker Chris Blewitt signs on with The Washington Football Team.
The Washington Football Team is re-signing kicker Chris Blewitt to the practice squad, source said.

— Tom Pelissero (@TomPelissero) October 19, 2021

Update (10:24 AM)-
#Pitt softball adds a commitment from Jordan George, a standout out of New Albany, OH. #H2P 🟡🔵 https://t.co/ILo1iXrW8k

— Harry G. Psaros (@PittGuru) October 19, 2021
Update (9:00 AM)- 
**Pitt baseball gets a commitment from 2024 RHP/3B Drew Turner from Downington, Pennsylvania.
16U National wins the @PGMidAtlantic Fall Elite Tournament topping the Dirtbags Mid Atlantic 5-4. 2024 RHP/3B @drewturner2006 launched a game tying HR in the 7th before 2024 RHP/1B @BrendenKapczyn1 ended things with this walk-off single! #BomberNation 💣⚾️🔥💪🏼 pic.twitter.com/uJd1jNyu3T

— Keystone St. Bombers (@KSBombers) October 4, 2021
Deliberate motion and tons of body control from #uncommitted RHP Drew Turner ('24 Downingtown, PA) with 7 Ks through 5 IP. Pinpoint location with both the FB and breaker, sequences well and dicates tempo of game #MAFallElite @PG_Uncommitted @PG_Scouting pic.twitter.com/XKobhvs990

— PG Mid Atlantic (NY, NJ, PA, MD) (@PGMidAtlantic) October 2, 2021
Update (8:53 AM)-
Happy Birthday to an important member of our university @Pitt_LykeAD! Enjoy your day 🥳 #H2P pic.twitter.com/S7IPw8R6rB

— Pat Narduzzi (@CoachDuzzPittFB) October 19, 2021
Update (8:41 AM)-
Forde-Yard Dash, Third Quarter: Embrace change! Are we headed for a new ACC overlord and a mold-breaking Heisman winner? Did the best QB in the nation just start his first game? Other elements of a shifting season https://t.co/0DxS7iY9fM

— Pat Forde (@ByPatForde) October 19, 2021