The Frank Walker Law/PSN Daily Notebook: October 22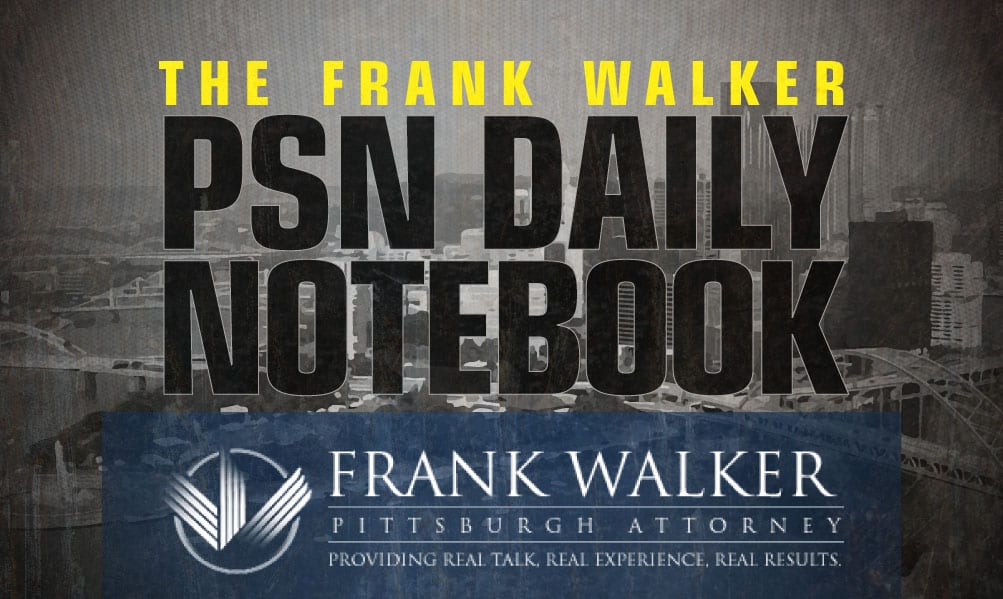 The PSN Daily Notebook is sponsored by Frank Walker, one of Pittsburgh and West Virginia's most respected criminal defense and injury lawyers. Mr. Walker has offices in Pittsburgh and Morgantown and has been named one of Top 100 National Trial Lawyers and is rated a perfect 10.0 Superb by Avvo for ethics, experience and results. To reach Mr. Walker, you can call 412-532-6805 or go to his website frankwalkerlaw.com. For real talk, real experience and real results, contact Frank Walker Law.
Update (6:14 PM)-
Odukale Named https://t.co/9apaA0O8oH Breakout Candidate

🔗 https://t.co/vYwtcWMMuJ#ZooEra l #H2P pic.twitter.com/QjZhcTfIKy

— Pitt Basketball (@Pitt_MBB) October 22, 2021
Update (3:20 PM)-
5 things to watch in Week 8: Home field at stake for #WPIAL 1st round and quarterfinals https://t.co/8tJbPDTe0q #HSSN

— TribLive HSSN (@TribLiveHSSN) October 22, 2021
#WPIAL GIRLS VOLLEYBALL PLAYOFF BRACKETS‼️ #HSSN https://t.co/Nx0TKLFnzK pic.twitter.com/shA841sgz3

— TribLive HSSN (@TribLiveHSSN) October 22, 2021
Update (2:58 PM)- 
**Pitt extends an offer to 2024 athlete Mekhai White (6'3", 175) from King George, Virginia. This is his 4th D-1 offer with the others from Maryland, Virginia and Virginia Tech. White will be making an unofficial visit tomorrow for the Clemson game.
Update (8:58 AM)-
ACC Network's @WesDurham on Kenny Pickett:

"If he stays on this track, I think he's got a chance to be a late 1st round pick. In the pro football circles I walk in, they tell me all the time that nobody has helped himself more than Kenny Pickett has this year."

— The Fan Morning Show (@FanMorningShow) October 22, 2021

Update (8:50 AM)- 
**The Pitt women's basketball program makes a recruiting visit last night to the Washington DC area.
Thank you to @Pitt_WBB for coming to our open gym last night. We know @BriannaKiesel03 has a lot of good stuff going on in her life right now, so we especially appreciate her time!!!

— Georgetown Visitation Basketball (@VisitationBball) October 21, 2021
Update (8:44 AM)-
Salute them boys from DICE 🎲

Allderdice rolls past Brashear 22 to 8 and advance to the City League Championship @DiceSports

🔥🔥🔥🔥🔥🔥🔥🔥🔥🔥🔥🏈 pic.twitter.com/IZG4Ec2dv3

— WPIAL Sportsmen (@wpialsportsnews) October 22, 2021

Update (8:38 PM)- 
**Pitt extends an offer to 2023 tight end Reid Mikeska from Houston, Texas. Mikeska (6'6", 230) received the offer from Tim Dakem and this was his first D-1 offer.
Check out my first 3 games highlights‼️ (6'6 230 tight end/ H-back) https://t.co/LTlRRcb8WH

— Reid Mikeska (@reidmikeska) September 25, 2021
Update (8:12 AM)-
Go grab one!! #H2P https://t.co/VaXQiNMDN2

— Kenny Pickett (@kennypickett10) October 21, 2021