The Frank Walker Law/PSN Daily Notebook: October 25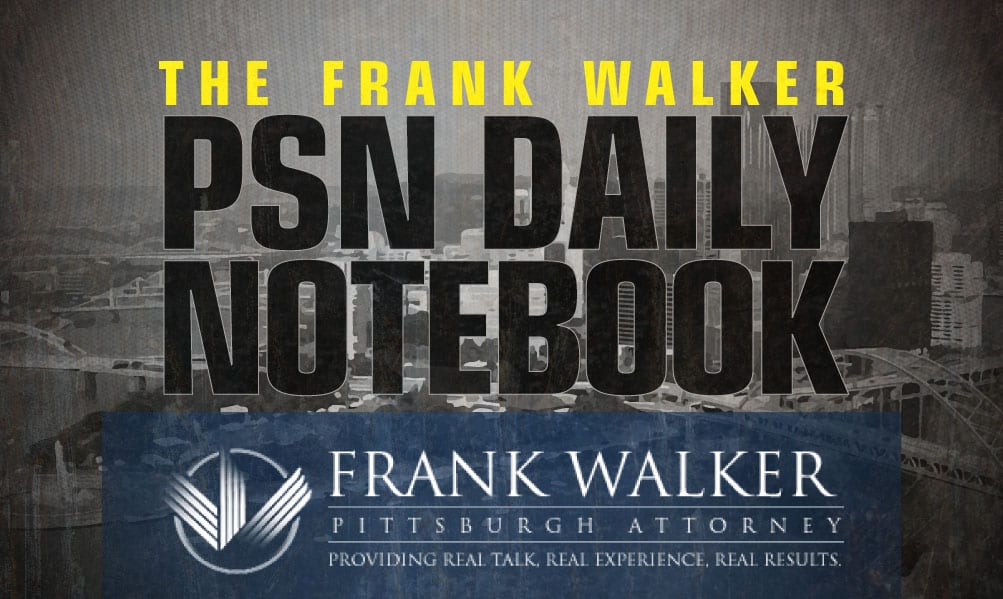 The PSN Daily Notebook is sponsored by Frank Walker, one of Pittsburgh and West Virginia's most respected criminal defense and injury lawyers. Mr. Walker has offices in Pittsburgh and Morgantown and has been named one of Top 100 National Trial Lawyers and is rated a perfect 10.0 Superb by Avvo for ethics, experience and results. To reach Mr. Walker, you can call 412-532-6805 or go to his website frankwalkerlaw.com. For real talk, real experience and real results, contact Frank Walker Law.
AROUND THE NETWORK
Steelers Now: Cam Heyward represented his father in Pitt Hall of Fame ceremony this weekend at Heinz Field
Pittsburgh Baseball Now: Debut of our new podcast
Nittany Sports Now: College overtime is a disaster
WV Sports Now: WVU finally wins a road game for the first time under Neal Brown
Pittsburgh Soccer Now: Pitt women lose to Wake Forest, eliminating them from postseason play
Pittsburgh Hockey Now: The cobbled together top line of Evan Rodrigues and Kasperi Kapanen are leading the surprising Penguins
FROM THE WEEKEND
Recruits React to Pitt's Win Over Clemson and Unofficial Visits
Perseverance, Learning from Mistakes, Key for SirVocea Dennis, Pitt
Pitt Postgame Show: What's the Ceiling for Pitt After Statement Win Over Clemson?
Update (4:11 PM)-
Teams most likely to make the CFP, per PFF Power Rankings 🏆

1. Georgia – 88%
2. Oklahoma – 75%
3. Alabama – 58%
4. Cincinnati – 48%
4. Ohio State – 48%
6. Pittsburgh – 29% 👀

— PFF College (@PFF_College) October 25, 2021

Update (2:23 PM)-
@CapelFaithful Kenny Heisman Pickett pic.twitter.com/Xlp6naczti

— Laura Stumpff (@lastumpff) October 24, 2021
Update (2:01 PM)-
— WPIAL Blitz (@WPIAL_Blitz) October 25, 2021
Update (1:28 PM)- 
Congrats to @Pitt_FB coach Mark Whipple (@coach__whipple), our Defensive Coordinator of the Week. See all of our Week 8 College Football Awards: https://t.co/8wi4CqvZFQ

— Athlon Sports (@AthlonSports) October 25, 2021
Update (12:12 PM)-
BREAKING: NC State middle linebacker Isaiah Moore will be out for the remainder of the season due to a knee injury.https://t.co/5z8Fh0LutX

— Pack Pride (@PackPride) October 25, 2021
Update (10:14 AM)-
My new bowl projections for @ActionNetworkHQ. @CFBPlayoff: Bama-Ohio St; UGA-OU; Rose: Michigan-Oregon; Sugar: ISU-UK; Fiesta: Ole Miss-Cincinnati; Peach: Pitt-ND; Citrus: Iowa-A&M. Will LSU, Miami, Nebraska & USC all not go bowling for 1st time since 1960?https://t.co/wQuGOi6TAH

— Brett McMurphy (@Brett_McMurphy) October 25, 2021
Update (10:06 AM)-
People questioning Pickett's mobility need to checkout this clip. While he's not Josh Allen or Lamar Jackson, this is good enough functional mobility for the QB position. pic.twitter.com/v2fNpwIBnZ

— Jim Nagy (@JimNagy_SB) October 25, 2021
Saturday was @seniorbowl first live look at @Pitt_FB QB Kenny Pickett & he left no doubt about his arm strength. Multiple NFL velocity throws. Also showed more than enough escape ability to get out of trouble. @kennypickett10 belongs in NYC for @HeismanTrophy. 🏆#BestoftheBest https://t.co/csulPVhF8R pic.twitter.com/qELZWFbonb

— Jim Nagy (@JimNagy_SB) October 25, 2021
Update (9:24 AM)-
https://t.co/EhfDnUWm0I pic.twitter.com/L9w5UaCUUQ

— Ryan Recker (@RyanRecker) October 25, 2021
Update (9:00 AM)- 
**Kenny Pickett is the face of the Pitt offense and deservedly receiving the bulk of the attention. However, it's probably time for the offensive line to start getting some mentions.
Pittsburgh offensive line vs Clemson
💪 44 pass-blocking snaps
💪 3 QB pressures allowed
💪 0 sacks@Pitt_FB pic.twitter.com/vNGL8LgtpY

— PFF College (@PFF_College) October 24, 2021

Update (8:50 AM)-
Which 2022 prospect do you think is flying under the radar? https://t.co/VDEAlbb1p8 pic.twitter.com/tOFHJWEMEf

— Bruce Feldman (@BruceFeldmanCFB) October 25, 2021
Update (8:42 AM)-
Pitt field goals attempted through 7 games …

2019: 14
2020: 17
2021: 6 (fewest in the ACC)

— Johnny McGonigal (@jmcgonigal9) October 24, 2021
Update (8:38 AM)-
Butler speedster Guinness Brown has committed to Duke. Won the 100- and 200-meter dashes at last season's WPIAL Class 3A championships. https://t.co/Xg7e0ZoJOo

— Brad Everett (@BREAL412) October 24, 2021
Update (8:22 AM)-
**It was a nice day on Sunday for former Pitt players in the NFL.
And Jordan Whitehead with the diving interception for the @Buccaneers 👏#H2P » @jwhite_333 pic.twitter.com/HX9rfQmI7S

— Pitt Football (@Pitt_FB) October 24, 2021
James Conner just makes it look easy…@JamesConner_ x #RedSea pic.twitter.com/lgR9nLvAZ5

— Arizona Cardinals (@AZCardinals) October 24, 2021