The Frank Walker Law/PSN Daily Notebook: October 28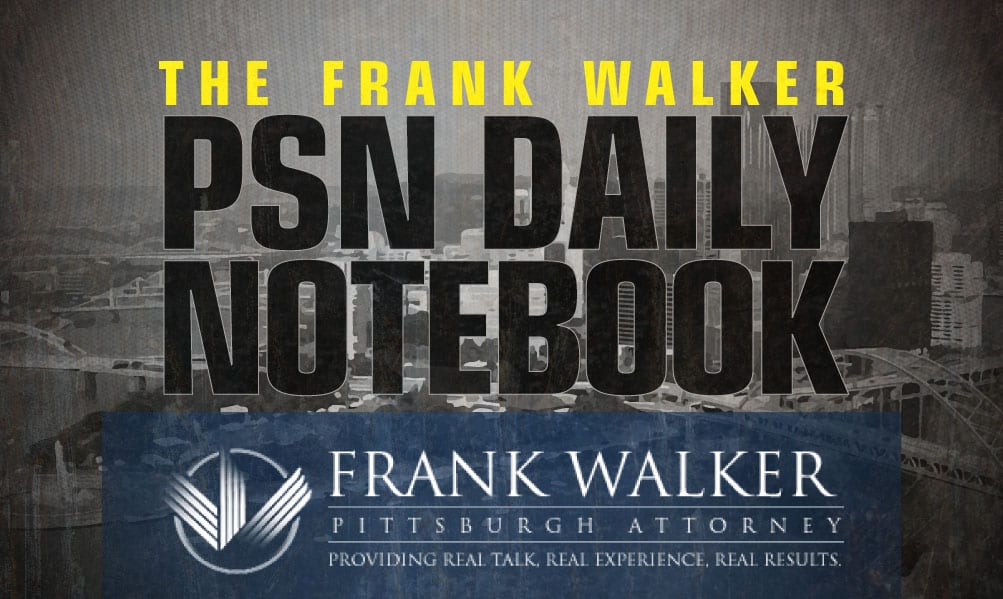 The PSN Daily Notebook is sponsored by Frank Walker, one of Pittsburgh and West Virginia's most respected criminal defense and injury lawyers. Mr. Walker has offices in Pittsburgh and Morgantown and has been named one of Top 100 National Trial Lawyers and is rated a perfect 10.0 Superb by Avvo for ethics, experience and results. To reach Mr. Walker, you can call 412-532-6805 or go to his website frankwalkerlaw.com. For real talk, real experience and real results, contact Frank Walker Law.
Around The Network 
Steelers Now: LB Melvin Ingram already wants out of Pittsburgh
Pittsburgh Soccer Now: Pitt men's soccer whoops UMass, 5-1
Nittany Sports Now: James Franklin to USC?
WV Sports Now: WVU projected to go to the Liberty Bowl
Pittsburgh Hockey Now: Crosby participates in the morning skate, but won't play
Pittsburgh Baseball Now: Pirates name their minor league players of the year
Update (9:29 PM)- 
I am blessed and excited to announce that I will be continuing my academic and athletic career at the University of Pittsburgh! I would like to that god, my family, and friends for giving me this opportunity! #H2P 💙💛@Pitt_BASE @LonestarBSBclub @Reagan_Baseball pic.twitter.com/9hf9h5FGiL

— Aidan Coleman (@AidanColeman_24) October 29, 2021
2023 RHP/INF Aidan Coleman (SA Reagan)

Natural athlete that repeats his delivery well, pounding the strike zone with 3 pitches for strikes. Closed out the sweep of the weekend with 3 strong innings. @AidanColeman_24

FB: 88-90
CB: 73-76
CH: 81-82@ShooterHunt | #PBRFG21 pic.twitter.com/OLbdXh0jA5

— PBR Texas (@PBR_Texas) August 1, 2021
Update (8:27 PM)-
Congratulations to 2024 Lincoln-Way East INF Tyler Bell on his commitment to University of Pittsburgh! Tyler is a SS but has the versatility to play all over the INF. He's also a switch hitter with advanced actions. Keep on grinding-works not over yet. Best of luck! pic.twitter.com/Ft3gB5WgiT

— Cangelosi Sparks (@CangelosiSparks) October 28, 2021
Update (3:40 PM)-
Thursday's 6 p.m. @SportsCenter on @ESPN will feature @KevinNegandhi interviewing Pitt QB Kenny Pickett.#H2P » @KennyPickett10 pic.twitter.com/a6ypmKV5bU

— Pitt Football (@Pitt_FB) October 28, 2021
Update (3:16 PM)-
🎃 MOCKTOBER 🎃

There might not be a quarterback taken in the Top 5, but you can still expect a run of QBs in first round.

From @Eric_Edholm ⤵️

— Yahoo Sports (@YahooSports) October 28, 2021
Update (2:43 PM)-
Pulled up a few minutes later and they were still hanging out. That's a first. https://t.co/ovhlnz0Kol

— Johnny McGonigal (@jmcgonigal9) October 28, 2021

Update (8:57 AM)- 
**Former Pitt 2022 commitment, Florida offensive tackle Ja'Kavion Nonar makes a decision to commit to Maryland.
go terps❤️🖤 @coachBrawl @CoachLocks pic.twitter.com/jodejIbVDU

— Ja'Kavion "Bugatti" Nonar (@jayno1_) October 28, 2021
Update (7:29 AM)-
There are only 3 CFB teams that rank in the top 10 of both offensive and defensive efficiency

Georgia (4th/1st) [+110 Natty]
Alabama (2nd/6th) [+275]
Pittsburgh (8th/5th) [+5000]pic.twitter.com/pFEJnb2NyC

— Bets Stats (@betsstats) October 27, 2021