The Frank Walker Law/PSN Daily Notebook: November 10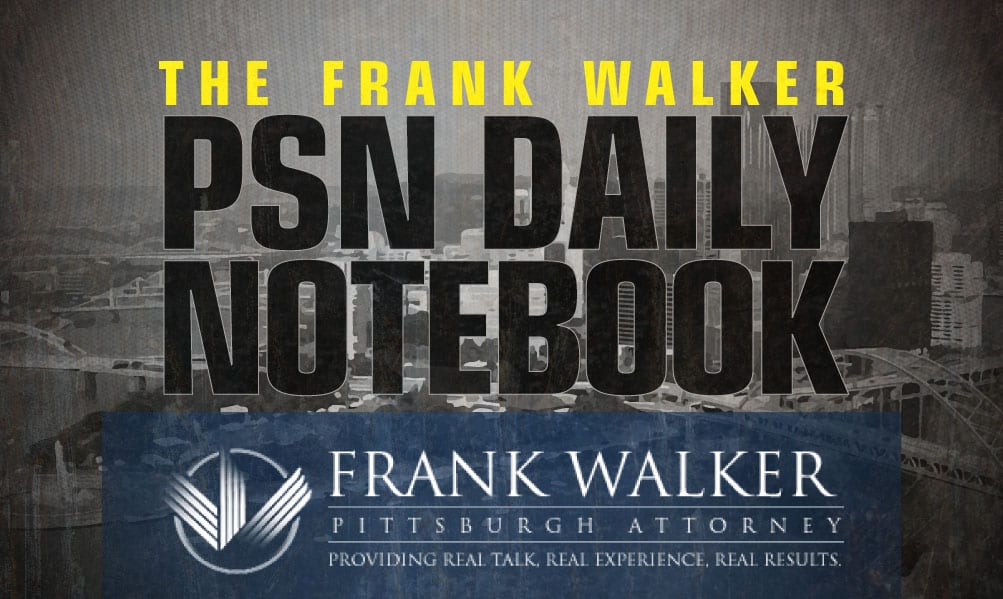 The PSN Daily Notebook is sponsored by Frank Walker, one of Pittsburgh and West Virginia's most respected criminal defense and injury lawyers. Mr. Walker has offices in Pittsburgh and Morgantown and has been named one of Top 100 National Trial Lawyers and is rated a perfect 10.0 Superb by Avvo for ethics, experience and results. To reach Mr. Walker, you can call 412-532-6805 or go to his website frankwalkerlaw.com. For real talk, real experience and real results, contact Frank Walker Law.
Update (12:26 PM)-
𝐀𝐂𝐂 𝐂𝐎𝐀𝐂𝐇 𝐎𝐅 𝐓𝐇𝐄 𝐘𝐄𝐀𝐑

For the second consecutive season, Head Coach Jay Vidovich has been named ACC Coach of the Year❗

This is the 7️⃣th career coach of the year award for Vidovich.

Congrats, Coach!#H2P pic.twitter.com/UHUYSdK346

— Pitt Men's Soccer (@Pitt_MSOC) November 10, 2021
Update (12:03 PM)-
**Pitt football extends a PWO opportunity today to Moon 2022 DE Ben Bladel from Moon High School.
Full season highlights. https://t.co/XsysZdc3MN

— Ben Bladel (@Benbladel30) October 26, 2020
Update (10:15 AM)-
𝐀𝐂𝐂 𝐃𝐄𝐅𝐄𝐍𝐒𝐈𝐕𝐄 𝐏𝐋𝐀𝐘𝐄𝐑 𝐎𝐅 𝐓𝐇𝐄 𝐘𝐄𝐀𝐑 🏅

For the second-straight season, Jasper Löeffelsend has been named the ACC's top defender!

He becomes the first back-to-back DPOTY award winner in the ACC since the 08-09 season.

Congratulations, Jasper❗#H2P pic.twitter.com/A6fhZFCT5W

— Pitt Men's Soccer (@Pitt_MSOC) November 10, 2021
Update (7:43 AM)-
Great start to the season for Lincoln Park grad Nelly Cummings, who scored a career-high 25 in Colgate's win against Northeastern. #WPIAL https://t.co/MkLo9VNjQL

— Brad Everett (@BREAL412) November 10, 2021
ACC on opening night: Virginia loses to Navy, Georgia Tech loses to Miami Ohio, Pitt loses to Citadel. First Navy victory over a ranked team since David Robinson was a Midshipmen 35 years ago.

— Pat Forde (@ByPatForde) November 10, 2021