Frank Walker Law/PSN Daily Notebook: November 14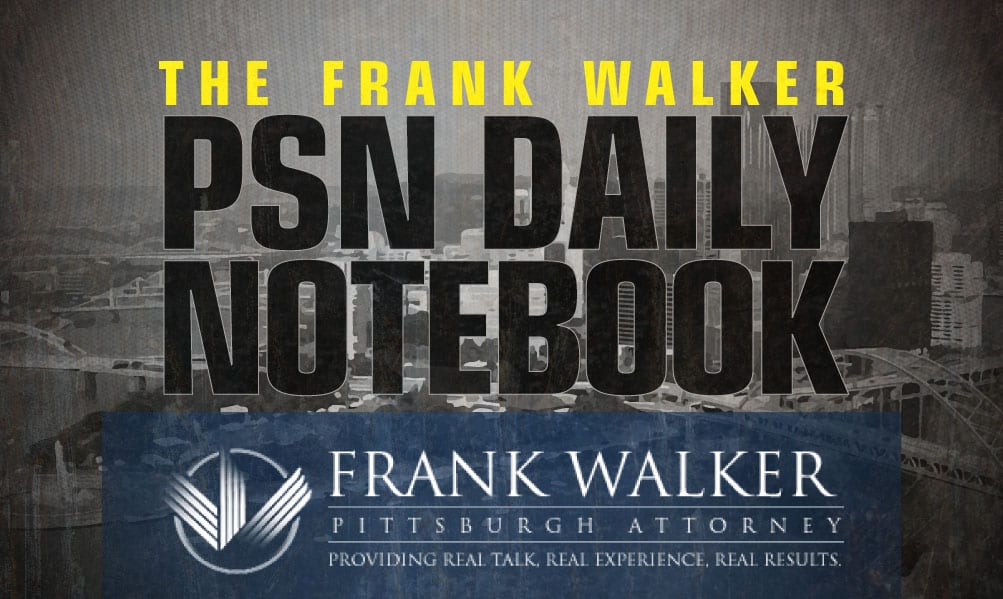 The PSN Daily Notebook is sponsored by Frank Walker, one of Pittsburgh and West Virginia's most respected criminal defense and injury lawyers. Mr. Walker has offices in Pittsburgh and Morgantown and has been named one of Top 100 National Trial Lawyers and is rated a perfect 10.0 Superb by Avvo for ethics, experience and results. To reach Mr. Walker, you can call 412-532-6805 or go to his website frankwalkerlaw.com. For real talk, real experience and real results, contact Frank Walker Law.
Update (7:53 PM)-
**Today, Pitt extends an offer to 2024 athlete Ta'Ron Haile from Millville, New Jersey. Haile received the offer from Cory Sanders and also holds offers from Boston College, Maryland, Temple, Virginia and West Virginia.
Beyond blessed to receive an offer from Pitt University @coachcsanders @OBGFootball @Pitt_FB @TBoltAthletics @247Sports @Rivals pic.twitter.com/8M3zu3jFbI

— Ta'Ron Haile (@taronh80) November 14, 2021
Update (6:18 PM)- 
Top schools dropping on Thanksgiving!

— ᴛᴀᴅᴅᴇʀ ③ (@TaMereRobinson3) November 14, 2021

Update (5:55 PM)-
**Today, Cory Sanders and have extend an offer to freshman athlete Lotzeir Brooks from Millville, New Jersey. Brooks (5'9″, 170) has also been offered by Kentucky, Texas A&M, Boston College, Rutgers and Temple.
Ive officially been invited to the 2022national combine at the All American bowl. Thank God @OBGFootball @TBoltAthletics @mccarthy_report @247recruiting @247Sports @Rivals @Rivalsfbcamps pic.twitter.com/uPW1OYQdGx

— Lotzeir Brooks (@DThrul) October 26, 2021
Update (2:35 PM)- 
**Kiski High School 2022 offensive lineman Brandon Lawhorn Moore makes a verbal commitment today to play for Miami, Ohio.
Check out my Junior season highlights @kiskifootball@WPIAL_WAREHOUSE@JohnPet02010789https://t.co/UHP7Ji5NgQ

— Brandon Lawhorn Moore (Beef) (@Beef10520385) November 3, 2020
Update (1:36 PM)-
If @seniorbowl made a Heisman ballot today based off tape it would look like this (no particular order):

* Pitt QB Kenny Pickett
* Alabama DE Will Anderson
* Michigan State RB Kenneth Walker
* Georgia LB Nakobe Dean (team representative)
* Michigan DE Aidan Hutchinson

— Jim Nagy (@JimNagy_SB) November 14, 2021

Update (12:30 PM)-
**This weekend, Brennan Marion extended an offer to freshman wide receiver Daylon Singleton (5'9", 150) from DeSoto, Texas. This becomes Singleton's second D-1 offer.
Honered yo be mentioned with the GREATS of 2025 @Official_g01 @thereal_kori2x @FootballDesoto @DeSotoUFootball @TrustMyEyesO @SkysTheLimitWR @AWilliamsUSA @MikeRoach247 @HamiltonESPN pic.twitter.com/cjOtgnPhu4

— TheRealDaylonSingleton🐇💨✌🏾 (@akaSweet13) October 31, 2021

Update (12:18 PM)-
**2023 running back Isaiah Augustave (6'1″, 190) picked up an offer on Friday from Charlie Partridge and Pitt. Augustave (Naples, Florida) holds offers from Florida State, South Florida, Oklahoma State and Coastal Carolina.
2:20 2Q: @naplesfootball 23, @CHSTarponFB 0. N — Isaiah Augustave 48 rush (Castillo kick good).

Augustave is the first Naples rusher to eclipse the century mark tonight.@nphssports @NDN_PrepZone pic.twitter.com/zEZtZTq6Mt

— Alex Martin (@NP_AlexMartin) November 13, 2021
Update (12:04 PM)- 
**2023 running back Kendrick Raphael (5'11", 180) from Naples, Florida received an offer this weekend from Charlie Partridge and Pitt. Raphael also has offers from Iowa State, NC State, South Florida, Coastal Carolina and Vanderbilt.
Regular season highlights 💯💯 https://t.co/5X00ug8RdR

— Kendrick Raphael (@RaphaelKendrick) November 7, 2021

Update (12:00 PM)- 
**Charlie Partridge spent the weekend in Florida recruiting and offered 2024 4-star cornerback Antione Jackson (6'0", 170) from Dillard High School in Fort Lauderdale, Florida. Jackson is ranked by 247 Sports as one of the Top 50 sophomores in the country. Jackson currently holds offers from Florida, Georgia, LSU, Miami, Georgia Tech and Mississippi State.
Check out my highlight – https://t.co/GN9NXNvjvl

— Antione Jackson😁 (@ACTION3_JACKSON) September 27, 2021
Update (11:47 AM)-
**Brennan Marion and Pitt extended an offer over the weekend to 2024 wide receiver Patrick Clacks (6'2″, 175) from Andrean High School in Merrillville, Indiana. This becomes Clacks' first D-1 offer.
Some regular season Highlights.. Check my hudl for full Reel.. Link in Bio 🙏🏾 15withADream Only 🆙 from Here! pic.twitter.com/zFOioBYYFg

— Pat Clacks 3rd (@ClacksPat) October 30, 2021
Update (11:25 AM)-
**Over the weekend, Pitt extended an offer to 2023 offensive tackle Anwar O'Neal from Middletown High School in Middletown, Delaware. O'Neal (6'6″, 260) received the offer from Andre Powell and also holds offers from Maryland and Delaware State.
Blessed to have received my 3rd D1 offer from @Pitt_FB 💙💛Thank you @CoachAPowell @PantherLair @PittPanthers247 @MikePanther247 @MiddletownFB @ZacharyBlum1 pic.twitter.com/rHjGHf2gNW

— Anwar O'neal (@OnealAnwar77) November 12, 2021
Update (10:04 AM)-
In 2019, Pitt had 51 sacks, tied for the second most in FBS.

In 2020, Pitt had 46 sacks, tied for the most in FBS.

In 2021, Pitt has 36 sacks, most in FBS.

They've had a diff player lead the team in sacks all 3 years & eight diff players w/5+ in a season.

— 💫🅰️♈️🆔 (@ADavidHaleJoint) November 12, 2021
Update (9:28 AM)-
Heisman Watch
1-Bryce Young QB @AlabamaFTBL
2-K. Walker III RB @MSU_Football
3-CJ Stroud QB @OhioStateFB
4-Kenny Pickett QB @Pitt_FB
5-Sam Hartmann Qb @WakeFB
6-Matt Corral QB @OleMissFB
7-Abram Smith RB @BUFootball
8-Jordan Davis DL @GeorgiaFootball pic.twitter.com/a7mtnO4JET

— Robert Griffin III (@RGIII) November 14, 2021

Update (9:25 AM)-
We Are On Our Way To Destiny ! Show Up And Show Out Next Saturday ! We Need Everyone There ! #H2P pic.twitter.com/w59AwY2h4D

— John D Morgan III ™ (@JohnMorgan6__) November 14, 2021
Leader of the #1 offense in the country! You're a winner 8 @kennypickett10 We not finished yet! Best is yet to come! #H2P https://t.co/azJTtaGZhr

— Coach Marion (@BrennanMarion4) November 13, 2021