The Frank Walker Law/PSN Daily Notebook- November 19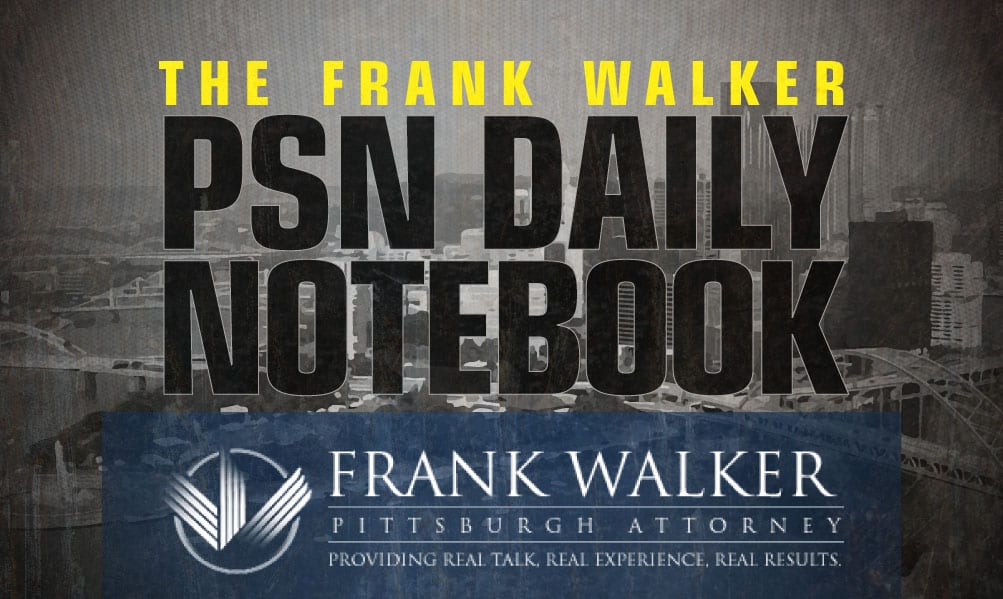 The PSN Daily Notebook is sponsored by Frank Walker, one of Pittsburgh and West Virginia's most respected criminal defense and injury lawyers. Mr. Walker has offices in Pittsburgh and Morgantown and has been named one of Top 100 National Trial Lawyers and is rated a perfect 10.0 Superb by Avvo for ethics, experience and results. To reach Mr. Walker, you can call 412-532-6805 or go to his website frankwalkerlaw.com. For real talk, real experience and real results, contact Frank Walker Law.
Around the Network
Steelers Now: Steelers Injury Update: Watt, Haden, and Dotson Miss 2nd Straight Practice
WVU Sports Now: WVU BB: Huggins Passes Bobby Knight On All-Time Wins List
Nittany Sports Now: PSU Wrestling Dominates in Home Opener 32-7
Pittsburgh Soccer Now: ACC Conference Hasn't Won a National Title Since 2014  
Pittsburgh Baseball Now: The PBN Podcast, Ep. 5
Pittsburgh Hockey Now: Penguins Shutout the Habs 6-0
Update (3:15 PM)- 
**Another D-1 offer is in for Thomas Jefferson 2023 DE/TE Jordan Mayer.
Thank you for the offer! @ToledoFB @Coach_Staten @LetsMeetAtTheQB @CoachCandle pic.twitter.com/Txv5uuZzDK

— Jordan Mayer (@Jordanmayer33) November 19, 2021

Update (3:00 PM)-
Top 25 @seniorbowl prospects heading into CFB Week 12.

1) Aidan Hutchinson, @UMichFootball
2) Kenny Pickett, @Pitt_FB

3-25: https://t.co/5gK7qZMlQ6 (via @chad_reuter) pic.twitter.com/BFW79xaaLg

— NFL Draft (@NFLDraft) November 19, 2021
Asked ACC Network's @EricMacLain on The @937theFan Early Morning Show whether he thinks @kennypickett10 is the best college QB in the country right now & what he might be capable of in the NFL.

Check out what he said 🔊😳 pic.twitter.com/KHuJ4EqHj5

— Matt Koll (@MKoll15) November 19, 2021
Update (1:56 PM)-
Thanks H2P!!!🔵🟡 pic.twitter.com/u6RPUC2YOJ

— Camden Brown (@CamdenBrown7) November 19, 2021
Update (11:01 AM)-
It's Championship Weekend in Class 6A and the final stop on the Highway to Heinz in the other five classifications. Here's a preview of the games.https://t.co/u3iG6kr66p

— Tribune-ReviewSports (@TribSports) November 19, 2021
Update (10:57 AM)-
Young men are workin! Future is bright!! #H2P @DorienFord_21 pic.twitter.com/WNi5VTHbeG

— Charlie Partridge (@CoachPartridge) November 19, 2021
Update (10:42 AM)-
Moon senior Mia Cochran picked up a huge honor when the Pennsylvania Track and Field Coaches Association named her the girls athlete of the year.#WPIAL #HSSN @MoonAreaSD @MoonTigersAD @mia09673158https://t.co/4f96ErEP3g

— TribLive HSSN (@TribLiveHSSN) November 19, 2021
Update (9:37 AM)-
I can't believe 4 years has gone by already. Forever H2P!! https://t.co/S8sFEn0Hlv

— Noah Palmer (@noahpalmer_45) November 19, 2021
Update (9:09 AM)-
#Pitt fans, help out @P_jones9!!!! #H2P 🟡🔵 https://t.co/grsCGSVa2E

— Harry G. Psaros (@PittGuru) November 19, 2021
Update (9:07 AM)-
Two of the best young WR coaches and offensive minds in #CFB 💯 pic.twitter.com/cpYdqyQ7RM

— NCAAF Nation (@NCAAFNation247) November 18, 2021