The Frank Walker Law/PSN Daily Notebook: November 22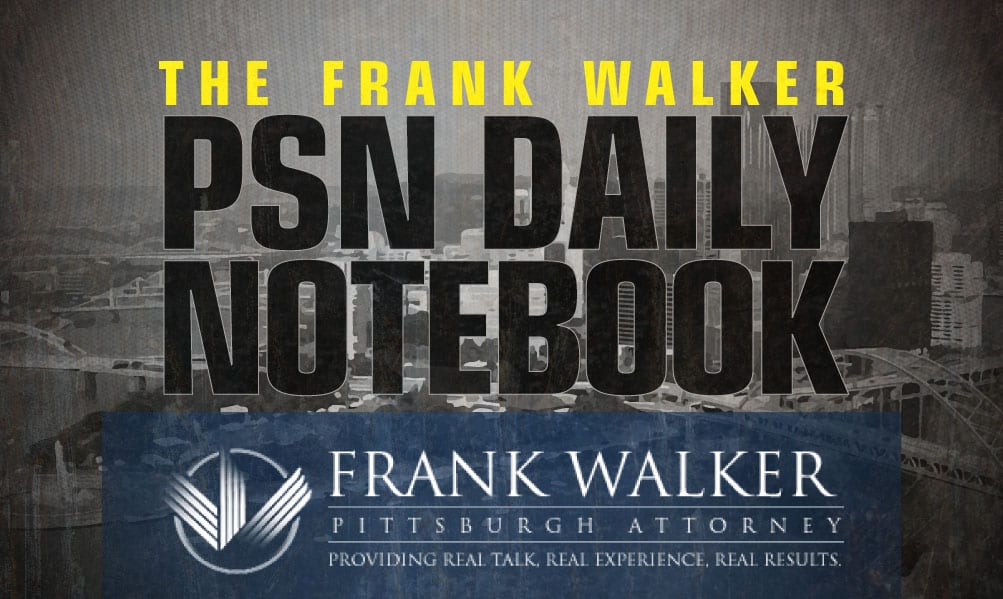 The PSN Daily Notebook is sponsored by Frank Walker, one of Pittsburgh and West Virginia's most respected criminal defense and injury lawyers. Mr. Walker has offices in Pittsburgh and Morgantown and has been named one of Top 100 National Trial Lawyers and is rated a perfect 10.0 Superb by Avvo for ethics, experience and results. To reach Mr. Walker, you can call 412-532-6805 or go to his website frankwalkerlaw.com. For real talk, real experience and real results, contact Frank Walker Law.
AROUND THE NETWORK
Steelers Now: Steelers comeback falls just short in L.A.
Pittsburgh Baseball Now: Pirates sign a player with a name people might actually recognize
Pittsburgh Soccer Now: Pitt's firepower in full display in 5-2 win over NIU.
WV Sports Now: Bob Huggins now 4th all-time in wins.
Nittany Sports Now: The Pitt-PSU soccer showdown is not to be after the Nittany Lions lose to Hofstra
Pittsburgh Hockey Now: Zucker and Pettersson showing new life this season
Update (9:25 PM)-
**Tonight, Brennan Marion and Pitt extend an offer to 2025 athlete LaMason Waller from Hesperia, California. This becomes Waller's 6th D-1 offer with the others coming from Utah, UNLV, Texas A&M, Florida State and Charlotte.
Year 1 .. @adamgorney @GregBiggins @CoachTroop3 @CoachTroop3 @ghalee_ASU @premiumsportsla @CoachChev6 @rickroan65 @CoachAT23 @BrandonHuffman https://t.co/AhZlvBip7J

— LaMason Waller. (@LamasonW) October 29, 2021
Update (2:41 PM)-
With the scouting season winding down, there are 18 players who have consensus first-round grades.

None are quarterbacks, although you can bet multiple ones will be taken on Day 1. Best of the bunch: @Pitt_FB's Kenny Pickett.

— Gil Brandt (@Gil_Brandt) November 22, 2021
Update (1:25 PM)-
This is easy. If he is NOT invited, it sends a bad message. https://t.co/oBViiPK94m

— Louis Riddick (@LRiddickESPN) November 22, 2021
Update (11:38 AM)-
Kenny Pickett should be getting more Heisman love. Like WAY more. Both Bama and Ohio State have proven to be plug n play systems for their QB's. Pickett has done just as much as Young and Stroud statistically with less talent around him in way more high stress possessions

— Danny Kanell (@dannykanell) November 22, 2021
Update (11:23 AM)-
🚨 GAME TIME ANNOUNCED 🚨

No. 5 seed Pitt will host Hofstra Saturday, Nov. 27 in the NCAA Tournament Third Round at 4 PM 🕓

Tickets 🎟️ on sale now! – https://t.co/JoHm52ElGN#H2P pic.twitter.com/E5B5149wG5

— Pitt Men's Soccer (@Pitt_MSOC) November 22, 2021
Update (10:24 AM)- 
**Former Central Catholic standout Tim Terry has entered the transfer portal and will have one season of eligibility remaining.
Buffalo LB Tim Terry has entered the portal as a grad transfer. He has 102 tackles in his four-year career. https://t.co/JtnNDGeugy

— 247Sports Transfer Portal (@247SportsPortal) November 22, 2021
Update (9:18 AM)-
Congratulations to @Taysir_mack for EARNING an invite to the @NFLPABowl‼️🔥

Let's keep this rolling one game at a time. #H2P #WEnotME pic.twitter.com/srp26ptvXG

— Pat Narduzzi (@CoachDuzzPittFB) November 22, 2021
Update (9:10 AM)-  
With team success, comes individual success. Big thank you to @JimNagy_SB and the @seniorbowl for the special honor for our guys. #H2P #WEnotME pic.twitter.com/xL6Mfm8ZDw

— Pat Narduzzi (@CoachDuzzPittFB) November 22, 2021
Congratulations to @kennypickett10 @CalAdomitis @Damarri15 @CarterWarren79 for EARNING their Invite to the Reese's @seniorbowl‼️🔥🍫

Let's keep this thing rolling one game at a time. #H2P #WEnotME pic.twitter.com/vaMCY9Yj4J

— Pat Narduzzi (@CoachDuzzPittFB) November 22, 2021
Update (8:55 AM)-
What @Espn_Jordan did yesterday is exactly what I do on madden 22 with @cheetah and the Chiefs 😂💯 https://t.co/hOFNi3SIRy

— Calijah Kancey (@Ckancey13) November 22, 2021