The Frank Walker Law/PSN Daily Notebook: December 1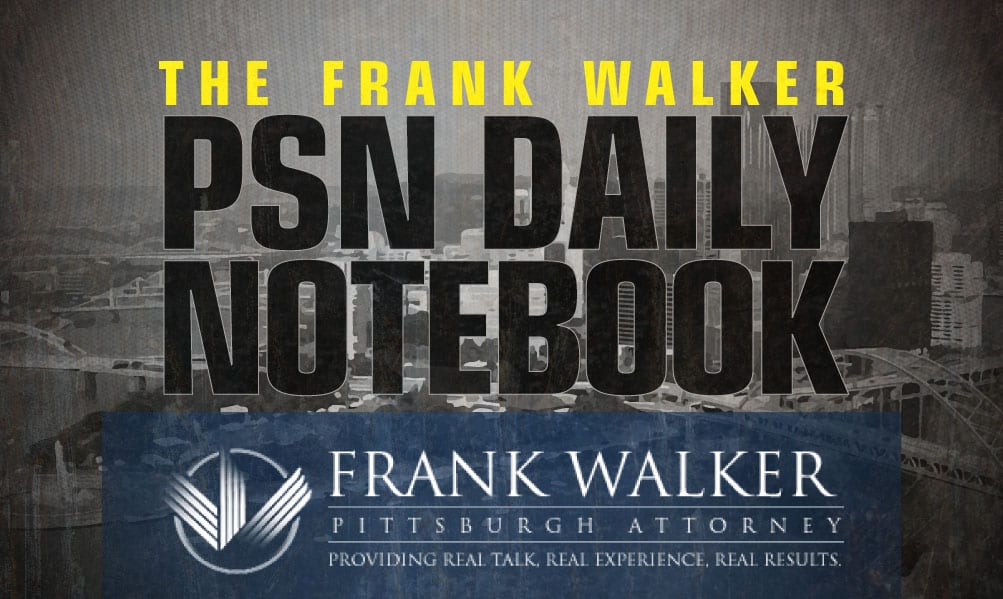 The PSN Daily Notebook is sponsored by Frank Walker, one of Pittsburgh and West Virginia's most respected criminal defense and injury lawyers. Mr. Walker has offices in Pittsburgh and Morgantown and has been named one of Top 100 National Trial Lawyers and is rated a perfect 10.0 Superb by Avvo for ethics, experience and results. To reach Mr. Walker, you can call 412-532-6805 or go to his website frankwalkerlaw.com. For real talk, real experience and real results, contact Frank Walker Law.
Update (11:37 AM)- 
**Florida 2022 3-star OL/DE Bradley Mann commits today to Vanderbilt. Mann committed to Pitt in June but then de-committed. However, he did come to Pittsburgh for another unofficial visit at the end of the season.
COMMIT ALERT: Vanderbilt lands commitment from Bolles (Fla.) DL @Bradleymann5422, the Commodores' 18th verbal pledge in the 2022 class @adamgorney https://t.co/oY4KogzHg2 pic.twitter.com/X2Sgcru6QI

— VandySportsDotCom (@VandySportscom) December 1, 2021

Update (10:44 AM)- 
**Central Valley 2022 running back Landon Alexander received an offer today from Albany.
Regular Season Highlights 10-0! 23 TDS and 1362 Yards! https://t.co/bsLWJEUqJ4

— Landon Alexander (@lalexander_) November 1, 2021
Update (9:53 AM)-
I'm voting everyday! 🗳 @kennypickett10 🙏🏾 https://t.co/AHXe4ak2km

— 𝐃𝐚𝐦𝐚𝐫 𝐇𝐚𝐦𝐥𝐢𝐧 (@HamlinIsland) December 1, 2021
Update (9:44 AM)-
Let's examine this: @kennypickett10 broke basically every @Pitt_FB record (see: Dan Marino). He led #Pitt to 10 wins for the first time in FOUR DECADES despite not being surrounded by a dozen first round #NFL picks.

I was once a #Heisman voter. Guess how I'd vote. https://t.co/3FRnas4xV6

— Aditi Kinkhabwala (@AKinkhabwala) December 1, 2021
Update (8:55 AM)- 
**Pitt has extended a PWO offer to Chartiers Valley 2022 wide receiver/safety Abe Ibrahim.
Based on our knowledge & research…@AbeIbrahim6 sets a school record of 49 receptions & 892 yards during the 2021 season. Congrats Abe! #MTC @DKnause5 @PaFootballNews @wpialsportsnews @CVColtsAD @CVstrength @cvatr pic.twitter.com/MTa0s4RcCf

— CharValleyFootball (@CVColtsFootball) November 17, 2021
Great season with @CVColtsFootball this year! Beyond grateful for what I have learned here and the relationships that I've built ❤️💙 https://t.co/aSfPUkr4vJ @DKnause5 @210ths @wpialsportsnews @CVstrength @Cover3_ATH @PaFootballNews @WPIAL_Insider

— Abe Ibrahim (@AbeIbrahim6) November 4, 2021
Update (8:14 AM)- 
**On Tuesday, a NFL Mock Draft had Kenny Pickett getting selected No.12 by Atlanta. Today, Dane Brugler has Pickett going No. 10 to Carolina.
KP #10 pic.twitter.com/JH66xcwNUL

— Scaztastic (@Scaztastic) December 1, 2021
Update (8:09 AM)-
Right now, if I picked a QB for the Heisman Trophy it would be Kenny Pickett of @Pitt_FB. The two most dominant players I have seen all year are Aidan Hutchinson of @UMichFootball and Will Anderson of @AlabamaFTBL
Excited to watch those 3 along with Bryce Young play once more!

— Todd Blackledge (@Todd_Blackledge) December 1, 2021
Update (7:44 AM)-
**Pitt 2022 commit 3-star wide receiver Camden Brown hosted South Carolina on an in-home visit. Despite being verbally committed to the Panthers, a number of Power 5 programs are pursuing this talented 6'3" wideout. Pitt coaches will be down in Florida to see him next week following the ACC Championship Game.
First in-home visit with @coachjstepp #Spursup🤙🏾🐔 pic.twitter.com/5ZmoCBJwNt

— Camden Brown (@CamdenBrown7) December 1, 2021
Around the Network
Steelers Now: Steelers Injury Update: Spillane Has Knee Sprain, Freiermuth Still in Concussion Protocol
Pittsburgh Hockey Now: Penguins Practice: Malkin Participates Again, Simon Skating Too
Pittsburgh Baseball Now: Pirates get a new catcher in Roberto Perez
WVU Sports Now: WVU Men's BB Triumphant Over Bellarmine
Nittany Sports Now: Stuff Somers Says: Penn State Fans Could Have Been Living in Oklahoma's Reality