The Frank Walker Law/PSN Daily Notebook: December 7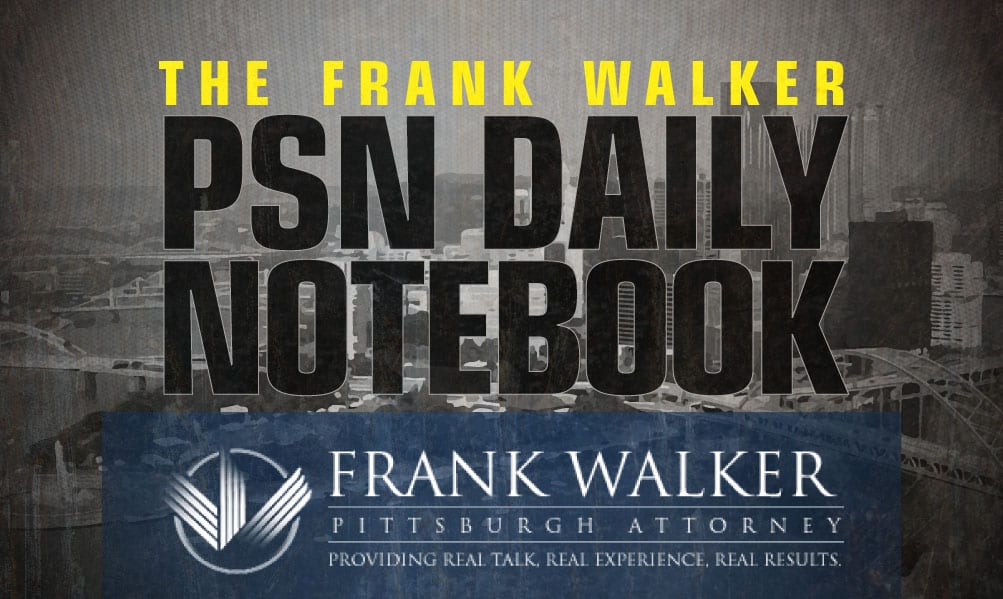 The PSN Daily Notebook is sponsored by Frank Walker, one of Pittsburgh and West Virginia's most respected criminal defense and injury lawyers. Mr. Walker has offices in Pittsburgh and Morgantown and has been named one of Top 100 National Trial Lawyers and is rated a perfect 10.0 Superb by Avvo for ethics, experience and results. To reach Mr. Walker, you can call 412-532-6805 or go to his website frankwalkerlaw.com. For real talk, real experience and real results, contact Frank Walker Law.
Update (9:31 PM)-
Blessed to be a 4⭐️ on @Rivals @RivalsWoody @adamgorney pic.twitter.com/RTCsm4BklN

— Camden Brown (@CamdenBrown7) December 8, 2021

Update (9:12 PM)-  
**Today, Charlie Partridge extended an offer to 2023 wide receiver Derrick Bohler from Miami, Florida. Bohler (6'2", 195) also holds offers from Syracuse, Central Michigan and Utah State.
https://t.co/zaFMF3raUq junior year highlights 6'2 195lb c/o2023 head coach-@PantherPride305 @TheCribSouthFLA @larryblustein @6starfootballFL @rhettlashlee

— derrickbohler_5 (@derrickbohler_5) December 2, 2021

Update (9:00 PM)-
I will be signing my NLI December 17th, 5th period in the PAC #H2P 💙💛 pic.twitter.com/MUANNU0w60

— Ryan Baer (@RyanBaer2003) December 7, 2021
Update (8:40 PM)-
**Tim Salem and Pitt extend an offer to freshman linebacker Kamar Archie from Hun School in Trenton, New Jersey. Archie (6'2″, 205) is projected to be a national recruit and already holds offers from Penn State, Boston College, Illinois, Virginia and Rutgers.
https://t.co/JpYwFBhEtd
Full Szn highlights! Love these guys!! 9-0 @Red_Zone75 #hunfootball

— Kamar (@KamarsirArchie) November 14, 2021
Update (1:37 PM)-
Ryan Coe, a former all-state player at South Fayette, is transferring from Delaware to College Football Playoff team Cincinnati. #WPIAL https://t.co/jJtN5sMRC7

— Brad Everett (@BREAL412) December 7, 2021
Update (1:23 PM)-
**A second offer today from Archie Collins as this one goes to 2023 athlete Darius Taylor from Walled Lake Western High School in Walled Lake, Michigan. Taylor (5'11", 190) also holds offers from Syracuse, Toledo, Bowling Green, Central Michigan and Eastern Michigan. Taylor finished this season with 136 carries for 1,379 yards, 621 receiving yards, 24 touchdowns, 4 interceptions and a kick return and fumble recovery for a touchdown. Taylor made an unofficial visit to Pitt for their game against Virginia.
Update (12:18 PM)-
Just landed in NJ (again)…out to get the next "Kenny Pickett"….! H2P! pic.twitter.com/V8wQgxYa7E

— Tim Salem (@CoachTimSalem) December 7, 2021

Update (12:12 PM)-
**Archie Collins extends an offer today to 2023 3-star running back Nolan Ray (6'0″, 195) from Brother Rice High School in Bloomfield Hills, Michigan. Ray is ranked as one of the Top 15 juniors in Michigan and also holds other Power Five offers from Boston College, Maryland, Marshall and Central Michigan.
Junior Season Highlights

Rushing:
145 Carries
1,097 Yards
7.57 Yards per carry
14 TD's

Receiving:
9 Receptions
198 Yards
2 TD'shttps://t.co/F1Or1fnQcX

— Nolan Ray (@Nolanray05) November 19, 2021
Update (11:40 AM)-
**Tuesday morning, Pitt football extended an offer to 2023 3-star running back Jamari Ford from Northwestern High School in Miami, Florida. Ford (5'6″, 165) also holds offers from Ole Miss, Syracuse, Arkansas State, Marshall, Florida Atlantic and UAB. Ford received the offer from Charlie Partridge.
🦍🦍👣 pic.twitter.com/uAWxWnlxgo

— Jamari Ford (@day1mari) November 2, 2021
— Jamari Ford (@day1mari) November 13, 2021
Around the Network
Steelers Now: T.J Watt ties James Harrison for most sacks in a season in Steelers history … despite missing two games. Oh, and there's still plenty of season left.
Pittsburgh Hockey Now: Three takeaways from the Penguins pummeling of the Seattle Kraken
Pittsburgh Baseball Now: Barry Bonds belongs in the Hall of Fame
WVU Sports Now: Another West Virginia Wide Receiver Enters the Transfer Portal
Nittany Sports Now: Report: Poindexter to UVA Imminent 
Pittsburgh Soccer Now: Pitt falls to Notre Dame in the Elite 8