The Frank Walker Law/PSN Daily Notebook- December 9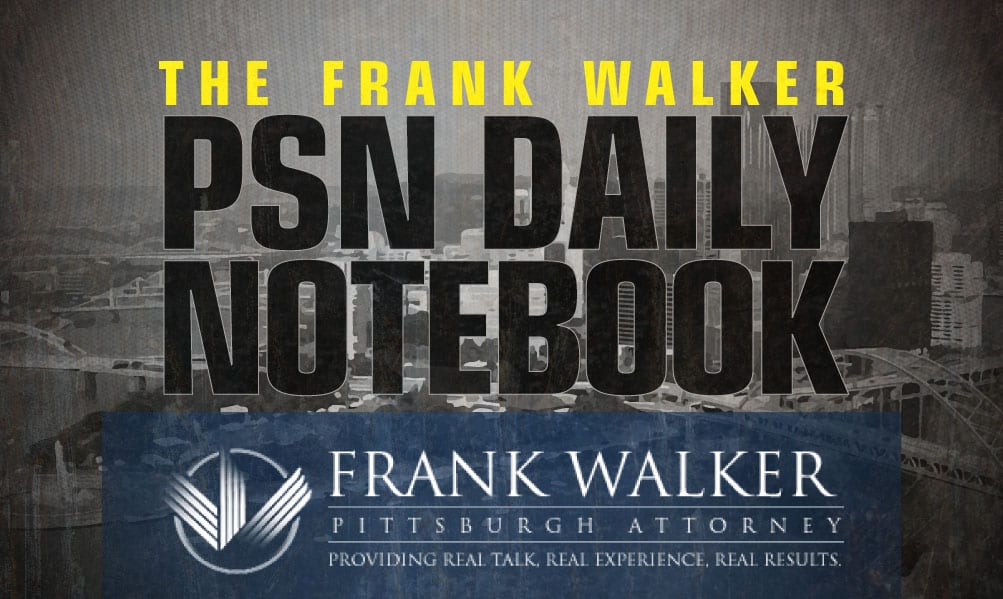 The PSN Daily Notebook is sponsored by Frank Walker, one of Pittsburgh and West Virginia's most respected criminal defense and injury lawyers. Mr. Walker has offices in Pittsburgh and Morgantown and has been named one of Top 100 National Trial Lawyers and is rated a perfect 10.0 Superb by Avvo for ethics, experience and results. To reach Mr. Walker, you can call 412-532-6805 or go to his website frankwalkerlaw.com. For real talk, real experience and real results, contact Frank Walker Law.
Update (8:40 PM)- 
**Tonight, new Akron head coach Joe Moorhead extends an offer to Gateway 2024 quarterback Brad Birch. Moorhead extended Birch an offer to Oregon when he was their offensive coordinator.
TIME TO WORK!!! 161-268 (60%) 2750 yds 32 tds passing 293 yds 4 tds rushing in my sophomore season. I will continue to progress both on and off the field. ❗️https://t.co/7bedtjndfy

— Brad Birch (@BradBirch12) November 15, 2021

Update (8:30 PM)- 
**Pine-Richland 2022 3-star OT Jalen Klemm commits tonight to Kansas State.
🟣COMMITTED⚪️ #EMAW #KStateFB #GoCats @CoachCRiles @hayden_wall @spedbraet pic.twitter.com/vovMZm19WT

— Jalen Klemm (@JalenKlemm) December 10, 2021

Update (6:50 PM)- 
**Tonight, Pitt extends an offer to 2023 offensive tackle Paul Mubenga (6'4", 275) from Buford, Georgia. Mubenga received the offer from Archie Collins and holds Power 5 offers from Arkansas, Colorado, Michigan, NC State, Penn State, Tennessee, Vanderbilt, Wake Forest and West Virginia.
Update (3:50 PM)-
**Another offer today from Pitt to a player in Georgia as this one goes to 2023 3-star offensive tackle Ethan Mackenny from Lassiter High School in Marietta, Georgia. Mackenny received the offer from Archie Collins and holds other offers from Boston College, Cincinnati, Colorado, Duke, Kansas, Louisville, Memphis, Michigan State, Mississippi State, North Carolina, Virginia, Virginia Tech and Wake Forest.
Update (3:44 PM)-
Davey O'Brien National QB Award Finalists

Kenny Pickett, Pitt
C.J. Stroud, Ohio State
Bryce Young, Alabama

— Brett McMurphy (@Brett_McMurphy) December 9, 2021
Update (1:45 PM)-
**Pitt football extends an offer today to 2023 3-star cornerback Kaleb Cost from Sandy Creek High School in Tyrone, Georgia. Cost (5'10", 180) holds offers from Boston College, Coastal Carolina, Florida State, Georgia Tech, Kansas, Miami, Mississippi State, Tennessee, Central Florida and Virginia Tech.
Jr. Regular Szn Highlights
4 Interceptions
1000+ All Purpose Yards
8 Touchdownshttps://t.co/soBUNsSzOL@SCHSPatriots @athletics_creek

— Kaleb Cost (@kaleb22cost) November 12, 2021
Update (12:25 PM)-
**Pitt women's basketball has extended an offer to 2024 guard Xamiya Walton from Butler College Prep High School in Chicago, Illinois. Walton also holds offers from Northwestern, Cincinnati, DePaul, Illinois, Loyola, Memphis, Ohio State, UIC, Western Michigan and Xavier.
Update (11:55 AM)-
**Archie Collins extends an offer today to 2024 running back Jayden Scott from Stockbridge, Georgia. Scott (5'10", 190) also holds offers from Miami and Arizona State.
The adversity I've experienced this season has made me stronger and hungrier for the upcoming season. #StayTuned@CoachBailey62 @StockbridgeHFC @RecruitGeorgia @StockbridgeFoo2 @ChadSimmons_ @Mansell247 @247Sports @TDDADON @DOMXsports https://t.co/NktuHSRPh6

— Jayden "Duke" Scott (@Dukescott34) November 10, 2021
Update (11:32 AM)-
Big get for the Panthers

Dalton was the 2019-20 Colorado Volleyball Player of the Year.

Made the Pac-12 freshman team last season for Washington State https://t.co/JCO3baxORF

— Alex Lehmbeck (@alexlehmbeck) December 8, 2021
Update (11:25 AM)-
**Lance White and the Pitt women's basketball program extended an offer last night to freshman 5'11" shooting guard Ella Todd from Illinois. Todd also holds offers from Illinois and Bradley.
Check out some of my highlights from July! https://t.co/gB1odfWFWj

— Ella Todd (@EllaTodd22) September 2, 2021
Update (11:21 AM)-
Pitt will be getting an official visit this weekend from 2022 3-star commitment @kylelouis09 from East Orange, New Jersey. pic.twitter.com/nRDMQWUHqD

— Pittsburgh Sports Now (@PghSportsNow) December 9, 2021
Update (10:41 AM)-
**Pitt extends an offer this morning to 2023 athlete Desean Butler from American Heritage High School in Florida. This becomes Butler's first Power Five offer with his other one coming from Western Kentucky. Butler received the offer from Brennan Marion.
How's the technique? @coachadk @WKURecruiting @CoachColombi @ArmyFB_Recruit @ToledoQBs @CoachRenoYale @PennRB_Downs @BHoward_11 @247recruiting pic.twitter.com/ARzmkIDvyd

— Desean Butler (@butler_desean) November 15, 2021
Around the Network
Steelers Now: Odds: Mason Rudolph Favorite to Replace Big Ben
Pittsburgh Hockey Now: Penguins Injury Update: Guentzel Week to Week, Rust Not Skating Yet
Pittsburgh Sports Now: Pickett, Addison Rack Up All-American Honors
WVU Sports Now: Post Game Reaction From West Virginia's Win Over No. 15 Uconn
Nittany Sports Now: PSU RB Commit Nicholas Singleton Up For Gatorade Player of the Year