The Frank Walker Law/PSN Daily Notebook- December 14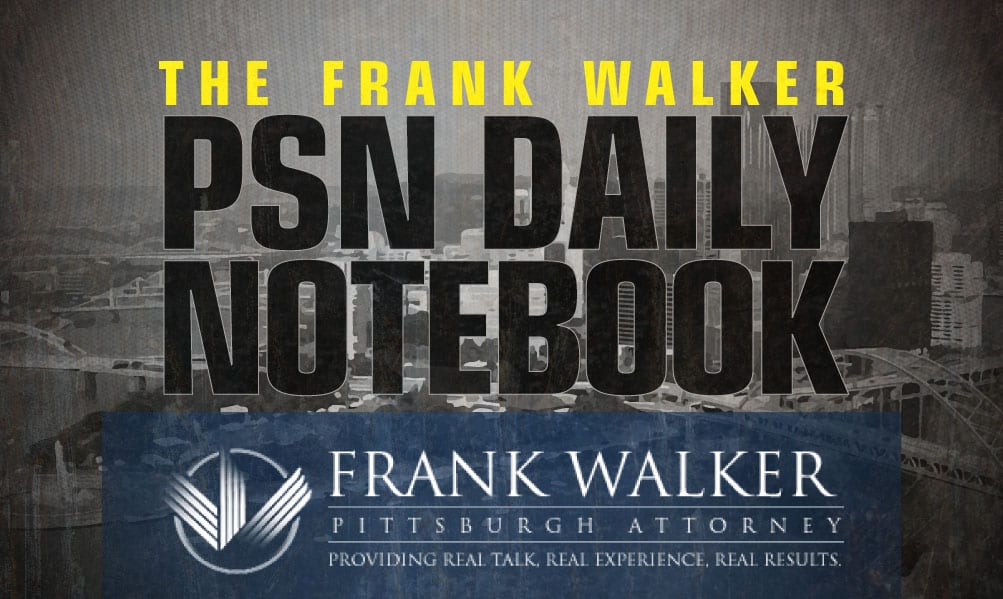 The PSN Daily Notebook is sponsored by Frank Walker, one of Pittsburgh and West Virginia's most respected criminal defense and injury lawyers. Mr. Walker has offices in Pittsburgh and Morgantown and has been named one of Top 100 National Trial Lawyers and is rated a perfect 10.0 Superb by Avvo for ethics, experience and results. To reach Mr. Walker, you can call 412-532-6805 or go to his website frankwalkerlaw.com. For real talk, real experience and real results, contact Frank Walker Law.
Update (3:27 PM)-
Proud of you. #H2P @JohnMorgan6__ @abba1999 pic.twitter.com/rR2Ci8fTFt

— Charlie Partridge (@CoachPartridge) December 14, 2021
Update (3:22 PM)- 
**2023 wide receiver Zion Fowler (Jersey City, New Jersey) committed to Pitt back on October 26. Today, Fowler received an offer from Syracuse.
Blessed to receive an Offer From the University Of Syracuse 🍊@CoachOFlaherty @coachnazoliver @LamarMcKnight_ @Coach_GetWright @CoachRichHansen @coachnazoliver @jjnesh @CoachFannan @Cody_High pic.twitter.com/xnPers96A4

— Zion Fowler ✞ (@CantGuardZion) December 14, 2021

Update (2:18 PM)-
Wisconsin transfer RB Quan Easterling committed to Duquesne https://t.co/XTBCvOrHLX

— NCAA Transfer Portal (@RivalsPortal) December 14, 2021

Update (9:02 AM)-
There are defensive players having better seasons than Aaron Donald, but don't get fooled. He's still the best defensive player in football. NO defensive player commands more attention than he does… NO ONE

— shannon sharpe (@ShannonSharpe) December 14, 2021
Update (7:50 AM)-
Former #Pitt standout Justin Champagnie had a phenomenal night. He had a career high 10 points and 25 minutes for the #Raptors in a 124-101 win against the #Kings. #NBA https://t.co/4JpkK1uRFO

— Harry G. Psaros (@PittGuru) December 14, 2021

Update (7:38 AM)-
Starts with a sack. Ends with a sack.

Aaron Donald bookends another epic performance for the @RamsNFL 🐐

Best in the game, @AaronDonald97.#H2P » #ProBowlVotepic.twitter.com/6XTF94imgt

— Pitt Football (@Pitt_FB) December 14, 2021