The Frank Walker Law/PSN Daily Notebook- December 16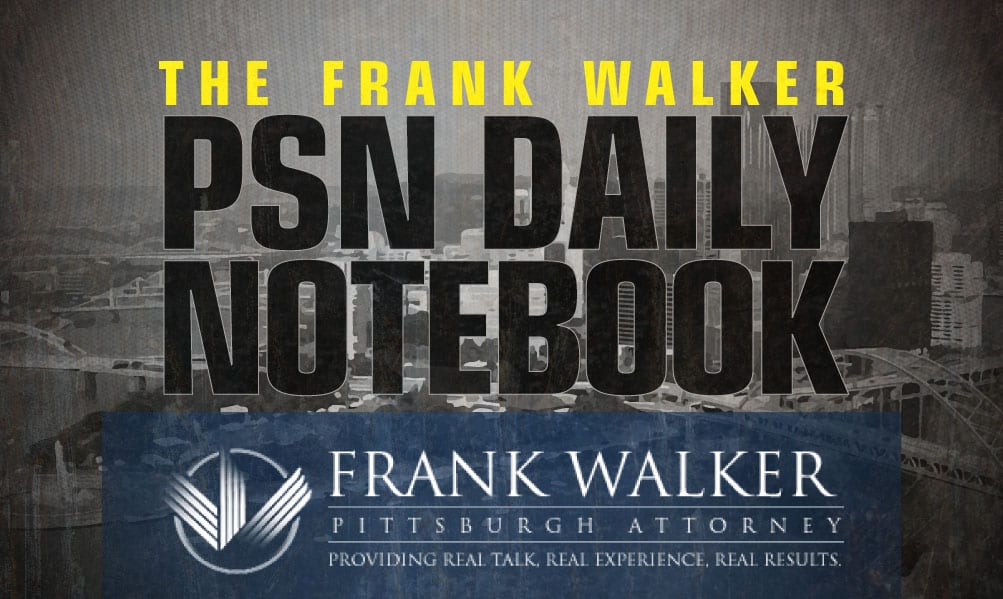 The PSN Daily Notebook is sponsored by Frank Walker, one of Pittsburgh and West Virginia's most respected criminal defense and injury lawyers. Mr. Walker has offices in Pittsburgh and Morgantown and has been named one of Top 100 National Trial Lawyers and is rated a perfect 10.0 Superb by Avvo for ethics, experience and results. To reach Mr. Walker, you can call 412-532-6805 or go to his website frankwalkerlaw.com. For real talk, real experience and real results, contact Frank Walker Law.
Update (2:40 PM)-
**Pitt gets in early with another young player. This afternoon, Brennan Marion and Pitt extend an offer to 2025 wide receiver Khristian Norris (6'2″, 175) from Puyallup, Washington. This is the first D-1 offer for Norris.
Class of 2025 WR @10Kingkhris was lights out at @oregonfootball SNL! This kid will be one of the best in his class!
..@coach_cristobal @CoachDonJ pic.twitter.com/jzyImaJ7k0

— tfordfsp1 (@tfordfsp1) August 1, 2021
Update (2:19 PM)-
Consensus 🏆🇺🇸 All-American

The NCAA confirms Jordan Addison as the 54th player in Pitt's history to earn consensus All-America status!#H2P » @Espn_Jordan pic.twitter.com/aPwFZZaxzK

— Pitt Football (@Pitt_FB) December 16, 2021
Update (12:50 PM)- 
**For the second time today, Pitt becomes the first D-1 offer for a player from Texas. Brennan Marion offers 2023 wide receiver Bryce Marcus from Mansfield, Texas.
I am extremely thankful to receive a offer from the University of Pittsburgh.@BrennanMarion4 @TrustMyEyesO @drobalwayzopen @Sheputep23 @LRHSFBRecruit pic.twitter.com/9dMM3bhCaY

— james"Bryce"Marcus (@jb3marcus) December 16, 2021
Update (12:37 PM)-
The difference maker! Best WR coach in the nation appreciate you for everything 💯 @BrennanMarion4 pic.twitter.com/UlsB5ZQqSp

— Jordan Addison (@Espn_Jordan) December 16, 2021
Update (12:20 PM)- 
**Today, Brennan Marion and Pitt extend an offer to 2023 athlete Keith Abney Jr. from Waxahachie, Texas. This becomes Abney's first D-1 offer.
Jr regular season tape. Playoffs up next⏳. https://t.co/xvVxNAD5iF @CoachDT_TFB @Tolleson20 @TrustMyEyesO @NickHarris247

— Keith Abney Jr. (@keithabneyjr) November 9, 2021
Update (12:11 PM)-
ICYMI: All our National Signing Day coverage from yesterday.
Live Coverage: Pitt Class of 2022 National Letter of Intent Signing Day
NETWORK NEWS
Steelers Now: Joe Green has some thoughts on Chase Claypool
WV Sports Now: Neal Brown talks about WVU's class of 2022
Nittany Sports Now: James Franklin goes over his top 10 recruiting class.
Pittsburgh Baseball Now: Joel Hanrahan abruptly quits the Pirates organization.
Pittsburgh Soccer Now: Clemson takes the championship.
Pittsburgh Hockey Now: Kessel fight!
Update (10:50 AM)- 
**Former Woodland Hills tight end Josh Rawlings has entered the Transfer Portal. Pitt recruited Rawlings very hard and were a finalist for him before he selected Virginia.
2020 3-star TE Josh Rawlings has entered the transfer portal after playing in six games during his time with Virginia @Cavs_Corner https://t.co/yLkyZRoqRd

— NCAA Transfer Portal (@RivalsPortal) December 16, 2021

Update (9:18 AM)-
The smiles tell you all you need to know! @Manor_Sports senior @CheNwabuko1 signs his NLI to join both the @Pitt_FB and @Pitt_TF_XC programs! Big time speed is on its way to the Burgh! #H2P pic.twitter.com/UCjQwTbbWs

— Tyler Feldman (@TylerFeldmanTV) December 15, 2021
Update (9:06 AM)-
Real excited about this group of Panthers! BIG things continuing here 😎‼️🔥#H2P #WEnotME #BLIT22BURGH pic.twitter.com/3w2UqWKNmW

— Pat Narduzzi (@CoachDuzzPittFB) December 16, 2021
Update (8:43 AM)- 
**Duquesne football adds Bowling Green offensive line transfer Chris Oliver.
Excited to announce I have decided to transfer to Duquesne University!🙏🏾📈#GoDukes @DuqFB @CoachMcCoy28 @CoachGribbin pic.twitter.com/7kb17fQJfK

— Chris Oliver (@Chris_oliver59) December 15, 2021