The Frank Walker Law/PSN Daily Notebook: January 11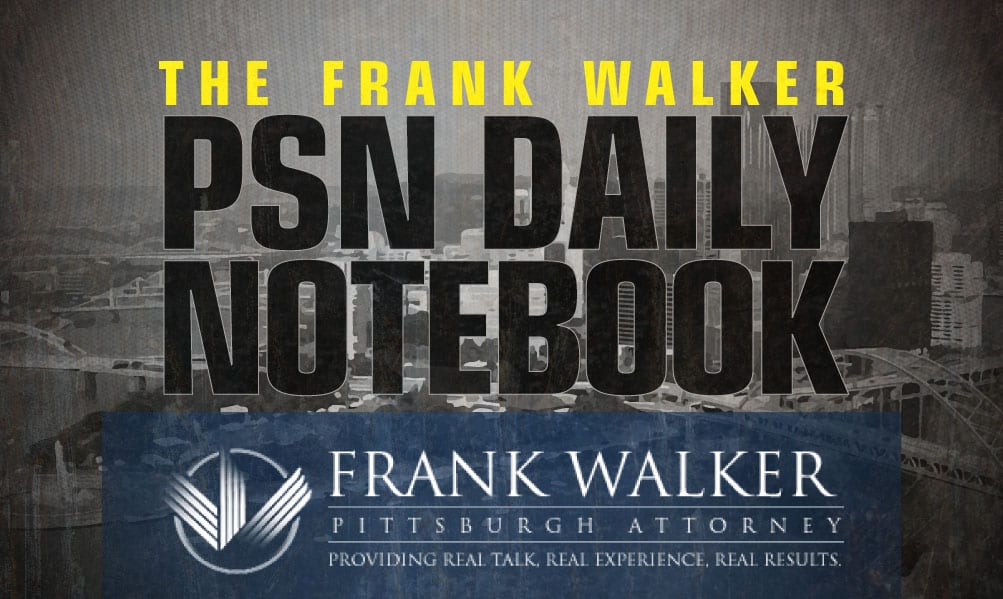 The PSN Daily Notebook is sponsored by Frank Walker, one of Pittsburgh and West Virginia's most respected criminal defense and injury lawyers. Mr. Walker has offices in Pittsburgh and Morgantown and has been named one of Top 100 National Trial Lawyers and is rated a perfect 10.0 Superb by Avvo for ethics, experience and results. To reach Mr. Walker, you can call 412-532-6805 or go to his website frankwalkerlaw.com. For real talk, real experience and real results, contact Frank Walker Law.
Update (7:28 PM)-
**Tonight, Cory Sanders and Pitt extend an offer to 2023 3-star defensive end Jameial Lyons from Roman Catholic High School in Philadelphia, Pennsylvania. Lyons (6'5″, 220) holds other offers from Penn State, West Virginia, Boston College and UMass.
Update (6:38 PM)-
With the 81st pick in the @MLS #SuperDraft we have selected Jasper Loeffelsend from @Pitt_MSOC. pic.twitter.com/QxEA6Cgna2

— Real Salt Lake (@realsaltlake) January 11, 2022
Update (6:17 PM)-
The pick is in ‼️@OrdonezOsuna is heading to the @HoustonDynamo ⚽

Congratulations, Arturo! #H2P pic.twitter.com/NtAgyIMOVc

— Pitt Men's Soccer (@Pitt_MSOC) January 11, 2022
Update (1:52 PM)-
ACC finished with 4 teams ranked in the top 20 of the final AP poll.

It's only the second time in the past 15 years that's happened (2016).

13 Pitt
14 Clemson
15 Wake
20 NC State

— 💫🅰️♈️🆔 (@ADavidHaleJoint) January 11, 2022
Update (1:31 PM)-
Teams to finished ranked in the AP Poll that weren't ranked in the preseason

#3 Michigan
#5 Baylor
#7 Oklahoma State
#9 Michigan State
#11 Ole Miss
#13 Pitt
#15 Wake Forest
#17 Houston
#18 Kentucky
#19 BYU
#20 NC State
#21 Arkansas
#24 Utah State
#25 San Diego State

— CFB Home (@CFBHome) January 11, 2022

Update (9:34 AM)-

**Former Steel Valley and Pitt quarterback Luke Getsy will get his first NFL head coaching interview.
Broncos request interview with Packers QBs coach Luke Getsy. https://t.co/R7LID4a4th

— ProFootballTalk (@ProFootballTalk) January 11, 2022
Around the Network
Steelers Now: No More Victory Mondays For the Steelers, Ray-Ray Mcloud Says
Pittsburgh Hockey Now: Looking Good; Malkin Seems Likely to Return Tuesday Against Ducks 
Pittsburgh Baseball Now: Can You Guess That Random Bucco: Brian Giles
WVU Sports Now: Former WVU QB Geno Smith Arrested On Suspicion of DUI 
Nittany Sports Now: Penn State Great LaVar Arrington to Enter College Football Hall of Fame