The Frank Walker/PSN Daily Notebook- January 15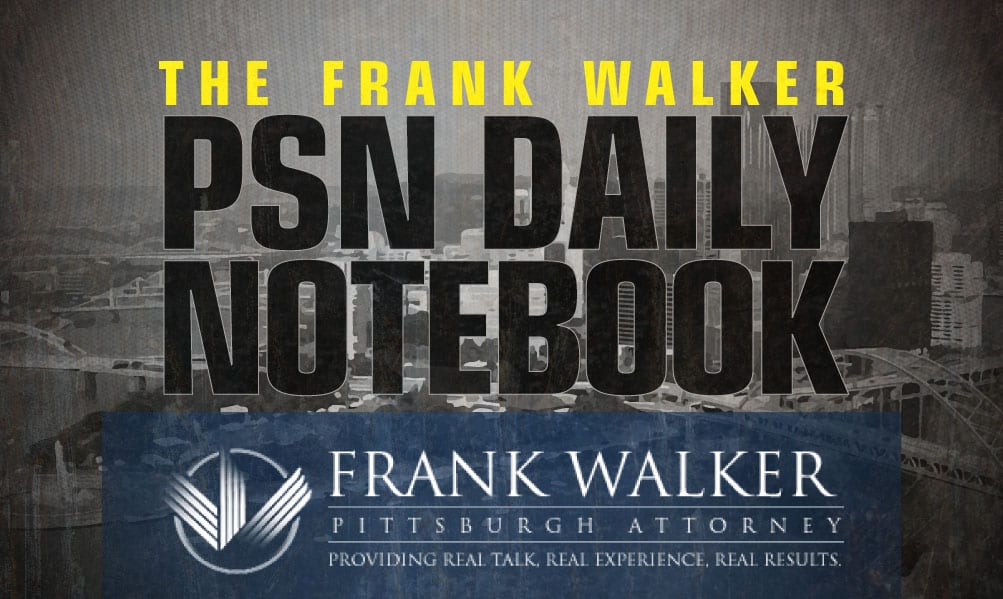 The PSN Daily Notebook is sponsored by Frank Walker, one of Pittsburgh and West Virginia's most respected criminal defense and injury lawyers. Mr. Walker has offices in Pittsburgh and Morgantown and has been named one of Top 100 National Trial Lawyers and is rated a perfect 10.0 Superb by Avvo for ethics, experience and results. To reach Mr. Walker, you can call 412-532-6805 or go to his website frankwalkerlaw.com. For real talk, real experience and real results, contact Frank Walker Law.
Update (9:21 PM)-  
**Tonight, Pitt extends an offer to 2023 4-star RB Cole Cabana from Dexter, Michigan. Cabana (6'0", 180) received the offer from Andre Powell and has other offers from Michigan, Michigan State, Cincinnati, Louisville, Purdue, Syracuse and West Virginia.
Junior Season Highlights❗️
9 Games Played
2187 All Purpose Yards
1688 Rushing
28 Touchdowns
7 School Records https://t.co/SaYjxHKCc9 pic.twitter.com/ok2k1vj15R

— Cole Cabana (@colecabana) November 5, 2021

Update (8:48 PM)-
Thank you @TropicalBowlUSA for having me this weekend got to compete with a lot players across the country! Grateful to be named 2022 Defensive Lineman MVP! pic.twitter.com/JOeS2p3t0k

— Bamp🔥 (@Camp_thatdude) January 16, 2022

Update (8:42 PM)- 
**The latest Power Five offer for Laurel Highlands 2023 4-star wide receiver Rodney Gallagher.
Blessed to receive a offer from The University of Minnesota🙏🏼 #LLC💕 @LHMustangFB @CoachKolesar @gridironjrj @210ths @Evolve2tenths @KirkCiarrocca pic.twitter.com/uI3sOZ9N6c

— Rodney Gallagher 3rd (LLC💕) (@Rodney_G3) January 16, 2022

Update (7:13 PM)-
H2🅿️ pic.twitter.com/fXEPj00BcN

— Pitt Basketball (@Pitt_MBB) January 15, 2022
Update (6:50 PM)-
**While visiting on their Junior Day, Thomas Jefferson 2023 defensive end Jordan Mayer receives an offer from West Virginia. Mayer (6'5″, 230) now holds offers from WVU, Boston College, Duke, Toledo and Bowling Green.
Junior season. @wpialsportsnews @210ths @PghSportsNow https://t.co/EqzWueipo6 #hudl

— Jordan Mayer (@Jordanmayer33) December 7, 2021
Update (5:55 PM)-
» First career @NFL playoff game
» First career @NFL playoff TD

Congrats, Tyler Boyd 🙌#H2P » @boutdat_23 pic.twitter.com/BX8ysoodYI

— Pitt Football (@Pitt_FB) January 15, 2022
Update (10:48 AM)- 
**More national disrespect for the Pitt football program from the national media.
The Way Too Early, Way Too Fluid 2022 Top 25: https://t.co/cPglmi8YL3

— Pat Forde (@ByPatForde) January 15, 2022