The Frank Walker Law/PSN Daily Notebook: January 16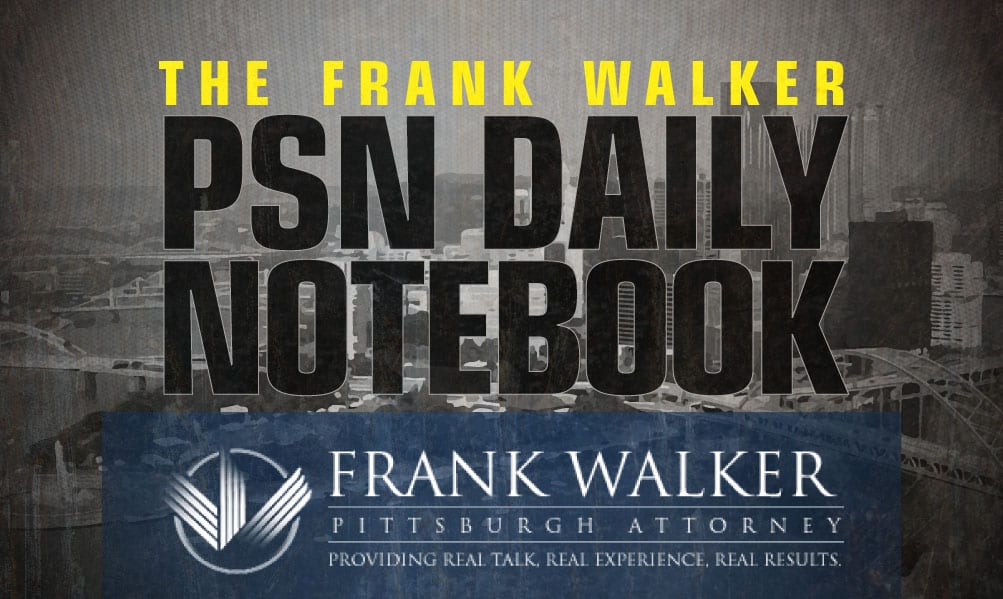 The PSN Daily Notebook is sponsored by Frank Walker, one of Pittsburgh and West Virginia's most respected criminal defense and injury lawyers. Mr. Walker has offices in Pittsburgh and Morgantown and has been named one of Top 100 National Trial Lawyers and is rated a perfect 10.0 Superb by Avvo for ethics, experience and results. To reach Mr. Walker, you can call 412-532-6805 or go to his website frankwalkerlaw.com. For real talk, real experience and real results, contact Frank Walker Law.
Update (6:42 PM)-
Another @Pitt_FB player getting it done in the NFL playoffs. https://t.co/ncpDp1vOvu

— Pittsburgh Sports Now (@PghSportsNow) January 16, 2022
Update (1:28 Pm)-
Another big play in the NFL playoffs by a former @Pitt_FB player. https://t.co/hEl4paqn00

— Pittsburgh Sports Now (@PghSportsNow) January 16, 2022
Update (1:20 PM)-
Believe.#H2P pic.twitter.com/IDNNaIIZb1

— Pitt Basketball (@Pitt_MBB) January 16, 2022
Update (10:03 AM)-
**Last night, Pitt extends an offer to 2023 4-star RB Cole Cabana from Dexter, Michigan. Cabana (6'0", 180) received the offer from Andre Powell and has other offers from Michigan, Michigan State, Cincinnati, Louisville, Purdue, Syracuse and West Virginia.
Junior Season Highlights❗️
9 Games Played
2187 All Purpose Yards
1688 Rushing
28 Touchdowns
7 School Records https://t.co/SaYjxHKCc9 pic.twitter.com/ok2k1vj15R

— Cole Cabana (@colecabana) November 5, 2021
Update (10:00 AM)-
Coming to Heinz Field! #H2P 🟡🔵 https://t.co/UlEjbMDQDM

— Harry G. Psaros (@PittGuru) January 16, 2022
Update (9:52 AM)-
**On Saturday, Pitt extended an offer to 2023 3-star cornerback Antonio Robinson from Florida Christian School in Miami, Florida. Robinson holds offers from Arkansas, Illinois, Miami, Kentucky, Michigan, Mississippi State, Ole Miss, Penn State, South Carolina, Tennessee, Texas, Central Florida, Virginia, Virginia Tech and West Virginia.
— Antonio C/O 2023 אנטוניו (@itoniorobinson2) January 5, 2022
Update (9:31 AM)-
@thejohnhugley with my family after the win today. So grateful to meet him and watch him play. What a beast! #H2P @Pitt_MBB pic.twitter.com/YO1P8Tc8e6

— Leland (@bigbenlileland) January 16, 2022