The Frank Walker Law/PSN Daily Notebook- January 25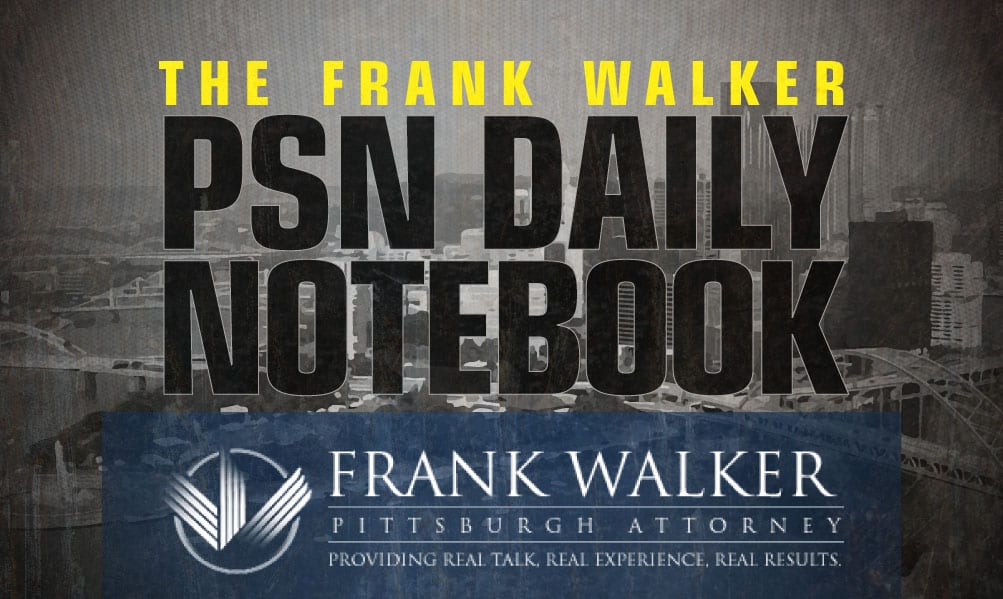 The PSN Daily Notebook is sponsored by Frank Walker, one of Pittsburgh and West Virginia's most respected criminal defense and injury lawyers. Mr. Walker has offices in Pittsburgh and Morgantown and has been named one of Top 100 National Trial Lawyers and is rated a perfect 10.0 Superb by Avvo for ethics, experience and results. To reach Mr. Walker, you can call 412-532-6805 or go to his website frankwalkerlaw.com. For real talk, real experience and real results, contact Frank Walker Law.
Update (7:31 PM)-
Blessed to receive a offer from The University of Houston🙏🏼 #LLC💕 @CoachKolesar @LHMustangFB @Evolve2tenths @210ths @gridironjrj pic.twitter.com/QypE5Yv1c3

— Rodney Gallagher 3rd (LLC💕) (@Rodney_G3) January 26, 2022

Update (7:06 PM)- 
**New offers for two of the WPIAL's biggest stars: Laurel Highlands 4-star WR Rodney Gallagher picks up an offer from Iowa State and Belle Vernon 4-star athlete Quinton Martin received an offer from Cincinnati.
Update (6:32 PM)-
**Central Catholic 2022 OT/DE Matthew Aulicino commits today to play at Albany.
Committed!! @UAlbanyFootball #BeGreat pic.twitter.com/i2ps0RhTRD

— Matthew Aulicino (@AulicinoMatthew) January 25, 2022
Update (4:45 PM)- 
**Pitt extends an offer today to 2023 3-star running back Xavier Terrell from St. Thomas Aquinas in Fort Lauderdale, Florida. Terrell (5'7", 165) received the offer from Charlie Partridge and holds offers from Florida State, Kansas, Maryland, Miami (Ohio), Tulane and South Florida.
Check out my end of season highlights! https://t.co/DK3IfKLY3O@CoachHarriott @EugeneBethea1 @coachs3132 @STA_Football

— Xavier Terrell (@XavierSTerrell1) January 4, 2022
Update (4:15 PM)-
**Pitt football extends an offer today to 2023 wide receiver Nakai Poole from Norcross, Georgia. Poole (6'3″, 190) also holds offers from Boston College, Duke, Coastal Carolina, Georgia Tech, Kansas State, Louisville, LSU, Ole Miss, South Florida, Virginia and East Carolina. Poole received the offer from Ryan Manalac and Frank Cignetti, Jr.
https://t.co/VKafQLGCzC ———-6'3 205 Sleeper film!———- pic.twitter.com/Hmu56Fpq0V

— Nakai Poole (@poole_nakai) November 10, 2021
Update (2:09 PM)-
**Randy Bates offers another player from the Winton Woods High School football team. 2023 cornerback Jermaine Mathews picks up an offer from Pitt. The junior defensive back also has received offers from Boston College, Cincinnati, UConn, Georgia Tech, Akron, Illinois, Indiana, Iowa State, Kent State, Kentucky, Louisville, Marshall, Miami (OH), Toledo, West Virginia and Vanderbilt.
Updated* Full Junior Film!!!
44 Tackles
5 Interceptions
3 FF
2 FR
2 Punt Return TD
State Champ 💍
Regional Champ 🏆
1st Team All Conference
1st Team All City
2nd Team All Regionhttps://t.co/kS8rU3KC09

— Jermaine Mathews (@Jr2Maine) January 23, 2022
Update (12:43 PM)-
**A second offer today from Pitt defensive coordinator Randy Bates. Today, Pitt extends an offer to 2023 cornerback Cameron Calhoun from Winston Woods High School in Cincinnati, Ohio. Calhoun (6'2″, 175) also holds offers from Akron, Boston College, UConn, Kent State, Kentucky, Marshall, Miami (OH), Toledo, Vanderbilt and West Virginia.
FULL JUNIOR YEAR HIGHLIGHTS !!!
2021 STATE CHAMPS
43 Solo tackles
18 assist tackles
61 total tackles
2 force fumbles
1 fumble recovery
9 Interceptions
First team all state
Second team all conference
1st team all district
Leader of interceptions!!https://t.co/WQfzu6wBv0

— Cameron Calhoun (@officially_cam) January 23, 2022
Update (12:22 PM)- 
**Pitt's Cory Sanders doing some recruiting this morning at Kathleen High School in Lakeland, Florida.
Busy morning at @KHS_Football … thank you @NPauley9 @coachcsanders and @CoachChadScott for dropping by to check out our student athletes! 👹🏈 pic.twitter.com/mrObf57DeR

— K. Strong (@coachkstrong) January 25, 2022
Update (12:12 PM)-
**This morning, Randy Bates and Pitt extend an offer to 2023 3-star tight end Jackson McGohan from Miamisburg, Ohio. McGohan (6'4″, 210) is currently committed to Cincinnati and also holds offers from Indiana, Iowa State, Ohio, UAB and Charlotte. He gave a commitment to Cincinnati on January 9.
End of season highlights!!! 6'4 208 lbs Wr/TE 9 games played, 1st team all GWOC, 47 rec, 700 yards and 10 Td's https://t.co/AJaV10KpfS

— jackson mcgohan (@jackson_mcgohan) November 4, 2021
Update (11:51 AM)-
**The 4th D-1 offer comes in this morning for Aliquippa freshman running back Tiqwai Hayes and it comes from Cincinnati. Hayes also holds ones from Pitt, Penn State and West Virginia.
I'm blessed and truly thankful to receive my 4th D1 offer from the University of Cincinnati thanks to all my teammates defiantly the lineman and coaches 🔴⚫️@CoachHitsch @Evolve2tenths @wpialsportsnews 🔴⚫️ pic.twitter.com/DisNXjTOM6

— ✊🏽tikey✊🏽 (@Tiqwaihayes) January 25, 2022
Update (10:04 AM)-
**The offers continue to come in for Aliquippa 2024 linebacker Cameron Lindsey. This morning his latest offer comes from Luke Fickell and Cincinnati. Lindsey also holds offers from Penn State, West Virginia and Toledo.
FULL DEFENSIVE HIGHLIGHTS FROM SOPHOMORE YEAR
86 Tackles!!
22 For loss!!
2 Sacks!!
2 Fumble Recoveries!!
2 Fumbles Forced!!
2 INTS!!
2 Returned for touchdowns!!
Check out my highlight – https://t.co/UjXO49DsLu

— Cameron (@cx_lindsey) December 11, 2021
Update (9:19 AM)-
No question Barnes has the size, length, shot, physical tools.. Lots of time to develop into a great player for the Pitt commit https://t.co/NParpl0mZd

— George Michalowski (@MichalowskiCBB) January 25, 2022