Rams DL Aaron Donald on Making it Back to the Super Bowl and Von Miller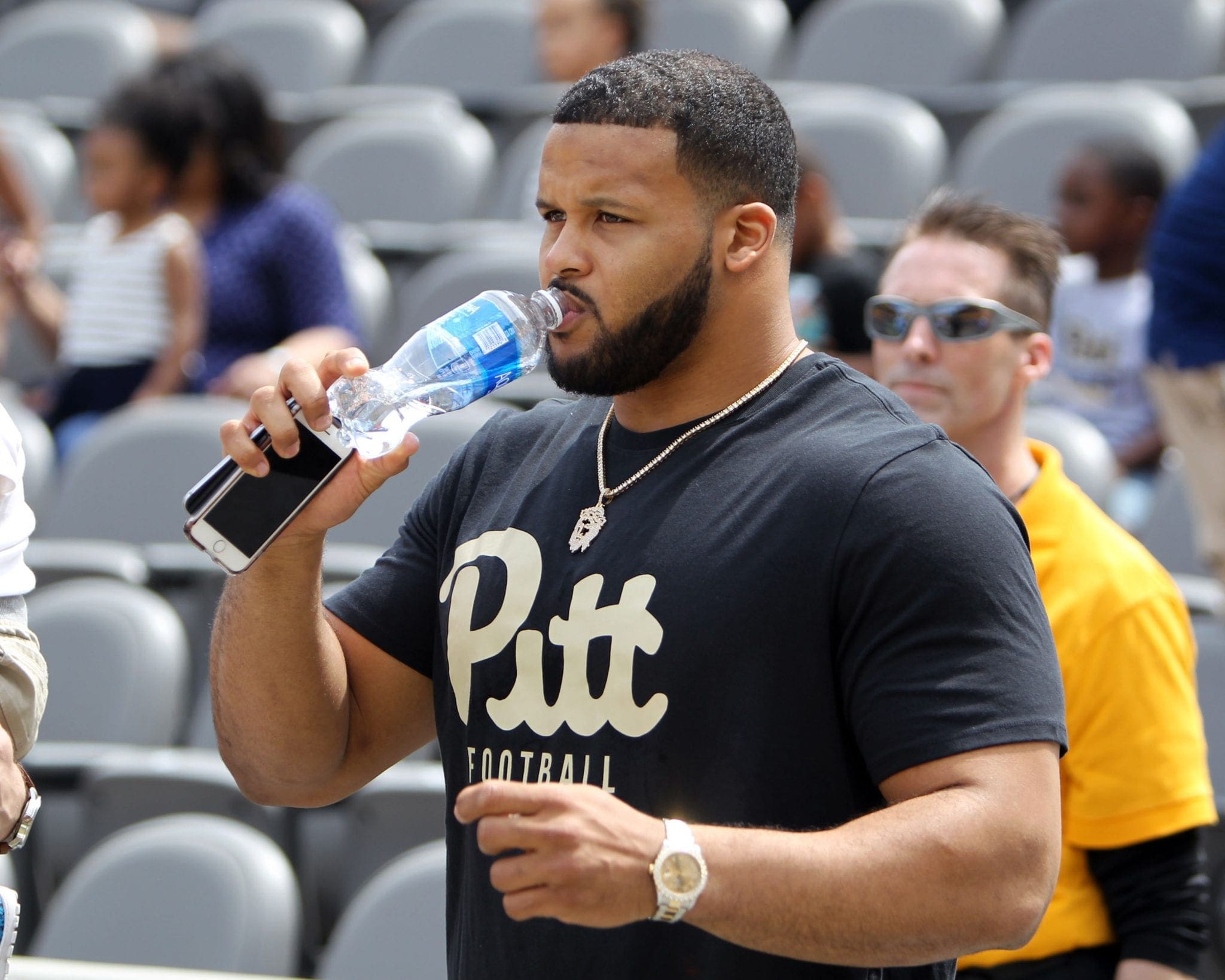 When the Los Angeles Rams walked off the field at Mercedes-Benz Stadium following Super Bowl LIII, it was as somber an affair as could be amidst a New England Patriots' celebration.
Rams' defensive tackle Aaron Donald, in particular, felt the loss hard. The resident All-World defender was coming off one of the best seasons in NFL history, but with the loss in the Super Bowl, it was an individual season of excellence.
Now in his eighth NFL season, Donald told Rams' reporters over Zoom Friday that he feels like he's continued to grow as an NFL player — as hard as that is to imagine — since the heartbreaking loss three years ago.
"It's just trying to find a way to win," Donald said. "Trying to find a way to get back and accomplish something I've never accomplished before. I don't know what it feels like to win a Super Bowl. I know what it feels like to be there, but I don't know what it feels like to win. I feel like I've accomplished a lot in a short amount of time in this league, but the one thing I'm lacking now is being a world champion."
While the Rams have played well since the Super Bowl loss, narrowly missing the playoffs in 2019 and losing in the Divisional Round in 2020, expectations were sky-high entering the 2021 season with Matthew Stafford entering the fold.
A strong season has the Rams right back on the cusp of another Super Bowl, and all of the offseason training, the extra grinding during early morning and long nights lead to games like the NFC Championship game against the San Francisco 49ers.
"This is what you work for," Donald said. "This is what I've been working for, this is what we've been working for. Been trying to find a way to get to the Super Bowl, and we're one game away, against a Divisional opponent. A team that's had our number a couple of times we've played them, so I feel like there ain't no better stage than this."
The Rams' defense is a strong, veteran unit but perhaps no one more than midseason addition Von Miller has impacted the defense — and Donald himself — more over the past couple of months.
"I always considered myself a leader, but more of a lead by example guy," Donald said. "I think one thing Von has been challenging me a lot more with, just him talking to me, is just being more vocal. Talking to the guys, letting them hear my voice. Having Von, and just having him speak to me and talk to me, I feel like some of the best things I'm learning from Von is being more of a vocal leader."
Miller has already racked up 10 tackles (nine solo), three tackles for loss and two sacks in the postseason for the Rams, and Donald lauded the impact the veteran pass-rusher from Denver has had. Miller's burst and power off the edge make life easier for everyone on the defensive line — including Donald.
"Well, I ain't gonna tell y'all how (Von) sets stuff up, but I think he does a good job as far as switching up from finesse to power. … for the past few weeks, he's been showing up big time when we need him, and we're going to have to continue to have that from him," Donald said. "And everybody else."
With a veteran team full of guys who are hungry for reaching the pinnacle of NFL success, Donald said the efforts to finally bring a Lombardi Trophy back to Los Angeles for the first time since 1999 is a complete team effort.
"It meant a lot," Donald said on the efforts to get him a Super Bowl win. "It definitely meant a lot hearing that, but again, it ain't just for me. It's for the organization, it's for guys like (Andrew Whitworth) and Stafford, they've been playing this game a little longer than me."
With the 49ers standing in the way of the Super Bowl, the Rams will need to overcome the mercurial Jimmy Garoppolo and a '9ers squad that has beaten the Rams twice this season. Donald, Miller and Jalen Ramsey forcing Garoppolo into a couple of errant throws would go a long way in securing a second Super Bowl berth in four seasons.
The Rams and 49ers are scheduled to kick off at SoFi Stadium, the home of Super Bowl LVI, on Sunday at 6:30 p.m. The game will be broadcast on Fox.