The Frank Walker Law/PSN Daily Notebook- February 7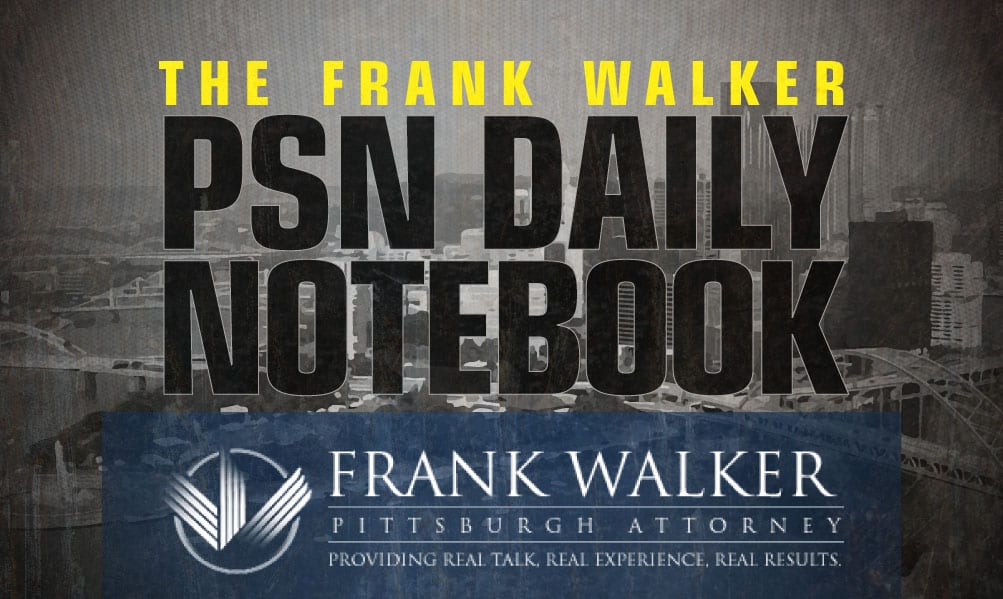 The PSN Daily Notebook is sponsored by Frank Walker, one of Pittsburgh and West Virginia's most respected criminal defense and injury lawyers. Mr. Walker has offices in Pittsburgh and Morgantown and has been named one of Top 100 National Trial Lawyers and is rated a perfect 10.0 Superb by Avvo for ethics, experience and results. To reach Mr. Walker, you can call 412-532-6805 or go to his website frankwalkerlaw.com. For real talk, real experience and real results, contact Frank Walker Law.
Update (1:02 PM)-
**Pitt extends an offer to 2023 defensive lineman Kamari Burns from Gahanna Lincoln High School in Columbus, Ohio. Burns (6'4″, 245) received the offer from Ryan Manalac and holds other offers from Bowling Green, Indiana, Kent State, Kentucky, Marshall, Miami (OH), Ohio U., Tennessee, Toledo and West Virginia.
🚨 All-Northeast Showcase Selection Highlight🚨
DL – Kamari Burns
Height: 6'4 Weight 245 Gahanna Lincoln HS, OH
One of the best tapes we have seen this year. @prospectnys @kamariburns18 @gahannafootball pic.twitter.com/kQoQiAmJj1

— All Northeast (@All_Northeast) January 25, 2022
Update (11:10 AM)- 
**This morning, Tim Salem and Pitt extend an offer to 2023 4-star offensive lineman JaSire Peterson (6'4", 270) from Union City, New Jersey. Peterson holds offers from Rutgers, Nebraska. Syracuse, Akron, Boston College and UMass. Peterson committed to Rutgers early but decided to de-commit on January 17.
Full Season Highlights !!https://t.co/S5nh8pMbr1

— JaSiré Peterson (@JasirePeterson) November 7, 2021

Update (11:04 AM)-
Yesterday, our team volunteered to pack 250 lunch bags for the #RedDoorProgram of St. Mary of Divine Mercy to feed homeless individuals in Pittsburgh. Thank you @SCMduq for the opportunity to give back to our community! ❤️💙#GoDukes | #GiveBack pic.twitter.com/YXvJ3meuqY

— Duquesne Women's Basketball (@DuqWBB) February 7, 2022

Update (9:45 AM)-
**Cory Sanders has extended an offer to 2023 defensive tackle Guerlens Milfort from Lakeland, Florida. Milfort (6'2″, 265) also holds offers from Iowa State, UConn, Florida Atlantic and Toledo.
'23 Lakeland (FL) dual sport athlete Guerlens "G" Milfort had a spectacular #SZN1 in track & field. G was a state finalist 🥇 in the disc throw with a PR of 44.03. Milfort also added two more D1 FBS football offers from FAU & UCONN after an impressive 2021 pic.twitter.com/uvDDDENF5N

— BnB Graphics (@bnbgraphics) January 18, 2022