The Frank Walker Law/PSN Daily Notebook- February 12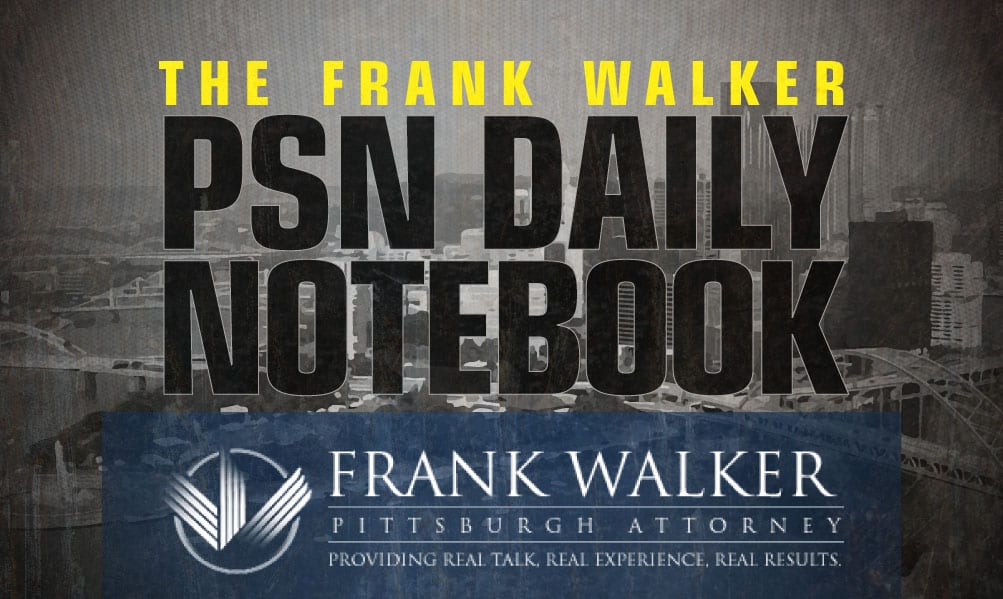 The PSN Daily Notebook is sponsored by Frank Walker, one of Pittsburgh and West Virginia's most respected criminal defense and injury lawyers. Mr. Walker has offices in Pittsburgh and Morgantown and has been named one of Top 100 National Trial Lawyers and is rated a perfect 10.0 Superb by Avvo for ethics, experience and results. To reach Mr. Walker, you can call 412-532-6805 or go to his website frankwalkerlaw.com. For real talk, real experience and real results, contact Frank Walker Law.
Update (1:39 PM)- 
**Pitt extends an offer today to 2023 3-star wide receiver Kenny Johnson from York, Pennsylvania. Johnson (6'2", 190) has other offers from Penn State, Virginia Tech, Rutgers, West Virginia, Bowling Green, Boston College, Miami (Ohio), UConn, Temple and Toledo.
Junior Season Highlights through 7 games ✅https://t.co/fGDz7X6ko8

— Kenny Johnson (@Kennyjohnson05) October 10, 2021

Update (1:26 PM)-
The nine goals that got us win NUMBER ONE! #BuildALegacy pic.twitter.com/rcOm2czkk4

— Pitt Lacrosse (@Pitt_WLAX) February 12, 2022
Update (8:34 AM)-
The #SSAJuniorSchool participated in the #RockYourRoyal campaign to cheer on Junior School parent Aaron Donald and the Los Angeles Rams at Super Bowl LVI! Each student received a Super Bowl rally towel courtesy of Donald and his wife, Erica. #SuperBowlLVI @rams @aarondonald99 pic.twitter.com/9GGifg9OGK

— Shady Side Academy (@shady_side) February 11, 2022

Update (7:49 AM)-
**Friday night was a big one for Steel Valley 2023 safety Cruce Brookins as he picked up an offer from Neal Brown and West Virginia. This was Brookins first Power Five offer, with his first one coming from Akron.
Junior Season Defense Highlights !https://t.co/gmyBAlJKDn

6 interceptions 33 tackles 2 forced fumbles, 5 PBD@sharkomartin @OneWayWo @DulinOlando @SportsByBLinder @Cover3_ATH @PrepRedzonePA @PAPrepsRivals @wpialsportsnews @WPIAL_Insider @AJWPIAL @PRZPAvic @PaFootballNews pic.twitter.com/yNGBOuQX8I

— Cruce Brookins (@BrookinsCruce) November 21, 2021
Update (7:37 AM)-
**Pitt extends an offer to 2023 4-star defensive tackle Kayden McDonald Jr. from North Gwinnett High School in Suwanee, Georgia. McDonald (6'3″, 325) is ranked by 247 Sports as one of the Top 200 juniors in the country with offers from Purdue, Georgia, Michigan State, Arkansas, Boston College, Florida State, Georgia Tech, Louisville, Michigan, Mississippi State, NC State, Nebraska, Ohio State, Oklahoma, Ole Miss, Tennessee, Texas A&M, Central Florida, USC, Vanderbilt and Wisconsin. McDonald received the offer from Ryan Manalac and Charlie Partridge.
Motion picture from the trenches 🏠 https://t.co/JxOftVOpIL

— Kayden (@KMac_DT) February 1, 2022