The Frank Walker Law/PSN Daily Notebook- February 20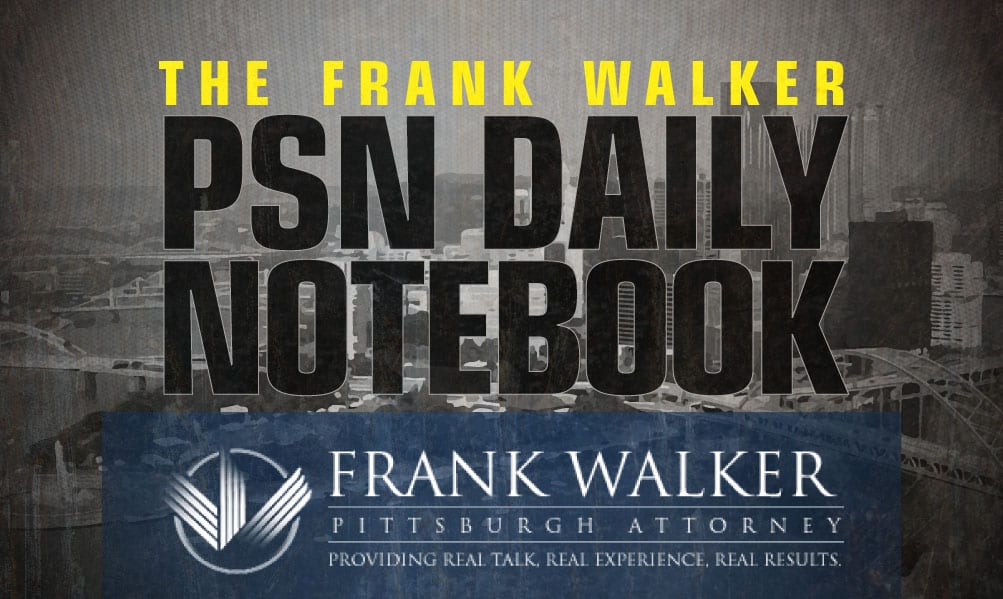 The PSN Daily Notebook is sponsored by Frank Walker, one of Pittsburgh and West Virginia's most respected criminal defense and injury lawyers. Mr. Walker has offices in Pittsburgh and Morgantown and has been named one of Top 100 National Trial Lawyers and is rated a perfect 10.0 Superb by Avvo for ethics, experience and results. To reach Mr. Walker, you can call 412-532-6805 or go to his website frankwalkerlaw.com. For real talk, real experience and real results, contact Frank Walker Law.
Update (9:25 AM)-
Can't wait to watch Coach Flores teach the Steelers ! There is only one school where you can finish practice and have the opportunity to watch professionals do the exact job your working to get too ! #H2P #Steelers https://t.co/HtfiVF50No

— John D Morgan III ™ (@JohnMorgan6__) February 19, 2022
Update (8:43 AM)-
Vikings Interviewing Chargers WR Coach Chris Beatty For OC Position https://t.co/ZCd3gyUMqD #Vikings pic.twitter.com/dCupo7apLh

— NFLTradeRumors.co (@nfltrade_rumors) February 20, 2022
Update (8:28 AM)- 
**Pitt has extended an offer to 2023 4-star tight end Matthew Klopfenstein from Scottsdale, Arizona. Klopfenstein (6'5", 226) received the offer from Tim Salem and holds other offers from Arizona, Arizona State, Baylor, California, Colorado, Indiana, Iowa State, Kansas, Michigan, Michigan State, Oregon State, Tennessee, West Virginia, Purdue and Louisville.
Junior Season Highlights! @litten_andy @BrandonHuffman @bangulo @CodyTCameron @Sub0_Athletics @JordyHamm https://t.co/11aP3xLIq4

— Matthew Klopfenstein (@Matthew_Klop) December 13, 2021